MAKE YOUR FREE

Personal Appearance Agreement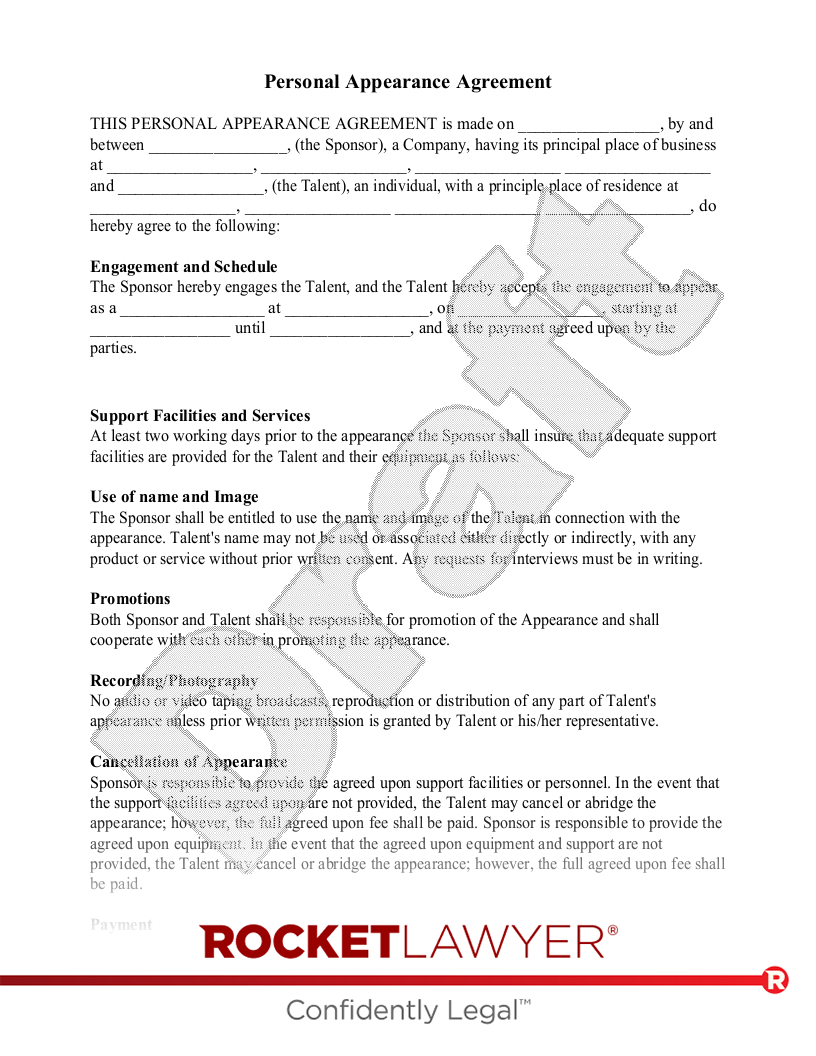 What is a Personal Appearance Agreement?
If you are a celebrity, you should consider making Personal Appearance Agreements to safeguard yourself as you plan to provide appearances. Making this essential document may lower the risk of disagreements down the road. With Rocket Lawyer, your Personal Appearance Contract is not a generic template. If you ever need assistance from an attorney in the event of missed payments or another problem, your membership offers the optional benefit of Document Defense® protection on every contract.
When to use a Personal Appearance Agreement:
You want to hire a big name for an event.
You've been asked to make a special appearance.
You manage an organization or company that regularly hires celebrities, speakers, or other VIPs.
Sample Personal Appearance Agreement
The terms in your document will update based on the information you provide
This document has been customized over 14.8K times
Legally binding and enforceable
Ask a lawyer questions about your document
Sign this document online for free with RocketSign®
Personal Appearance Agreement
THIS PERSONAL APPEARANCE AGREEMENT is made on , by and between , (the Sponsor), a Company, having its principal place of business at , , and , (the Talent), an individual, with a principle place of residence at , , do hereby agree to the following:
Engagement and Schedule
The Sponsor hereby engages the Talent, and the Talent hereby accepts the engagement to appear as a at , on , starting at until , and at the payment agreed upon by the parties.
Support Facilities and Services
At least two working days prior to the appearance the Sponsor shall insure that adequate support facilities are provided for the Talent and their equipment as follows:
Use of name and Image
The Sponsor shall be entitled to use the name and image of the Talent in connection with the appearance. Talent's name may not be used or associated either directly or indirectly, with any product or service without prior written consent. Any requests for interviews must be in writing.
Promotions
Both Sponsor and Talent shall be responsible for promotion of the Appearance and shall cooperate with each other in promoting the appearance.
Recording/Photography
No audio or video taping broadcasts, reproduction or distribution of any part of Talent's appearance unless prior written permission is granted by Talent or his/her representative.
Cancellation of Appearance
Sponsor is responsible to provide the agreed upon support facilities or personnel. In the event that the support facilities agreed upon are not provided, the Talent may cancel or abridge the appearance; however, the full agreed upon fee shall be paid. Sponsor is responsible to provide the agreed upon equipment. In the event that the agreed upon equipment and support are not provided, the Talent may cancel or abridge the appearance; however, the full agreed upon fee shall be paid.
Payment
The Sponsor shall pay to talent a total fee of for the appearance. This fee shall be due, in full, unless the event is canceled a minimum of prior to its scheduled start. The appearance may be extended provided that the Talent agrees. For that, an additional fee of per half-hour shall be due. The Talent may condition the extension of the appearance on prepayment.
Food
Food and beverage shall be complimentary to Talent during the event.
Transportation/Hotels
Most of this is usually addressed in the contract. The Sponsor must provide transportation, at no cost to the Talent, for all musicians, crew, equipment and personal luggage from the airport or train station to the hotel, to and from the venue and back to the airport or train station.
Legal Construction
In the event any one or more of the provisions contained in this Agreement shall for any reason be held invalid, illegal, or unenforceable in any respect, that invalidity, illegality, or unenforceability shall not affect any other provision. This Agreement shall be construed as if the invalid, illegal, or unenforceable provision had never been contained in it.
Prior Agreements Superseded
This Agreement constitutes the sole and only agreement of the parties and supersedes any prior understandings or written or oral agreements between the parties respecting the subject matter of this Agreement.
Force Majeure
Talent's obligations are subject to detention or prevention by sickness, inability to perform, accident, failure or delay of means of transportation, Acts of God, riots, strikes, labor difficulties, epidemics, plagues, pandemics, outbreaks of infectious disease or any other public health crisis, including quarantine or other employee restrictions, any act of any public authority or any other cause, similar or dissimilar, beyond Talent's control. In the event of illness, strike, Act of proportionate amount of payment may be due for any appearance(s) which Talent may have rendered up to God, governmental regulation of other force major occurrence, Talent is unable or is prevented from performing the engagement any part thereof, Sponsor shall be obligated and liable to Talent for such proportionate amount of payment may be due for any appearance(s) which Talent may have rendered up to the time of the inability to perform by reason of such illness or force major occurrence.
Amendments
This Agreement may be amended by the parties only by a written agreement.
Governing Law
This Agreement will be governed by the laws of the State of without giving effect to any conflicts of laws provisions.
Attorneys' Fees
If any action at law or in equity is brought to enforce or interpret the provisions of this Agreement, the prevailing party will be entitled to reasonable attorneys' fees in addition to any other relief to which that party may be entitled.
The parties undersigned acknowledge that they have read the above terms and conditions and agree that they will be adhered to in detail.
Signatories
This Agreement shall be executed on the behalf of by and by
Personal Appearance Agreement FAQs
What are some benefits of drafting a contract for personal appearances?

As a famous personality, it is always important to get the details of your appearances in writing. Signing a Personal Appearance Agreement could be good for you because of the following list of benefits:

Fee requirements are clearly defined
Neither party is surprised by how much time is needed
Both parties know what they are responsible for

If you opt not to make this document, neither party will get to enjoy any of the benefits associated with having one.

What details does an appearance template generally include?

You should organize the following information:

The event organizer's contact information
What services will be delivered
How much it will cost and when payment is due
What the duration of the event is

As you would expect, Personal Appearance Agreements that you make using Rocket Lawyer also contain the standard legalese about the non-employment relationship between the celebrity and event organizer, liability, and finally, dispute resolution methods. During the process of building your contract, you also will have the ability to pick which state's jurisdiction it falls under. Using the Rocket Lawyer document tool, you are able to implement more personalized editing, if necessary.

What would I traditionally have to pay for a Personal Appearance Contract?

Fortunately, you don't have to pay an expensive law firm to put your agreement in writing. With the document tools on Rocket Lawyer, anyone can create a Personal Appearance Agreement for free online today. Your document will be built piece by piece, as you provide more details. Simply click on the button labeled "Make document" to begin.

If you've got any questions or hesitations about the process, ask an attorney . You might also like to check out more business documents in our library.

Are there any additional actions that I will need to take after my Appearance Contract has been written?

Alongside your Personal Appearance Agreement, you will find a set of helpful tips to follow while finalizing the document. You are encouraged to interact with your contract in any or all of the following ways: making edits, printing, saving it in Word or PDF format, or signing it electronically via RocketSign®. Most importantly, you will need to provide a final copy of your signed contract to your client.

Where can I have my Personal Appearance Agreements checked out by a professional?

It may depend on whom you reach out to, but sometimes an attorney won't even agree to review your contract if they were not the author. An easier approach worth consideration is to request help from Rocket Lawyer On Call® network of attorneys. If you become a Premium member, you have the ability to request advice from an attorney with experience in business or ask additional legal questions related to your Personal Appearance Contract. As always, Rocket Lawyer is here for you.