MAKE YOUR FREE

Graphic Design Contract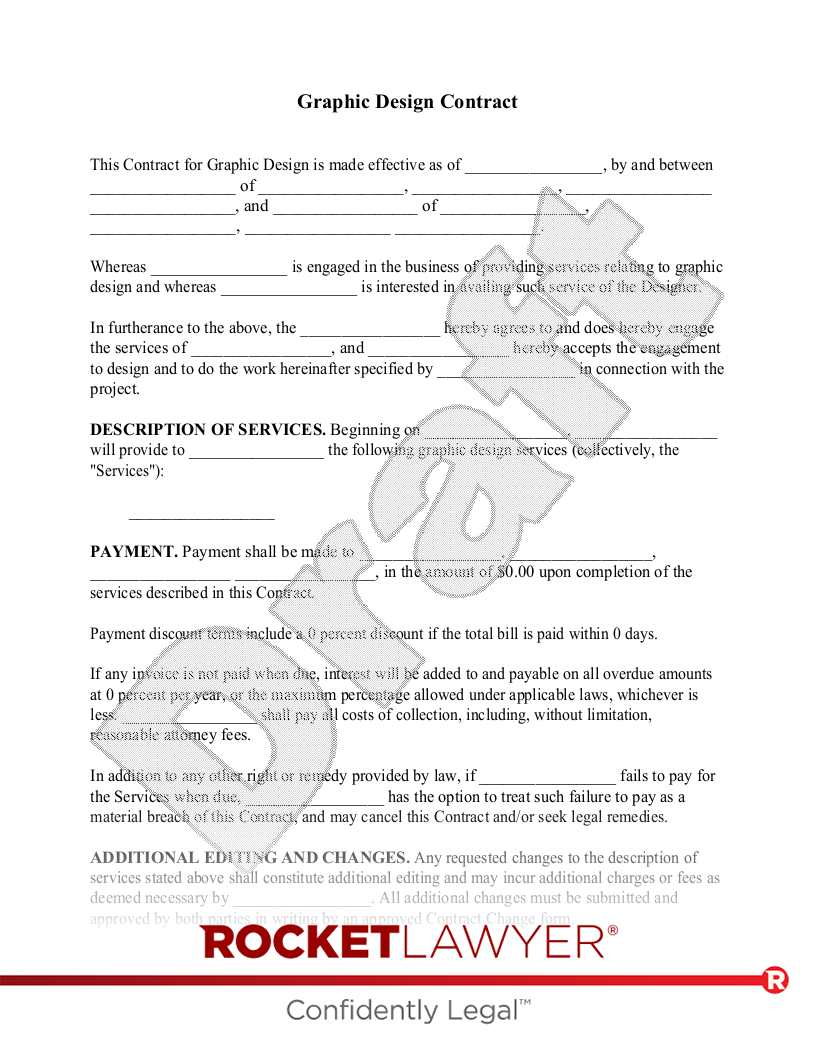 What is a Graphic Design Contract?
A Graphic Design Contract enables graphic designers to get in writing the terms of their arrangements with a client. With the appropriate details, this legal contract may help to limit the volume of disputes in the future. Whether you're working on a logo, signage, a website or another creative project, you can use this document record style guidelines, establish a timeline for deliverables and to outline terms of payment. Unlike many other sites you might come across, there is a lot more that Rocket Lawyer offers besides templates. If the client refuses to pay or there is another problem, your Premium membership provides the optional benefit of Document Defense® support from an On Call attorney.
When to use a Graphic Design Contract:
You are hiring a graphic designer to complete a creative project.
You are a graphic designer offering your services as an independent contractor.
Sample Graphic Design Contract
The terms in your document will update based on the information you provide
This document has been customized over 73.3K times
Legally binding and enforceable
Ask a lawyer questions about your document
Sign this document online for free with RocketSign®
Graphic Design Contract
This Contract for Graphic Design is made effective as of , by and between of , , , and of , , .
Whereas is engaged in the business of providing services relating to graphic design and whereas is interested in availing such service of the Designer.
In furtherance to the above, the hereby agrees to and does hereby engage the services of , and hereby accepts the engagement to design and to do the work hereinafter specified by in connection with the project.
DESCRIPTION OF SERVICES. Beginning on , will provide to
PAYMENT. Payment shall be made to
Payment discount terms include a percent discount if the total bill is paid within days.
In addition to any other right or remedy provided by law, if fails to pay for the Services when due, has the option to treat such failure to pay as a material breach of this Contract, and may cancel this Contract and/or seek legal remedies.
ADDITIONAL EDITING AND CHANGES. Any requested changes to the description of services stated above shall constitute additional editing and may incur additional charges or fees as deemed necessary by . All additional changes must be submitted and approved by both parties in writing by an approved Contract Change form.
WORK PRODUCT OWNERSHIP. Any copyrightable works, ideas, discoveries, inventions, patents, products, or other information (collectively the "Work Product") developed in whole or in part by in connection with the Services will be the exclusive property of . Upon request, will execute all documents necessary to confirm or perfect the exclusive ownership of to the Work Product.
REPRODUCTION OF PRODUCT. Upon successful completion of all compensation terms and outstanding balances owed to Graphic Designer, Service Recipient is granted full and unlimited reproduction rights to the Project.
Graphic Designer shall at no time reproduce the Project for use in commercial means or for-profit use.
Service Recipient may not reproduce or otherwise use design mock-ups, drafts, sketches etc. created by designer during work on the Project but not included into the final version of the Project. Such artwork belongs solely to Graphic Designer who may use it at his own discretion.
CONFIDENTIALITY. , and its employees, agents, or representatives will not at any time or in any manner, either directly or indirectly, use for the personal benefit of , or divulge, disclose, or communicate in any manner, any information that is proprietary to . and its employees, agents, and representatives will protect such information and treat it as strictly confidential. This provision will continue to be effective after the termination of this Contract.
Upon termination of this Contract, will return to all records, notes, documentation and other items that were used, created, or controlled by during the term of this Contract.
DEFAULT. The occurrence of any of the following shall constitute a material default under this Contract:
a.
The failure to make a required payment when due.
b.
The insolvency or bankruptcy of either party.
c.
The subjection of any of either party's property to any levy, seizure, general assignment for the benefit of creditors, application or sale for or by any creditor or government agency.
d.
The failure to make available or deliver the Services in the time and manner provided for in this Contract.
REMEDIES. In addition to any and all other rights a party may have available according to law, if a party defaults by failing to substantially perform any provision, term or condition of this Contract (including without limitation the failure to make a monetary payment when due), the other party may terminate the Contract by providing written notice to the defaulting party. This notice shall describe with sufficient detail the nature of the default. The party receiving such notice shall have days from the effective date of such notice to cure the default(s). Unless waived by a party providing notice, the failure to cure the default(s) within such time period shall result in the automatic termination of this Contract.
, or other labor disputes, or supplier failuresAny controversies or disputes arising out of or relating to this Contract will be submitted to mediation in accordance with any statutory rules of mediation. If mediation does not successfully resolve the dispute, the parties may proceed to seek an alternative form of resolution in accordance with any other rights and remedies afforded to them by law.Any controversies or disputes arising out of or relating to this Contract will be resolved by binding arbitration under the rules of the American Arbitration Association. The arbitrator's award will be final, and judgment may be entered upon it by any court having proper jurisdiction. Any controversies or disputes arising out of or relating to this Contract will be submitted to mediation in accordance with any statutory rules of mediation. If mediation is not successful in resolving the entire dispute or is unavailable, any outstanding issues will be submitted to binding arbitration under the rules of the American Arbitration Association. The arbitrator's award will be final, and judgment may be entered upon it by any court having proper jurisdiction.
ENTIRE AGREEMENT. This Contract contains the entire agreement of the parties, and there are no other promises or conditions in any other agreement whether oral or written concerning the subject matter of this Contract. This Contract supersedes any prior written or oral agreements between the parties.
SEVERABILITY. If any provision of this Contract will be held to be invalid or unenforceable for any reason, the remaining provisions will continue to be valid and enforceable. If a court finds that any provision of this Contract is invalid or unenforceable, but that by limiting such provision it would become valid and enforceable, then such provision will be deemed to be written, construed, and enforced as so limited.
AMENDMENT. This Contract may be modified or amended in writing, if the writing is signed by the party obligated under the amendment.
GOVERNING LAW. This Contract shall be construed in accordance with the laws of the State of .
NOTICE. Any notice or communication required or permitted under this Contract shall be sufficiently given if delivered in person or by certified mail, return receipt requested, to the address set forth in the opening paragraph or to such other address as one party may have furnished to the other in writing.
WAIVER OF CONTRACTUAL RIGHT. The failure of either party to enforce any provision of this Contract shall not be construed as a waiver or limitation of that party's right to subsequently enforce and compel strict compliance with every provision of this Contract.
SIGNATORIES. This Agreement shall be signed on behalf of by and on behalf of by and effective as of the date first above written.
Service Recipient:
Graphic Designer:
Graphic Design Contract FAQs
Should a freelance graphic designer always make a contract for graphic design services?

Whether your graphic design business is new or many years old, it's critical to keep track of your design work with a contract. The following list of benefits may be helpful for you to know:

There are no surprises about how long the engagement lasts
The graphic designer and client both understand the scope of their responsibilities
Both parties know when invoicing will happen

A few unfavorable outcomes from not signing this document might include confusion on timing, unwieldy changes in scope, and underpayment, among other potential concerns.

What details should a Freelance Graphic Design Contract cover?

The details needed for the Graphic Design Contract are:

Name and address of your client
What fees will be charged and when
What the duration of the engagement is
What tasks you are committed to performing

As you may expect, Graphic Design Contracts made with Rocket Lawyer also include the standard legalese regarding the independent work relationship between the parties, confidentiality, indemnity for losses, and finally, the method(s) of dispute resolution. While making your agreement, you'll also have the ability to pick its state of jurisdiction. Using the document tool, you have the power to add further custom edits, as needed.

Can I prepare my own graphic design contract template online for free?

All Rocket Lawyer document templates are drafted and vetted with care by lawyers and legal staff, which means that you can feel confident when using them to manage legal matters. To start, simply tell us a bit more about the engagement in a step-by-step interview, and we'll handle the rest. You can also try having your document reviewed by a lawyer in our nationwide attorney network prior to signing it. This method will often end up being much less expensive and less time-consuming than finding and working with the average attorney, whose fees could range anywhere between hundreds of dollars to thousands.

If you've got any particular questions or hesitations before you begin, connect with a lawyer today. You might also like to browse our entire collection of business documents .

Is anything else required after a Graphic Design Contract is made?

In order to finalize the drafted contract, it must be signed by both you and the client. You might like to use RocketSign® to collect signatures electronically. Make sure that everyone gets a copy of the fully executed contract. With a Rocket Lawyer membership, you also will be able to download it as a Word or PDF file, print it out, and copy it when needed.

Would Rocket Lawyer be able to check my Graphic Design Agreement?

Depending on who is contacted, some lawyers will not even agree to review your document if they didn't write it. An easier approach worth consideration is to go through Rocket Lawyer attorney services. With a Premium membership, you have the ability to ask for feedback from an Rocket Lawyer network attorney with experience in business or get answers to additional questions related to your Graphic Design Agreement. Rocket Lawyer is here to support you.