Whether you're starting a nationwide advertising campaign or simply want to post new photographs on your company's homepage you'll need permission to use the photos. When someone signs a Model Release form they're giving you permission to take photos and use their likeness for a specific purpose, and are releasing any possible legal claims they have against you for that use.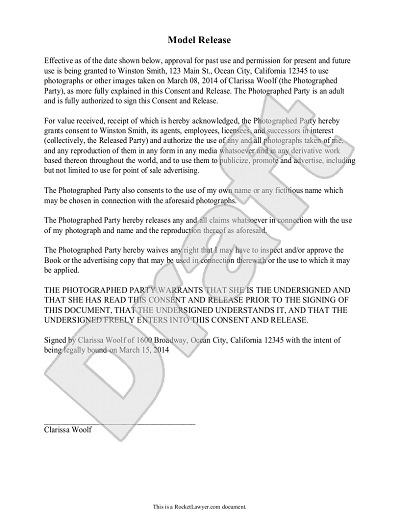 Model Release form. To create your own personalized Model Release form, click on the image above
Having a Model Release form allows a photographer or agency to dive into the shoot and pick the best photos to use without worry about any snags to follow. It should be noted that minors are not permitted to sign a Model Release form.
Ready to get started? Our step by step interview process helps you create your personalized Model Release from. If you're looking for more, the related documents may be able to help:
Looking for more information? The following article might help:
---