MAKE YOUR FREE

Model Release
Other Names:
Model Release Form
Photography Model Release
Model Release Agreement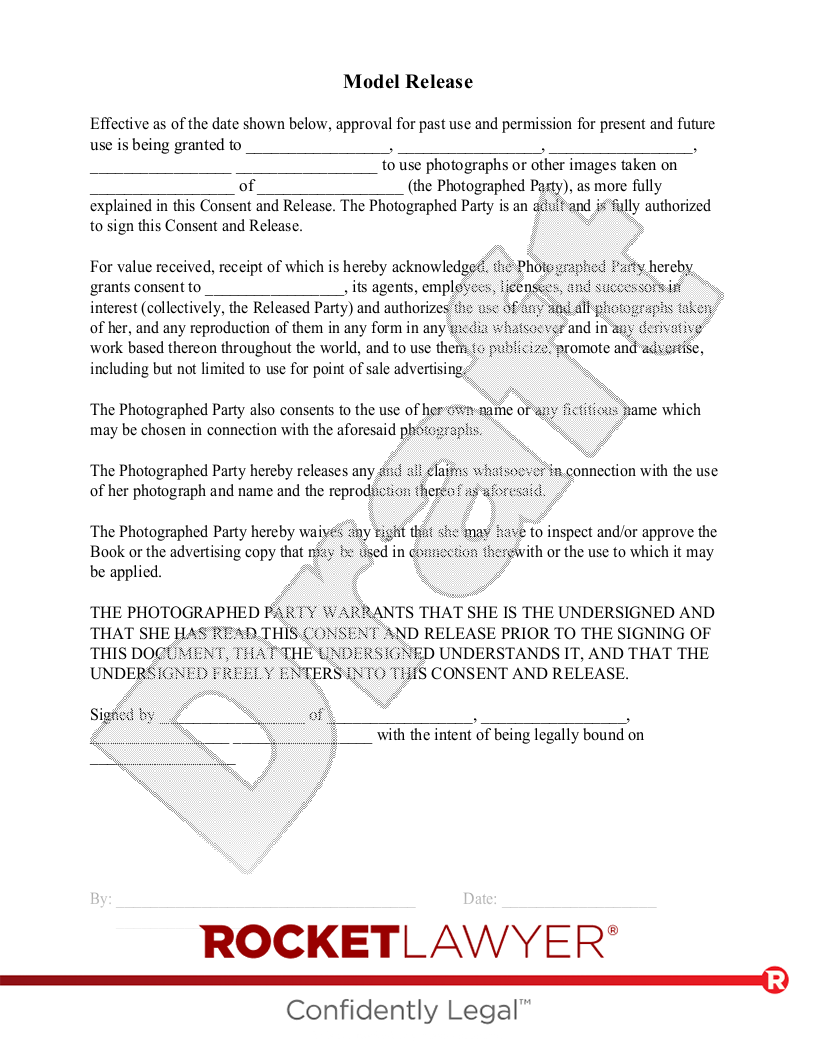 What is a Model Release?
The right model isn't easy to find, and even if you get that perfect picture, it won't matter if you can't use it. With a Model Release, you can get legal permission to use a model's image in print or on a website. You'll need to ask the model for permission to use the image, and complete a Model Release to make it official.

Before you sign up for that big billboard or print those brochures, make sure your model has given you permission to use his or her image. A Model Release is the solution. It's an agreement between a model and an agency, publisher, or photographer in which the model grants the other party permission to use their image in print. Why is it a "release" you might ask? It's because the model releases all possible legal claims against a publishing party for printing the model's image. The signed Model Release also permits the agency, publisher, or photographer to use the model's name, and the model doesn't have the right to approve which photos are used. Be aware that only an adult over 18 years old is legally permitted to sign a Model Release.
When to use a Model Release:
You intend to publish or use the photographs of a model.
You are a model who wants to grant a certain individual or business the right to publish photographs of you.
Sample Model Release
The terms in your document will update based on the information you provide
This document has been customized over 89.5K times
Legally binding and enforceable
Ask a lawyer questions about your document
Sign this document online for free with RocketSign®
Effective as of the date shown below, approval for past use and permission for present and future use is being granted to , , , to use photographs or other images taken on of (the Photographed Party), as more fully explained in this Consent and Release. The Photographed Party is an adult and is fully authorized to sign this Consent and Release.
For value received, receipt of which is hereby acknowledged, the Photographed Party hereby grants consent to , its agents, employees, licensees, and successors in interest (collectively, the Released Party) and authorizes the use of any and all photographs taken of the Photographed Party, and any reproduction of them in any form in any media whatsoever and in any derivative work based thereon throughout the world, and to use them to publicize, promote and advertise, including but not limited to use for point of sale advertising.
The Photographed Party also consents to the use of their own name or any fictitious name which may be chosen in connection with the aforesaid photographs.
The Photographed Party hereby releases any and all claims whatsoever in connection with the use of their photograph and name and the reproduction thereof as aforesaid.
The Photographed Party hereby waives any right that they may have to inspect and/or approve the Book or the advertising copy that may be used in connection therewith or the use to which it may be applied.
THE PHOTOGRAPHED PARTY WARRANTS THAT THEY ARE THE UNDERSIGNED AND THAT THEY HAVE READ THIS CONSENT AND RELEASE PRIOR TO THE SIGNING OF THIS DOCUMENT, THAT THE UNDERSIGNED UNDERSTANDS IT, AND THAT THE UNDERSIGNED FREELY ENTERS INTO THIS CONSENT AND RELEASE.
Signed by of , , with the intent of being legally bound on