A Purchase Order is a formal way to buy or sell any significant amount of goods. And while every deal is different there are specific terms and variables that every Purchase Order template should have. In most contracts, price and quantity are the most important terms; however, you'll also want to include taxes, discounts, and the names of all the parties involved. And, of course, the deal should be signed.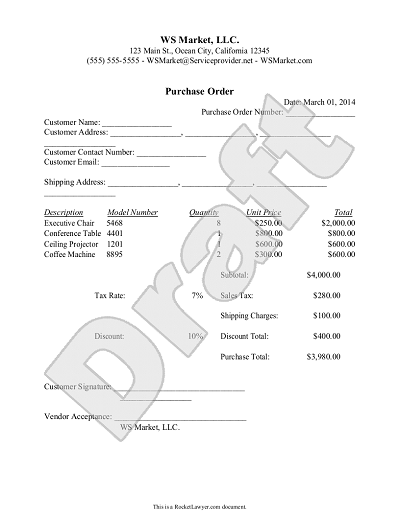 Purchase Order template. To create your own personalized Purchase Order, click on the image above
A Purchase Order is essentially a streamlined contract for the sale of goods—and if you're in the business of making sales, having a Purchase Order template available can help ensure that you're in the position to meet the needs of any potential customers. Likewise, if you rely on other businesses for supplies having your own template handy can make it easier to get the products your business needs to keep moving.
Ready to get started? Simply click the link below to begin creating your own Purchase Order template. If you're not sure where to get started or if you would like more information you may find our legal articles helpful:
---