MAKE YOUR FREE

Exclusivity Agreement
Other Names:
Exclusivity Contract
Exclusivity Agreement Form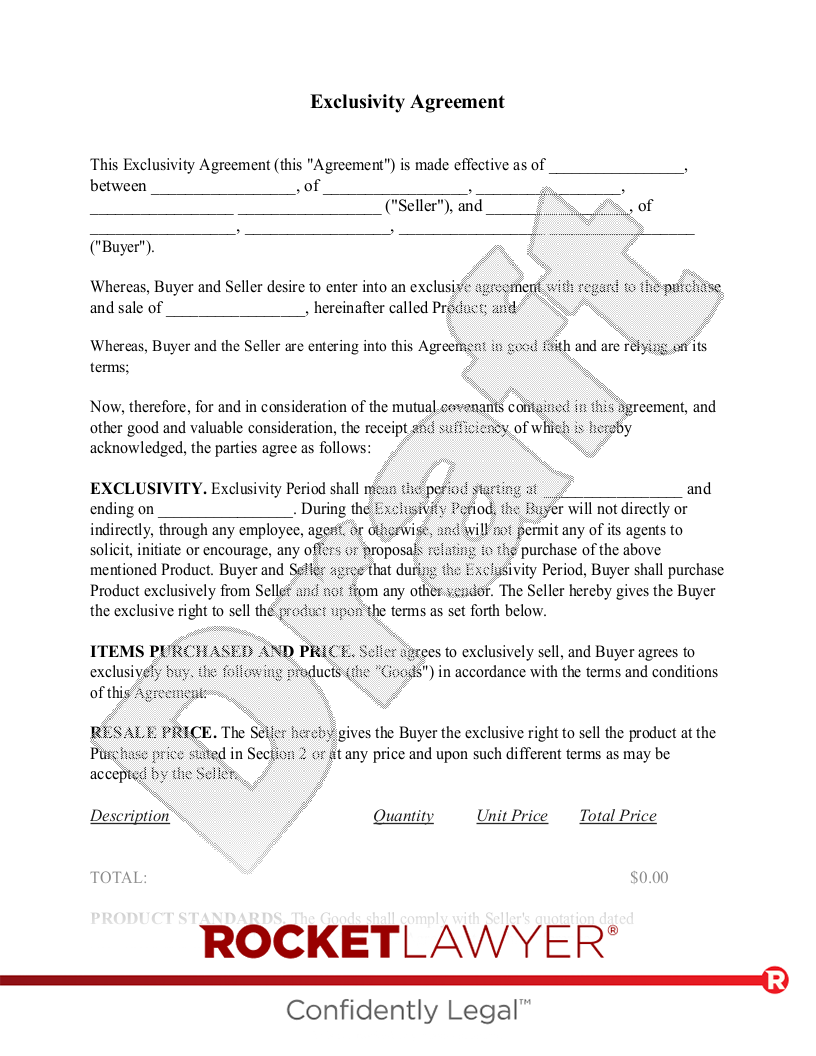 What is an Exclusivity Agreement?
A new business partnership can lead to exciting opportunities and increased revenue. If you are entering into a partnership that involves the buying and selling of goods, you can use an Exclusivity Agreement to establish the terms. This exclusivity agreement contract is between two or more parties to purchase goods exclusively from a seller, so that the seller is the only provider of the goods.

With an Exclusivity Agreement, the buyer agrees not to obtain or solicit the seller's goods from anybody else for the length of the agreement. An Exclusivity Agreement can help create a competitive advantage for a seller by restricting who else can receive those services, as this exclusivity contract is typically used in a vertical buyer/seller relationship, in which a buyer agrees to buy exclusively from the seller.
When to use an Exclusivity Agreement:
You're going to be the exclusive provider of goods or services to a business.
Someone has agreed to provide exclusive services or products to your business.
You want to create a competitive advantage by limiting who your business partners work with.
Sample Exclusivity Agreement
The terms in your document will update based on the information you provide
This document has been customized over 79.2K times
Legally binding and enforceable
Ask a lawyer questions about your document
Sign this document online for free with RocketSign®
Exclusivity Agreement
This Exclusivity Agreement (this "Agreement") is made effective as of , between , of , , ("Seller"), and , of , , ("Buyer").
Whereas, Buyer and Seller desire to enter into an exclusive agreement with regard to the purchase and sale of , hereinafter called Product; and
Whereas, Buyer and the Seller are entering into this Agreement in good faith and are relying on its terms;
Now, therefore, for and in consideration of the mutual covenants contained in this agreement, and other good and valuable consideration, the receipt and sufficiency of which is hereby acknowledged, the parties agree as follows:
EXCLUSIVITY. Exclusivity Period shall mean the period starting at and ending on . During the Exclusivity Period, the Buyer will not directly or indirectly, through any employee, agent, or otherwise, and will not permit any of its agents to solicit, initiate or encourage, any offers or proposals relating to the purchase of the above mentioned Product. Buyer and Seller agree that during the Exclusivity Period, Buyer shall purchase Product exclusively from Seller and not from any other vendor. The Seller hereby gives the Buyer the exclusive right to sell the product upon the terms as set forth below.
ITEMS PURCHASED AND PRICE. Seller agrees to exclusively sell, and Buyer agrees to exclusively buy, the following products (the "Goods") in accordance with the terms and conditions of this Agreement:
RESALE PRICE. The Seller hereby gives the Buyer the exclusive right to sell the product at the Purchase price stated in Section 2 or at any price and upon such different terms as may be accepted by the Seller.
Description
Quantity
Unit Price
Total Price
The Goods shall comply with Seller's quotation dated and incorporated into this Agreement by this reference. The Goods shall comply with the specifications in the attached Exhibit A and incorporated into this Agreement by this reference. The Goods shall comply with industry standards. Title to and risk of loss of goods shall pass to Buyer upon delivery F.O.B. at Seller's plant to an agent of Buyer including a common carrier, notwithstanding any prepayment or allowance of freight by Seller.Buyer shall pay reasonable shipping costs in accordance with its shipping instructions, but Seller shall be responsible for packaging, shipping and safe delivery and shall bear all risk of damage or loss until the goods are delivered to Buyer's address.
PAYMENT. Payment shall be made to
Payment discount terms are a percent discount if total bill is paid within days. , including without limitation, reasonable attorney fees
In addition to any other right or remedy provided by law, if Buyer fails to pay for the Goods when due, Seller has the option to treat such failure to pay as a material breach of this Agreement, and may cancel this Agreement and/or seek legal remedies.
DELIVERY. Time is of the essence in the performance of this Agreement. arrange for delivery, by carrier chosen by Seller, make the Goods available to Buyer
Buyer Seller
WARRANTIES.
SELLER SHALL IN NO EVENT BE LIABLE FOR ANY INCIDENTAL, SPECIAL, OR CONSEQUENTIAL DAMAGES OF ANY NATURE, EVEN IF SELLER HAS BEEN ADVISED OF THE POSSIBILITY OF SUCH DAMAGES.
Buyer Seller Seller Buyer
INSPECTION. Buyer, upon receiving possession of the Goods, shall have a reasonable opportunity to inspect the Goods to determine if the Goods conform to the requirements of this Agreement. If Buyer, in good faith, determines that all or a portion of the Goods are non-conforming, Buyer may return the Goods to Seller at Buyer must provide written notice to Seller of the reason for rejecting the Goods. Seller will have days from the return of the Goods to remedy such defects under the terms of this Agreement.
DEFAULT. The occurrence of any of the following shall constitute a material default under this Agreement:
a. The failure to make a required payment when due.
b. The insolvency or bankruptcy of either party.
c. The subjection of any of either party's property to any levy, seizure, general assignment for the benefit of creditors, application or sale for or by any creditor or government agency.
d. The failure to make available or deliver the Goods in the time and manner provided for in this Agreement.
, or strikes, lock-outs, work stoppages, or other labor disputes, or supplier failures
NON-DISPARAGEMENT. agrees that it will not, during the Exclusivity Period plus one year immediately following the Exclusivity Period, make comments, whether oral or in writing, that tend to disparage or otherwise injure the or any person associated with or representing the , unless ordered to do so by a court of competent jurisdiction or otherwise required by law. This clause shall include, but not be limited to, any third-party media outlet, website or forum. Any and each violation of this non-disparagement provision shall constitute a breach of the Agreement by and entitle the to bring a legal action for appropriate relief in equity, including damages.
NOTICES. Any notice or communication required or permitted under this Agreement shall be sufficiently given if delivered in person or by certified mail, return receipt requested, to the addresses listed above or to such other address as one party may have furnished to the other in writing. The notice shall be deemed received when delivered or signed for, or on the third day after mailing if not signed for.
REMEDIES ON DEFAULT. The parties acknowledge and agree that, Seller is entitled to equitable remedies including injunction and specific performance for the breach of any provisions of this agreement. In addition to any and all other rights available according to law, if either party defaults by failing to substantially perform any material provision, term or condition of this Agreement (including without limitation the failure to make a monetary payment when due), the other party may elect to cancel this Agreement if the default is not cured within days after providing written notice to the defaulting party. The notice shall describe with sufficient detail the nature of the default.
The parties acknowledge and further agree that, Seller is entitled to equitable remedies including injunction and specific performance for the breach of any provisions of this agreement.
the "Total Price" value of this contract listed above,
ENTIRE AGREEMENT. This Agreement contains the entire agreement of the parties regarding the subject matter of this Agreement, and there are no other promises or conditions in any other agreement whether oral or written. This Agreement supersedes any prior written or oral agreements between the parties.
AMENDMENT. This Agreement may be modified or amended if the amendment is made in writing and signed by both parties.
SEVERABILITY. If any provision of this Agreement shall be held to be invalid or unenforceable for any reason, the remaining provisions shall continue to be valid and enforceable. If a court finds that any provision of this Agreement is invalid or unenforceable, but that by limiting such provision it would become valid and enforceable, then such provision shall be deemed to be written, construed, and enforced as so limited.
ASSIGNMENT OF RIGHTS. The rights of each party under this Agreement are personal to that party and may not be assigned or transferred to any other person, firm, corporation, or other entity without the prior, express, and written consent of the other party.
WAIVER OF CONTRACTUAL RIGHT. The failure of either party to enforce any provision of this Agreement shall not be construed as a waiver or limitation of that party's right to subsequently enforce and compel strict compliance with every provision of this Agreement.
APPLICABLE LAW. This Agreement shall be governed by the laws of the State of .
The awarding of attorneys fees or expert witnesses fees may not cause any award to exceed the Limitation of Liability value set above.
SIGNATURES. This Agreement shall be executed on behalf of by , and on behalf of by .