MAKE YOUR FREE

Minnesota Eviction Notice
Other Names:
Minnesota Notice to Quit
Minnesota Notice to Vacate Letter
Minnesota Notice to Pay Rent or Quit
Minnesota Notice to Cure or Quit
Minnesota Unconditional Quit Notice
Minnesota Immediate Notice to Quit
Minnesota 3-Day Notice to Quit
Minnesota 5-Day Notice to Quit
Minnesota 6-Day Notice to Quit
Minnesota 7-Day Notice to Quit
Minnesota 10-Day Notice to Quit
Minnesota 14-Day Notice to Quit
Minnesota 30-Day Notice to Quit
Minnesota Eviction Letter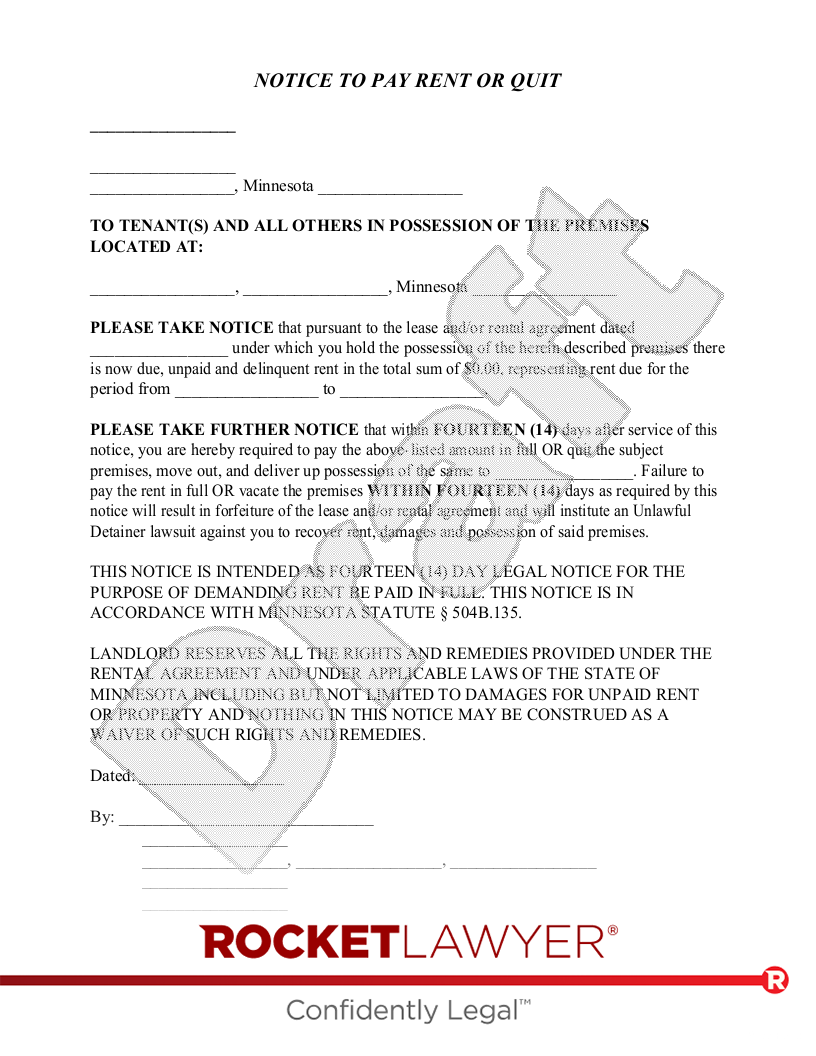 What is a Minnesota Eviction Notice or Notice to Quit?
If you are a property owner or manager in Minnesota, you can create a Minnesota Eviction Notice to warn renters of future legal action if they will not pay their rent, abide by the agreed-upon terms of their lease, or leave the property as demanded. This official legal notice can help to reiterate your expectations to the tenant and put the rental arrangement back on track. With that in mind, in some cases, there will be no resolution, and filing a complaint with the court is unavoidable. Suited for all types of residential property, our Eviction Notice for Minnesota can be used by property owners with tenants in Rochester, Saint Paul, Minneapolis, and in all of the other towns within the North Star State.
When to use a Minnesota Eviction Notice:
Your tenant has failed to pay the rent.
Your tenant has violated any provision of the lease or rental agreement.
The lease or rental agreement has expired and you don't want to renew the lease.
You want to terminate a month-to-month tenancy.
Sample Minnesota Eviction Notice
The terms in your document will update based on the information you provide
This document has been customized over 29.6K times
Legally binding and enforceable
Complies with relevant laws
Ask a lawyer questions about your document
NOTICE TO PAY RENT OR QUIT
, Minnesota
TO TENANT(S) AND ALL OTHERS IN POSSESSION OF THE PREMISES LOCATED AT:
, , Minnesota
PLEASE TAKE NOTICE that the tenancy dated
THIS NOTICE IS INTENDED AS FOURTEEN (14) DAY LEGAL NOTICE FOR THE PURPOSE OF DEMANDING RENT BE PAID IN FULL. THIS NOTICE IS IN ACCORDANCE WITH MINNESOTA STATUTE § 504B.135.
LANDLORD RESERVES ALL THE RIGHTS AND REMEDIES PROVIDED UNDER THE RENTAL AGREEMENT AND UNDER APPLICABLE LAWS OF THE STATE OF MINNESOTA INCLUDING BUT NOT LIMITED TO DAMAGES FOR UNPAID RENT OR PROPERTY AND NOTHING IN THIS NOTICE MAY BE CONSTRUED AS A WAIVER OF SUCH RIGHTS AND REMEDIES.
Dated:
By:______________________________
Minnesota Eviction Notice FAQs
Am I allowed to evict my tenant(s) for overdue rent in Minnesota?

Under normal circumstances, the answer is yes, and you may draft a Minnesota Eviction Notice (more specifically called a 14-Day Notice to Pay Rent or Quit) to initiate the process. That said, due to COVID-19, there are a few special protections in place for tenants who are unable to pay rent. Although the ban on eviction has been struck down by the United States Supreme Court, the state of Minnesota and individual municipalities have the authority to create and enforce their own regulations for residential evictions. Keep up with the ask a local landlord-tenant lawyer for more specific advice.

Do landlords need to write an Eviction Notice in Minnesota?

If you wish to evict a tenant in Minnesota, it may be a good idea to provide a Notice of Eviction as a first step. Even if it isn't always legally mandated, this document can help you avoid court (assuming the tenant will comply.) Some of the circumstances in which you might want to use one are:

The tenant is habitually late to pay their rent or they are behind on payments
The tenant violates the no-pets clause of your lease agreement
The tenant brings on a subletter against the rental terms
The tenant has caused considerable damage to the unit
The tenant creates a nuisance or disturbs the quiet enjoyment of their neighbors
The tenant is using your property illegally

Outside of lease violations, a tenant generally can be evicted for other reasons unrelated to a fault of their own. For example, when the landlord intends to move in. Please note that the list presented above is not absolutely exhaustive and that the permitted reasons for evicting tenants may be different. If you have any particular questions or concerns with regard to Minnesota eviction laws, talk to an attorney.

How is a Minnesota Notice to Vacate usually organized?

When ready, you can tap or click on the button that says "Make document" to take a closer look at the Minnesota Eviction Notice sample. The specific details that you typically should plan to add are:

The address and description of the property
The renter's contact information
How many rent payments are currently past due (if any)
Which of the lease clauses have not been upheld
What the duration of the notice period will be

In the event that the tenants aren't at fault for the eviction, you may wish to provide more context. Additional custom alterations are permitted, as well. It is very important to verify that the policies and terms that you make note of are actually spelled out in the fully executed lease contract.

How will Minnesota eviction laws affect me as a residential property owner?

The law often changes over time and the actual eviction procedure can be rather complicated, especially for a first-timer. In certain cases, there are different notice periods or other requirements depending on why the tenant is being evicted and how long they have been in the unit. Consequently, it is strongly recommended that all property owners reach out to an eviction attorney when writing a Notice of Eviction.

How can I write a Minnesota Eviction Notice form for free?

If you need to make this document with Rocket Lawyer, please follow these directions. Our step-by-step interview will guide you through several questions about your situation to help us build your Minnesota Eviction Notice. This method is, in most cases, notably less expensive and less time-consuming than meeting and hiring the average provider.

How much would I typically pay for a lawyer to help me evict a tenant in Minnesota?

If you want to know the complete cost of eviction, you'll need to consider the cost of filing court documents, legal fees, the value of unrecovered rent payments, storage and cleaning fees, and ultimately, the time and money spent finding a replacement tenant. Fortunately, you will not have to pay hundreds of dollars in legal fees to generate a Notice of Eviction. Different from many other eviction form websites that you might discover, Rocket Lawyer offers Premium membership holders up to a 40% discount when hiring a lawyer, so an attorney from our Rocket Lawyer attorney network can review the situation and take action if you do proceed with an eviction lawsuit.

How much time does the Minnesota eviction process normally take from start to finish?

The length of the eviction process for Minnesota tenants is partially determined by the amount of notice required, along with the volume of lawsuits being held at the same time. Here's a generalized breakdown of Minnesota notice periods:

Rent-related: 14-day notice for "at-will" tenants
Violation of terms: No notice is required by law
No cause: 3-month notice or the rent payment period, whichever is less

After the pre-defined notice period, the eviction itself may take 2 weeks to 3 months. Please note that in particular types of housing, for instance where rent payments are subsidized, the notice period is often even longer.

Do I need to hire an attorney when evicting someone in Minnesota?

While it is feasible to draft a Notice to Vacate without support, many rental property owners who bring tenants to court hire a lawyer to represent them. Having someone double-check your document could take a lot of time if you do it on your own. An easier approach worth consideration is to request help from the Rocket Lawyer On Call® network. Rocket Lawyer Premium members have the ability to request advice from an experienced attorney or get answers to other legal questions. As a property owner or manager, you can be confident that Rocket Lawyer is here by your side.

Will there be any additional steps that I should be sure to take after writing a Notice of Eviction/Notice to Quit in Minnesota?

After making your Minnesota Eviction Notice, you'll be able to see it anytime, on any device. You are encouraged to engage with the document by making edits, making copies of it, downloading it as a PDF document or Word file, or printing it out. You must sign it before serving it on the tenant. There are several methods for serving a notice:

Send it via certified mail with a return receipt (if unable to deliver in person or post it)
Hire a process server
Deliver the notice personally

Please remember that "self-help" or "DIY" evictions are not legal in Minnesota. Landlords shouldn't padlock the entryways, throw out property, shut off utilities and services, or threaten their tenants in any way in an effort to make them move out. Taking the appropriate lawful actions before and during the eviction process is critical to removing tenants successfully with a judgment from the court.

How do I file an eviction case?

To file for a court-ordered eviction in Minnesota, you need to complete and sign an Eviction Action Complaint. This form can be filed electronically or you can file it at the local courthouse. When you submit the form you will be issued a summons. A summons is your court date. You have to send a copy of the Complaint and the Summons to each tenant (even if they are spouses). You cannot deliver the summons. It needs to be another adult or a professional process server. You'll need proof of delivery in the form of an Affidavit of Service . You'll need to file the Affidavit of Service with the courts before the hearing. If personal delivery options fail, the documents can be mailed or posted in an obvious location such as the front door. Keep track of all delivery attempts for your records.

Are there laws against evicting a tenant in the winter?

No, despite the bitterness of the Minnesota winters, you can evict tenants during the winter months. There are requirements when it comes to providing heat though. Heat sources are required to be functional October 15 through April 15. Ths Cold Weather Rule is implemented by the Minnesota Public Utilities Commission, but the rule has nothing to do with evictions.