MAKE YOUR FREE

Gift Affidavit
Other Names:
Affidavit of Gift
Gift Affidavit Form
Gift Letter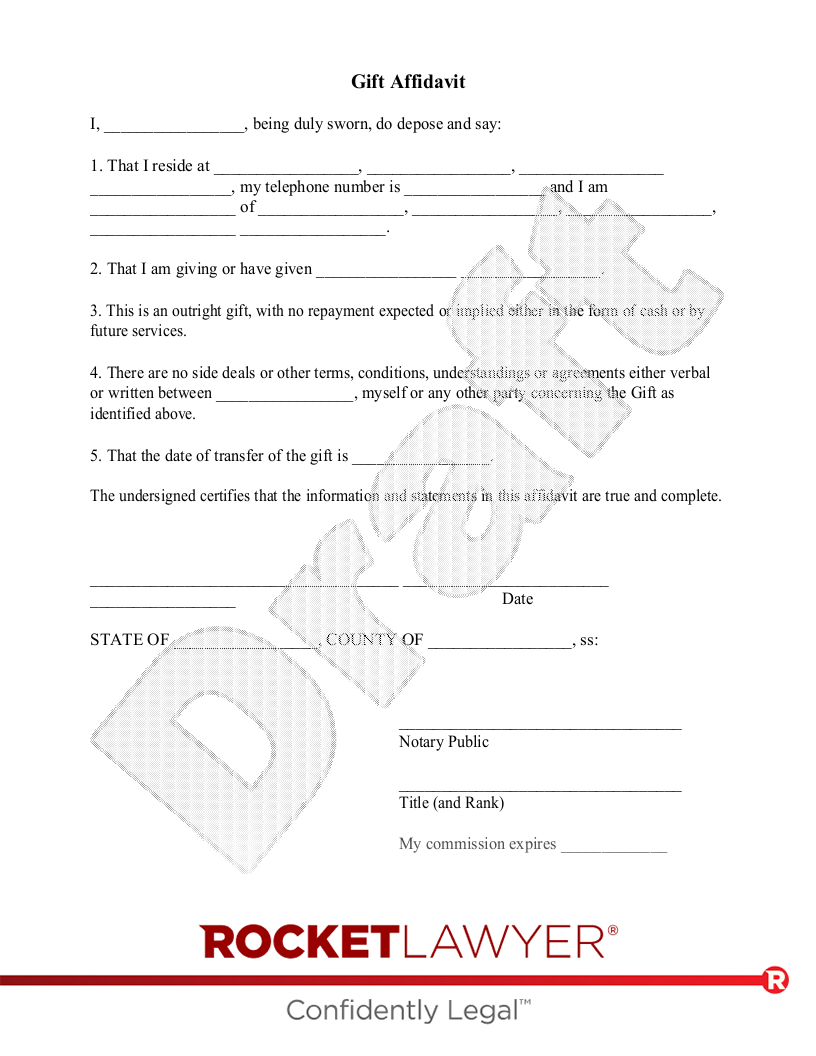 What is a Gift Affidavit?
A Gift Affidavit is a sworn statement that can be used to document the gifting of property. If you've received or given a gift, you might have to prove it wasn't a loan or financial transaction with a Gift Affidavit. This is especially true if the item is worth a lot of money or if it is something that is not typically given away. A Gift Affidavit can help you show that no money was involved, that it wasn't a loan, and that nothing else was sought for in exchange for the gift. It's unlikely that you need a Gift Affidavit for the average birthday present, however, if you're giving someone a house or a valuable collectible item, then a Gift Affidavit may be necessary. After all, one or both of you may have to prove it's a gift for tax reasons. In the case of a divorce, a Gift Affidavit can also help sort out what property is jointly owned and what isn't. A Gift Affidavit is your way of formally saying something was a present.
When to use a Gift Affidavit:
You gave someone a gift, and want formal proof.
Someone gave you a present and you want a formal statement to prove it.
A court has asked you to swear that an item was a gift.
Sample Gift Affidavit
The terms in your document will update based on the information you provide
This document has been customized over 53K times
Legally binding and enforceable
Ask a lawyer questions about your document
I, , being duly sworn, do depose and say:
1. That I reside at , , , my telephone number is and I am of , , , .
2. That I am giving or have given .
3. This is an outright gift, with no repayment expected or implied either in the form of cash or by future services.
4. There are no side deals or other terms, conditions, understandings or agreements either verbal or written between , myself or any other party concerning the Gift as identified above.
5. That the date of transfer of the gift is .
The undersigned certifies that the information and statements in this affidavit are true and complete.
____________________________________________________________
Gift Affidavit FAQs
Can I fill out a Gift Affidavit Form online for free?

It's fast and easy to get what you need using a free Gift Affidavit template from Rocket Lawyer:

Make your Affidavit - Provide a few simple details and we will do the rest
Send and share - Look over the document with an attorney, if needed
Sign it - Sign your Affidavit and make it legal

Any Gift Affidavit Form from Rocket Lawyer can be modified for your unique circumstances. When you're ready to begin, simply tap or click the button labeled "Make document". Your Affidavit will be assembled step by step as you answer simple questions to provide details.

Should I hire an attorney to review my Gift Affidavit?

Writing a Gift Affidavit is typically straightforward; however, you may need legal advice. Having a professional review the document may take longer than you expect on your own. An alternate approach might be through Rocket Lawyer attorney services. Rocket Lawyer Premium members have the ability to request guidance from an attorney with relevant experience or pose other questions. As always, you can Live Confidently® with Rocket Lawyer by your side.

On average, what would I usually need to pay to make a Gift Affidavit?

The cost of meeting and hiring the average attorney to make a Gift Affidavit can total anywhere from two hundred to one thousand dollars, depending on where you are and how complicated the issue may be. When you use Rocket Lawyer, you are not just filling out an Affidavit template. If you ever need support from a lawyer, your Premium membership provides up to a 40% discount when you hire an attorney from our network.

Will I need to do anything else once I write my Gift Affidavit?

Upon completing this Affidavit using Rocket Lawyer, you will be able to retrieve it on any device. With a Rocket Lawyer membership, you may edit it, print it, and/or sign it. Attached to each Gift Affidavit Form, there also is a set of next steps to take after the document is completed.

Does a Gift Affidavit Form need to be notarized or witnessed?

Yes, a Gift Affidavit Form needs the signature of a notary. Witnesses are not required.