MAKE YOUR FREE

Affidavit of Death
Other Names:
Death Affidavit
Affidavit of Death of Trustee
Affidavit of Death of Joint Tenant
Affidavit of Death and Heirship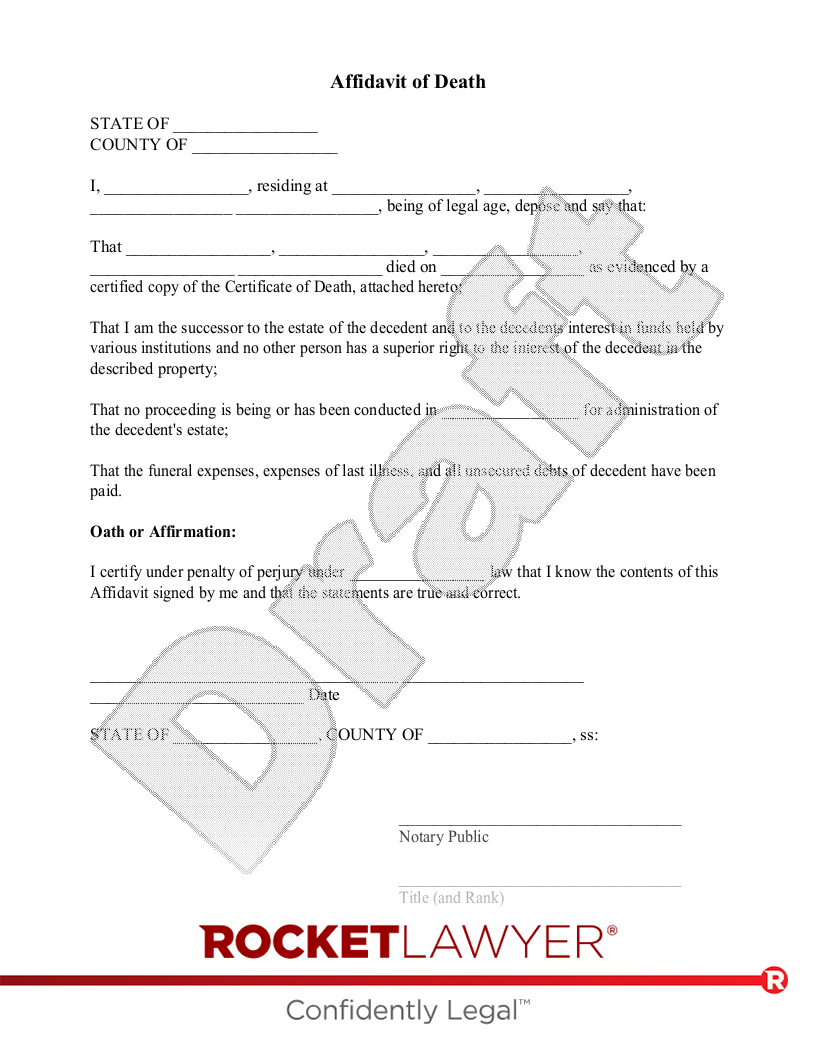 What is an Affidavit of Death?
An Affidavit of Death is a sworn statement that someone has passed away. This legal document can help you take care of the some of the administrative tasks after someone's passing, like notifying businesses, courts, and agencies of the death. For example, you may need to notify your late spouse's life insurance company about their passing; or perhaps you need to take care of an existing car loan payment or credit card debt. Often, this Affidavit and/or a death certificate are needed to close accounts or receive benefits.
When to use an Affidavit of Death:
You would like to notify the court of the deceased person's death and your interest in the estate.
Sample Affidavit of Death
The terms in your document will update based on the information you provide
This document has been customized over 61.7K times
Legally binding and enforceable
Ask a lawyer questions about your document
Affidavit of Death FAQs
How do I create an Affidavit of Death Form online?

It is very simple to get what you need using a free Affidavit of Death template from Rocket Lawyer:

Make your Affidavit - Provide a few simple details and we will do the rest
Send or share - Go over the document with an attorney, if needed
Sign it - Sign your Affidavit and make it legal

Any Affidavit of Death Form from Rocket Lawyer can be personalized to address your particular scenario. When you're ready to begin, simply click on the button that says "Make document". Your Affidavit will be assembled step by step as you provide details throughout the process.

Do I need an attorney to review my Affidavit of Death?

Making an Affidavit of Death is normally straightforward; however, you might need advice. Getting a lawyer to proofread your Affidavit of Death may be fairly time-intensive. A more cost-effective alternative would be via the Rocket Lawyer network. If you sign up for a Premium membership, you can have your document reviewed by an attorney with relevant experience. As always, Rocket Lawyer is here to help.

How much would it traditionally cost for me to make an Affidavit of Death?

The cost of finding and hiring a traditional legal provider to draft an Affidavit of Death can add up to anywhere from two hundred to one thousand dollars, depending on where you are located and how complex the matter is. Rocket Lawyer can offer much more protection than many other Affidavit template providers that you might discover. As a Rocket Lawyer member, you can get up to a 40% discount when hiring an attorney from our network.

What are my next steps after making my Affidavit of Death?

Upon finishing this Affidavit, you will be able to see it on any device. You are encouraged to engage with the document in any or all of these ways: editing it, saving it as a PDF document or Word file, or signing it. Your Affidavit of Death Form also comes with a list of helpful tips on what you can do next.

Does an Affidavit of Death Form need to be notarized or witnessed?

Yes, an Affidavit of Death Form needs the signature of a notary. Witnesses are not required.