MAKE YOUR FREE

Affidavit of Heirship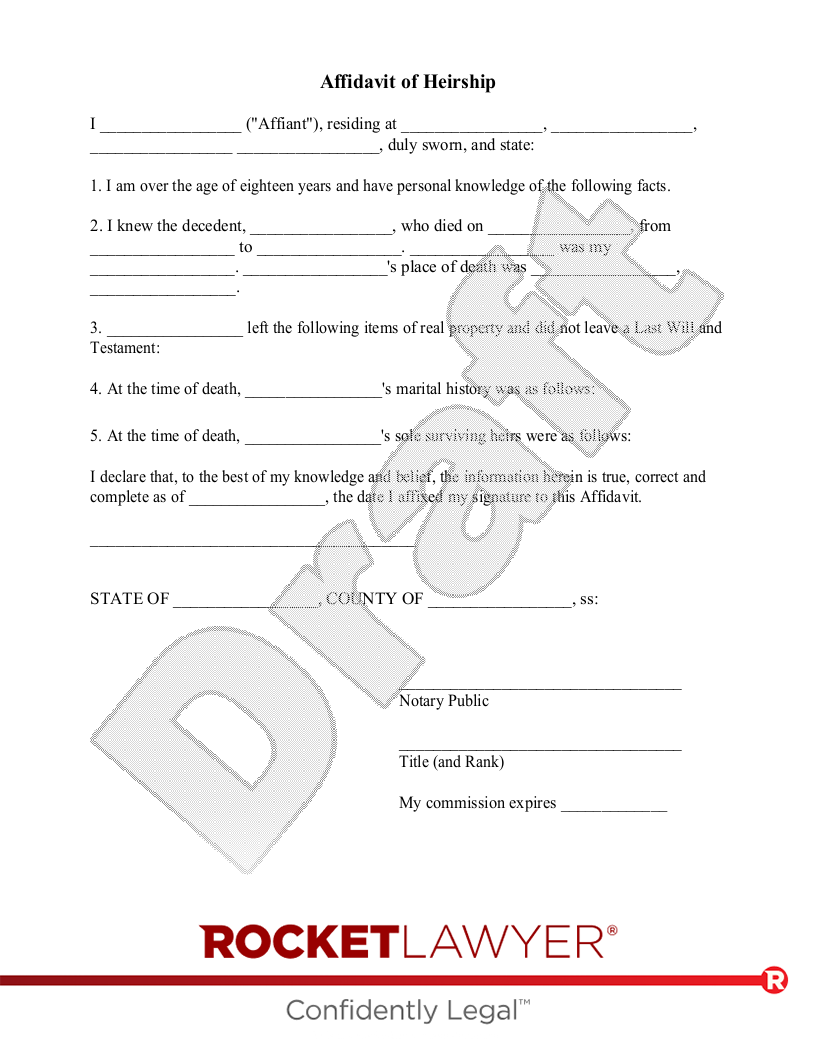 What is an Affidavit of Heirship?
An Affidavit of Heirship is a legal document that allows lawful heirs or someone who knows them to confirm their relationship to the deceased. This affidavit can be used to settle the estate of someone who has died without a Will.

Unlike other template websites that you might find, there is much more to Rocket Lawyer than blank PDF forms. If you have questions or concerns related to a loved one's estate, your Rocket Lawyer Premium membership gives you access to support from a lawyer in our network.
When to use an Affidavit of Heirship:
A family member or spouse has passed away with no Will or instructions on how to disburse their estate and you wish to make it known that you are the lawful heir of a deceased person.
You want to gain ownership of a loved one's estate without having to go to probate court.
You and the other heirs are in agreement on how the deceased personal or real property should be distributed.
Sample Affidavit of Heirship
The terms in your document will update based on the information you provide
This document has been customized over 168.8K times
Legally binding and enforceable
Ask a lawyer questions about your document
Affidavit of Heirship FAQs
How do I get an Affidavit of Heirship?

It's simple and easy to get a free Affidavit of Heirship using Rocket Lawyer. If you have already gathered a list of the decedent's property and heirs, follow the steps below:

Make the document - Answer a few simple questions and we will do the rest
Send or share it - Get legal advice, if needed
Sign it - Notarization is a best practice

This solution, in most cases, would end up being notably more affordable than hiring and working with the average provider to draft the whole document.

What is an Affidavit of Inheritance?

Also called an Affidavit of Heirship, this document provides a quick way for beneficiaries to establish ownership of real and personal property. It is generally faster because you avoid going through probate court. It is most often used when your spouse or family member dies without a will and leaves only real property.

Does an Affidavit of Heirship need to be recorded?

Yes, an Affidavit of Heirship needs to be filed and recorded with the deed records of the county where the property is located.

Who can file an Affidavit of Heirship?

An Affidavit of Heirship should be signed by someone who is not the heir. This individual should not benefit from the estate and should be familiar with the family history of the decedent.