MAKE YOUR FREE

ID Theft Affidavit
Other Names:
Identity Theft Affidavit
Affidavit of Stolen Identity
Identity Fraud Affidavit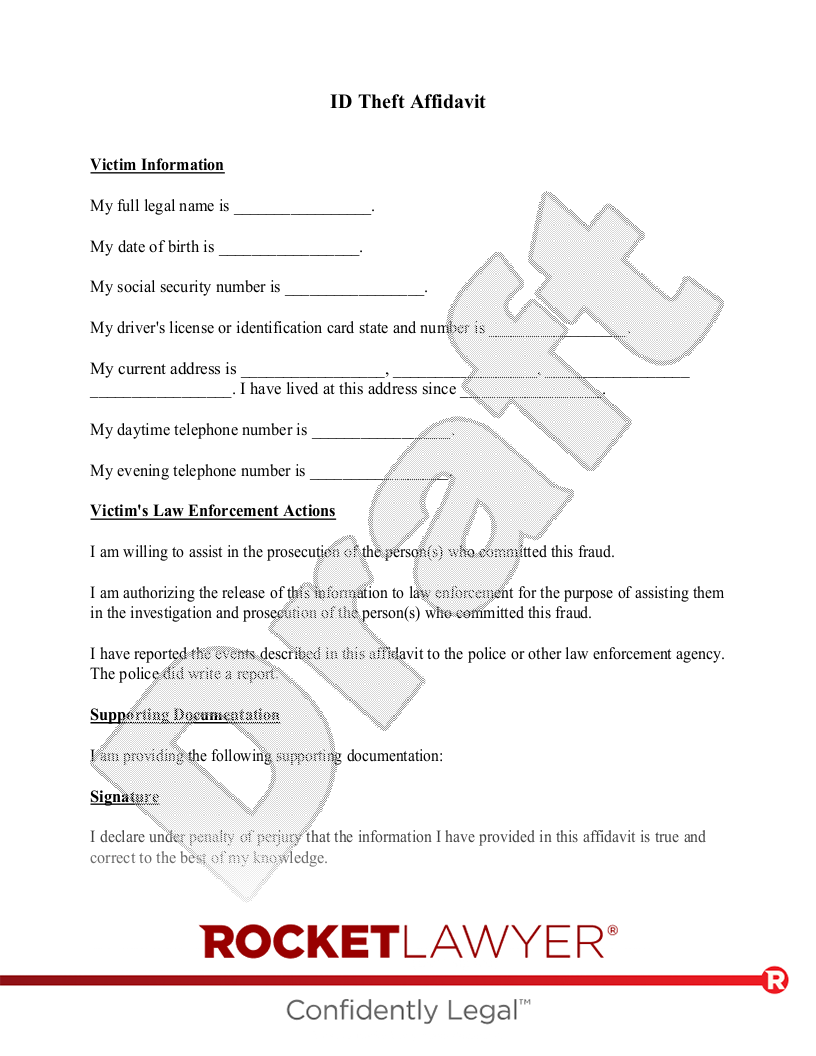 What is an ID Theft Affidavit?
An ID Theft Affidavit is a legal document that can be used to confirm under oath that your identity was stolen. This sworn statement, signed in front of a notary public, can help to ensure that your accounts aren't wrongfully charged and that no new accounts are opened in your name. It can also help creditors investigate the fraud and stop the thief. Even if there are already issues with your accounts, documenting the whole process in writing can help protect you and preserve your rights when you go to challenge fraudulent charges. No matter the issue, an ID Theft Affidavit can help get you protected as quickly as possible.
When to use an ID Theft Affidavit:
Your identity has been stolen.
You want to assist creditors in investigating fraudulent use of your identity.
You want to make sure no unauthorized accounts are open.
You need to ensure that you aren't responsible for charges.
Sample ID Theft Affidavit
The terms in your document will update based on the information you provide
This document has been customized over 27.1K times
Ask a lawyer questions about your document
Victim Information
My full legal name is .
When the events described in this affidavit took place, I was known as .
My date of birth is .
My social security number is .
My driver's license or identification card state and number is .
My current address is , , . I have lived at this address since .
My daytime telephone number is .
My evening telephone number is .
I did not receive any benefit, money, goods or services as a result of the events described in this report.
on or about .
Name:
Address:
Phone:
Victim's Law Enforcement Actions
I willing to assist in the prosecution of the person(s) who committed this fraud.
I authorizing the release of this information to law enforcement for the purpose of assisting them in the investigation and prosecution of the person(s) who committed this fraud.
The police did write a report.
As proof of my identification, I am attaching a copy of
Signature
I declare under penalty of perjury that the information I have provided in this affidavit is true and correct to the best of my knowledge.
________________________________
____________________________
Knowingly submitting false information on this form could subject you to criminal prosecution for perjury.
Subscribed and sworn to (or affirmed) before me this ____ day of ____________________, ______.
The foregoing instrument was acknowledged before me, by means of ☐ physical presence or ☐ online notarization, this _____ day of ____________________, ______ by _________________________, who is personally known to me or who has produced ________________________________ as identification.
ID Theft Affidavit FAQs
Where can I create an ID Theft Affidavit Form online for free?

It's very easy to get what you need with a free ID Theft Affidavit template from Rocket Lawyer:

Make your Affidavit - Answer a few basic questions and we will do the rest
Send and share it - Discuss the document with a lawyer, if desired
Sign it - Sign your Affidavit and make it legal

Each ID Theft Affidavit Form from Rocket Lawyer can be fully personalized to address your particular situation. When you're ready to start, simply click on "Make document". Your document will be constructed step by step as you answer simple questions to provide details along the way.

Should I hire a lawyer to review my ID Theft Affidavit?

Writing an ID Theft Affidavit is generally simple to do; however, you might still have legal questions. Locating someone to double-check your document can take a long time on your own. Another approach would be via attorney services at Rocket Lawyer. Premium members can ask for feedback from an experienced attorney or pose additional questions. As always, you can Live Confidently® with Rocket Lawyer by your side.

What might it traditionally cost for an attorney to help me make an ID Theft Affidavit?

The fees associated with hiring your average legal provider to write an ID Theft Affidavit could total between two hundred and one thousand dollars, depending on where you are and how complicated the matter might be. When you use Rocket Lawyer, you are not just filling out an Affidavit template. If you ever require assistance from a lawyer, your Rocket Lawyer membership provides up to 40% in savings when you hire an attorney.

Am I required to do anything else once I have written my ID Theft Affidavit?

After creating an Affidavit with the help of Rocket Lawyer, you will be able to retrieve it on any device. With a Rocket Lawyer membership, you will be able to edit, download it as a PDF document or Word file, and sign it. Each ID Theft Affidavit Form also comes with its own checklist of recommended actions you can take to finalize your document.

Does an ID Theft Affidavit Form need to be notarized or witnessed?

Yes, an ID Theft Affidavit Form needs the signature of a notary. Witnesses are not required.