MAKE YOUR FREE

Pandemic Parenting Plan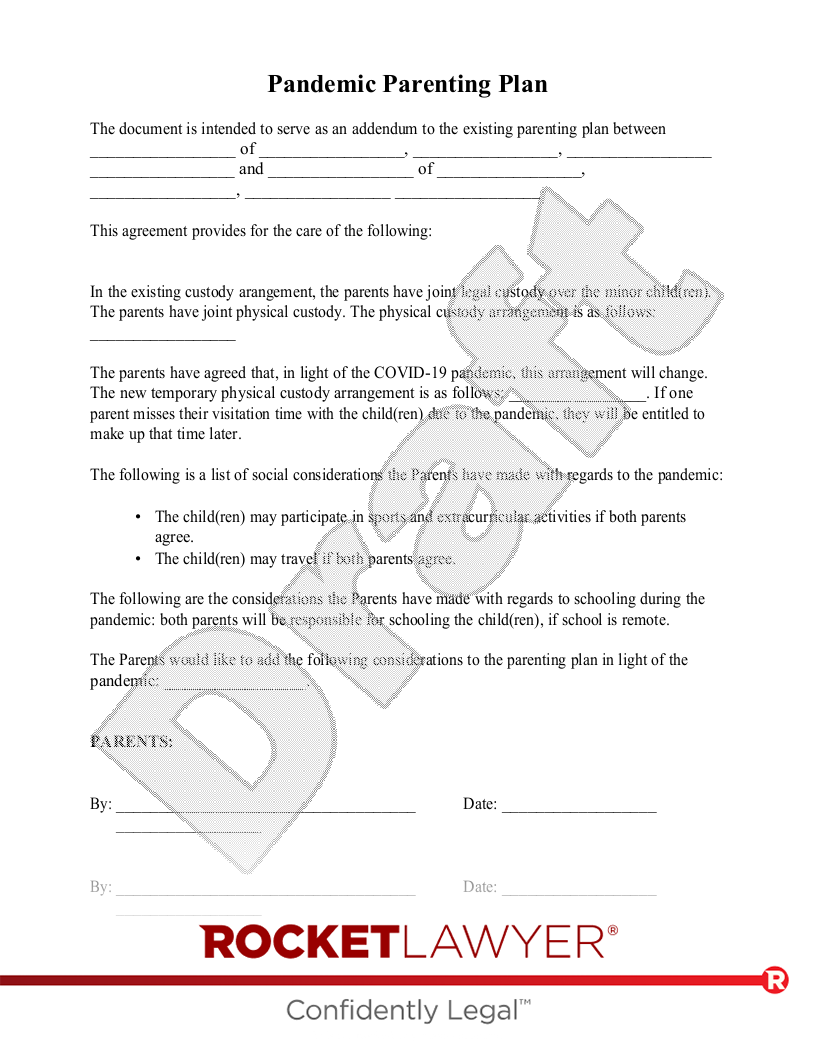 What is a Pandemic Parenting Plan?
A Parenting Plan is an agreement between the parents of children, typically entered into during a divorce or legal separation. A court may require the parents to put a plan in place, or the parents may decide for their own well-being that a written plan is best for themselves and their children. A Parenting Plan will include details of legal and physical custody of children; visitation rights and a visitation schedule that includes school holidays, summers, and vacations; childcare; health insurance; and child support.
Before you start making a Pandemic Parenting Plan, it is helpful to know your local guidelines with regards to COVID-19 and how your co-parent feels about visitation and social activities during the pandemic. Once the details are agreed upon and put in writing, the Parenting Plan is typically held as an informal agreement between parents, or can be filed with a court and accompany court orders, which are legally binding.
This document is intended to outline the details of a temporary arrangement made between co-parents during the COVID-19 pandemic. If you have questions about how COVID-19 impacts your parenting arrangements, ask a lawyer and find other free resources in the
Coronavirus Legal Center
.
When to use a Pandemic Parenting Plan:
You would like to set forth guidelines for custody, visitation, and schooling of your children.
You have an existing parenting plan that you would like to update in light of the COVID-19 pandemic.
Sample Pandemic Parenting Plan
The terms in your document will update based on the information you provide
Rocket Lawyer members have customized over 93.5M documents
Legally binding and enforceable
Ask a lawyer questions about your document
Sign this document online for free with RocketSign®
The document is intended to serve as an addendum to the existing parenting plan between of , , and of , ,
This agreement provides for the care of the following:
In the existing custody arangement, The physical custody arrangement is as follows:
The parents have agreed that, in light of the COVID-19 pandemic, this arrangement will change. The children will stay with . If one parent misses their visitation time with the child(ren) due to the pandemic, they will be entitled to make up that time later.
The following is a list of social considerations the Parents have made with regards to the pandemic:
•
•
The following are the considerations the Parents have made with regards to schooling during the pandemic: