MAKE YOUR FREE

Trust Letter to Mortgage Lender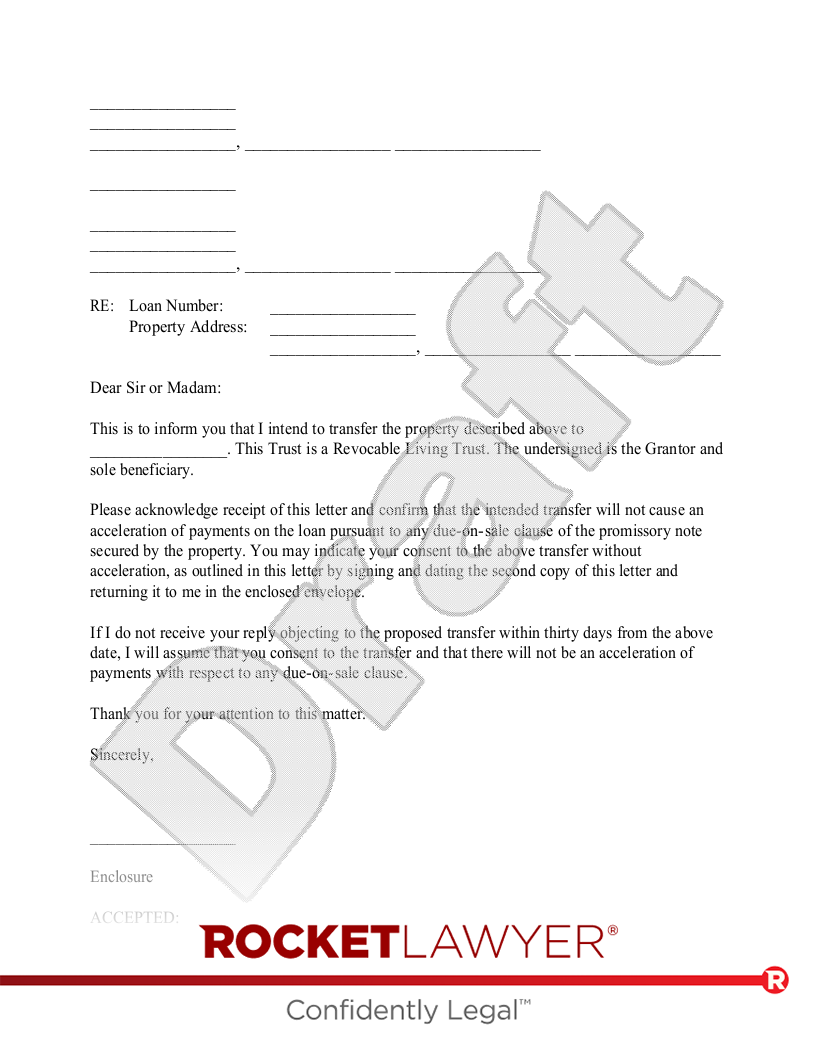 What is a Trust Letter to Mortgage Lender?
If you're getting ready to transfer real estate to your living trust, a Mortgage Trust Letter can help you speed things up by providing notice, or seeking consent, from your lender. Whether you're transferring your family home or your investment property, you don't want the transfer to get tangled up in red tape. A Mortgage Trust Letter can help simplify the process and get things moving.

You'll probably need a Mortgage Trust Letter when executing a transfer of property to a living trust. After all, real estate transactions typically need to be in writing. Maybe you need to let your lender know, or maybe another financial institution needs to stay in the loop; either way, it's best to document the process up front. Transferring bank accounts and stocks to your living trust is one thing, but real estate is a big deal - it's probably the biggest investment or asset you have. Make sure the transfer goes smoothly with a Trust Letter to Mortgage Lender.
When to use a Trust Letter to Mortgage Lender:
You need to let an institution know about your real estate transfer to a living trust.
You're notifying your lender about the transfer.
Sample Trust Letter to Mortgage Lender
The terms in your document will update based on the information you provide
This document has been customized over 7K times
Ask a lawyer questions about your document
,
Attention: Customer Service
,
,
This is to inform you that intend to transfer the property described above to . This Trust is a Revocable Living Trust.
Please acknowledge receipt of this letter and confirm that the intended transfer will not cause an acceleration of payments on the loan pursuant to any due-on-sale clause of the promissory note secured by the property. You may indicate your consent to the above transfer without acceleration, as outlined in this letter by signing and dating the second copy of this letter and returning it to in the enclosed envelope.
If do not receive your reply objecting to the proposed transfer within thirty days from the above date, will assume that you consent to the transfer and that there will not be an acceleration of payments with respect to any due-on-sale clause.
Thank you for your attention to this matter.
Sincerely,
Enclosure
ACCEPTED:
BY:
__________________________________
DATE:
___________________________
Owner:
_____
The Letter should also be signed by .
(You should sign both copies.)(Both you and should sign both copies.)