MAKE YOUR FREE

Notice of Death
Other Names:
Death Notice
Death Notification
Death Announcement
Death Notification Letter
Notification of Death
Notice of Death to an Insurance Company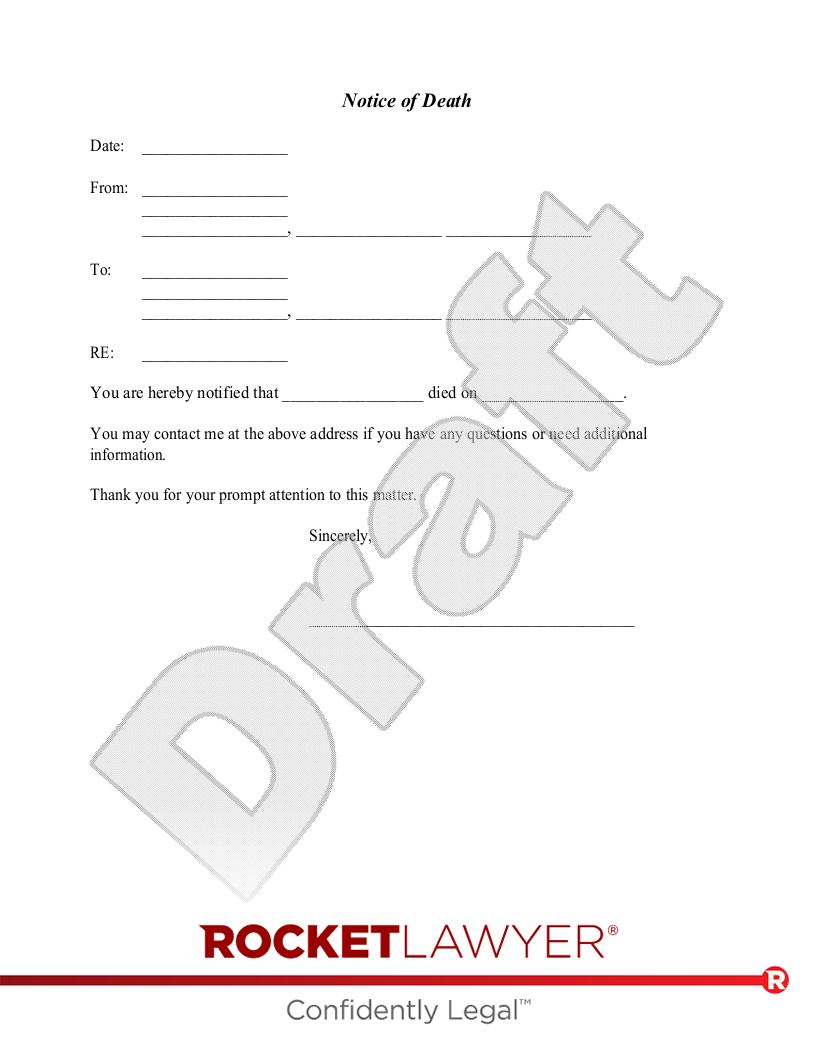 What is a Notice of Death?
A Notice of Death is used to notify a third party that a death has occurred. This Notice can be used to terminate utility services (home phone, gas, electricity, water) in the deceased person's home, remove a name from a charitable organization's mailing list, terminate membership in a club, or terminate a magazine subscription.
When to use a Notice of Death:
You need to let a company or organization know about someone's passing.
You have to stop services or subscriptions due to a death.
Sample Notice of Death
The terms in your document will update based on the information you provide
This document has been customized over 18K times
Ask a lawyer questions about your document
You are hereby notified that died on .
You may contact me if you have any questions or need additional information. or
Thank you for your prompt attention to this matter.
Sincerely,
______________________________________
Notice of Death FAQs
When can I use the Notice of Death document?

You may use the Notice of Death document if:

You need to let a company or organization know about someone's passing.
You have to stop services or subscriptions due to a death.

A Notice of Death can help you quickly take care of certain added stress. This way you can help avoid dealing with mail with your loved one's name on it. As there are a lot of third party people to notify, this can be a helpful document. A Notice of Death helps make a rough road a little bit smoother.

What do you write in a death notice?

Making a Notice of Death online is simple. Just answer a few questions, and Rocket Lawyer will build your document for you. Consider these questions beforehand to make the process speedier:

Who is the party to be notified?
Whose death is the subject of this notice?
What was the date of death?
Do you wish to include any additional information or make any request?

If you don't have all of the details you need, you can skip questions, and save your document for later.

How do you find out if someone has passed away?

If you would like to find out if someone has passed away, you can check online obituaries, government records, social media, visit local courthouses, or go to an archive facility.

Who needs to be notified when someone dies?

First and foremost, close family members, friends, and the deceased's lawyer or doctor (if applicable) should be notified when someone dies. After notifying the previously mentioned individuals, notice should be given to the following agencies and organizations:

Insurance companies
Social Security
Banking and financial institutions
Credit bureaus