Sublease Agreement Basics
Reviewed by Rocket Lawyer On Call Attorney Jason Cirlin, Esq

The good news is you got a new job in a new city. The bad news is you just signed a new lease agreement on your apartment. You can use our Sublease Agreement to sublease your apartment to a new tenant, and avoid paying double rent.
Sublease Agreement
You want to sublet your house, apartment or bedroom. If you want to sublet a commercial property use a Commercial Sublease.
Not all subleases are alike. That's why our Sublease Agreement can be tailored to your situation. The Agreement can be used if you are moving away for good, going on a long trip, subleasing all of your apartment or just a room. The Sublease Agreement outlines the rights and responsibilities of each party as it relates to the sublease of the rental property, including rent, security deposit and property maintenance. It's important to know that despite the Sublease, your original lease with your landlord still remains intact. If the subtenant fails to pay rent, you're still on the hook to your original landlord. Most lease and rental agreements require the landlord's consent to sublease. Use a Consent to Sublease if you need your landlord's approval.
---
<![CDATA[ ]]>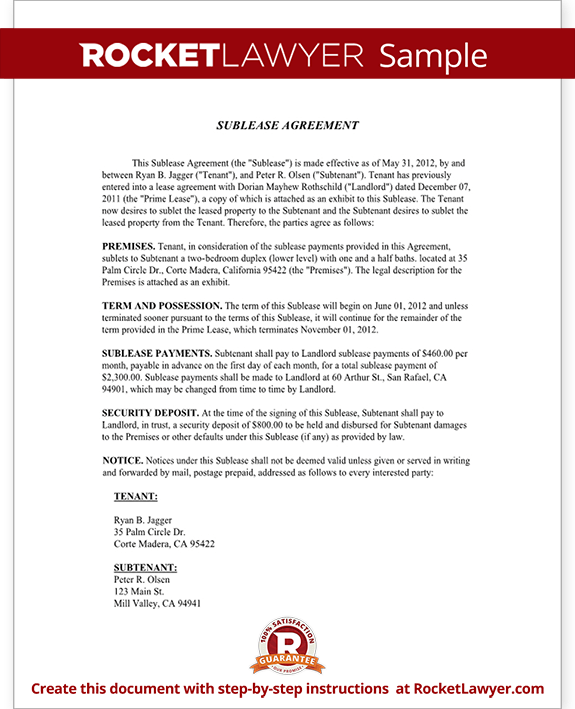 View Sample
Sample Sublease Agreement
More than just a template, our step-by-step interview process makes it easy to create a Sublease Agreement.

Save, sign, print, and download your document when you are done.

Sample Sublease Agreement
Our step-by-step interview process makes creating a printable Sublease Agreement easy.
Make Document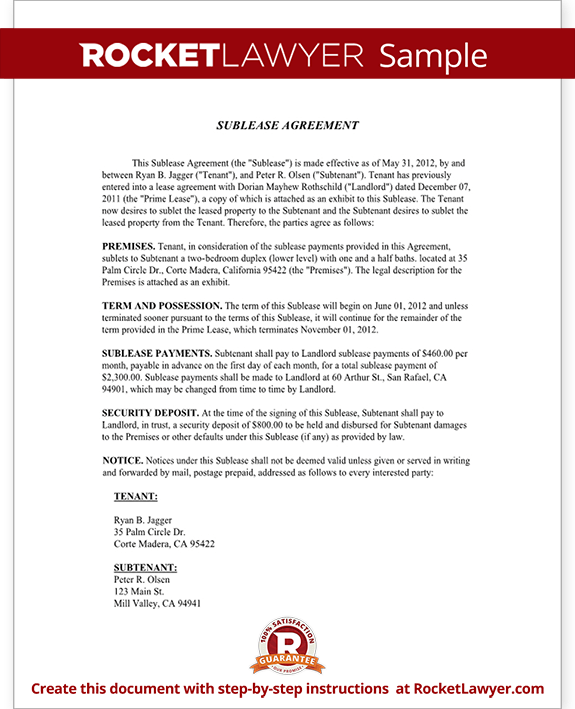 Why choose Rocket Lawyer?
Legally reviewed
Researched by lawyers
and legal staff.
Specialists to help
We're here to answer your
questions.
Free Trial
Your document is free with your subscription.
Our quality guarantee
We guarantee our service is
safe and secure.