MAKE YOUR FREE

Agreement to Cancel Lease
Other Names:
Early Termination of Lease Agreement
Lease Termination Agreement
Cash for Keys Agreement
Termination of Lease Agreement
Cancellation of Lease Agreement
Letter to Cancel Lease Agreement
Agreement to Nullify Lease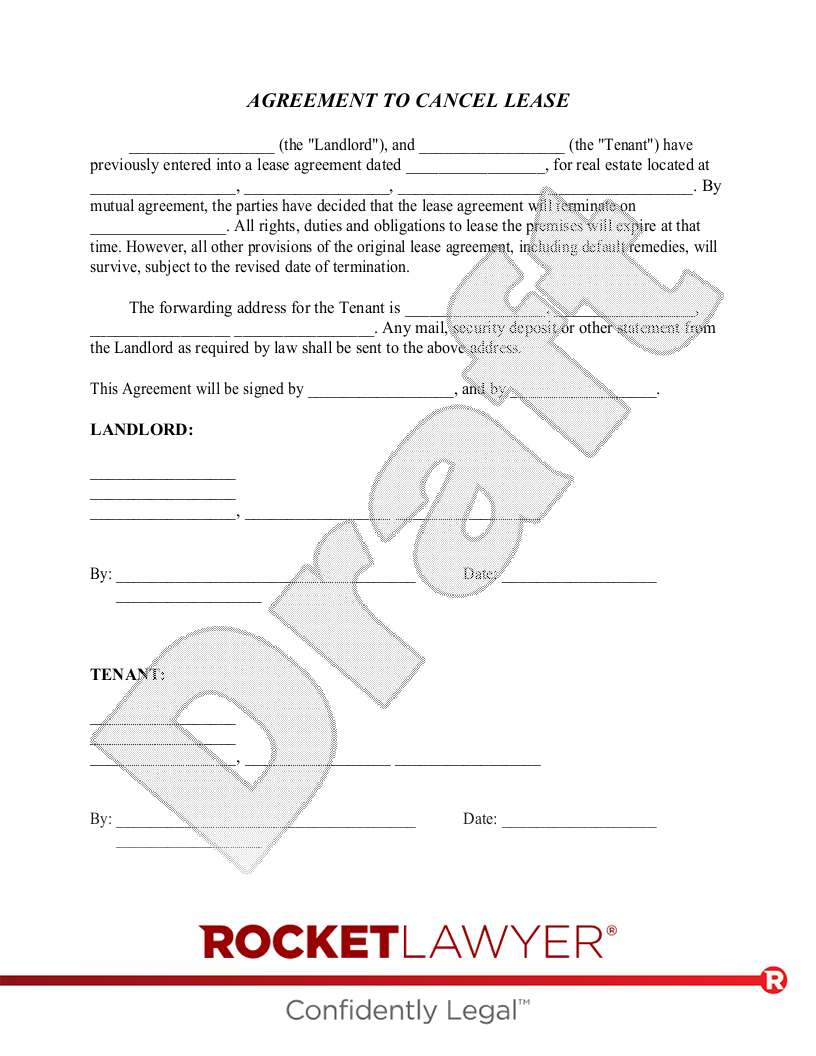 What is an Agreement to Cancel Lease?
An Agreement to Cancel Lease is a contract that allows for canceling a lease or rental agreement before the original term ends. This agreement can apply to commercial and residential leases and is sometimes referred to as a Cash for Keys Agreement. It is a useful tool for landlords or property managers to reach an amicable agreement with a tenant who needs to vacate a property.

The Agreement to Cancel Lease should only be used when both the landlord and tenant agree to alter the original lease term's ending date. This agreement is not designed for situations where one party seeks to unilaterally end the rental relationship, such as when a landlord tries to evict a tenant for non-payment of rent. To be legally effective, both parties must sign the agreement.

An Agreement to Cancel Lease should include details such as the rental property's address, the landlord and tenant's contact information, the end date of the original lease, the new lease termination date, and when both parties will sign the cancellation agreement. Depending on the lease's original conditions, there may be a penalty for canceling it, but parties may waive additional fees by mutual agreement.

Whether you're a landlord or tenant, there may be times when you need to terminate a lease before its original term ends. An Agreement to Cancel Lease, signed by both parties, dissolves the landlord-tenant relationship and allows parties to find new rental situations that suit their needs.
When to use an Agreement to Cancel Lease:
Both parties have agreed that a lease agreement will terminate on a date different from the date specified in the original lease.
You are a landlord who wants to end a lease early so that you can renovate or sell the property.
You are a landlord who wants to avoid going through the eviction process and is willing to compensate the persons occupying the property to vacate.
You are a tenant who needs to move before the end of your lease.
Sample Agreement to Cancel Lease
The terms in your document will update based on the information you provide
This document has been customized over 181.7K times
Legally binding and enforceable
Ask a lawyer questions about your document
Sign this document online for free with RocketSign®
AGREEMENT TO CANCEL LEASE
The forwarding address for the Tenant is , , . Any mail, security deposit or other statement from the Landlord as required by law shall be sent to the above address.
This Agreement will be signed by on behalf of , and by , and by , and by on behalf of , and by , and by .
Final Checklist for Agreement to Cancel Lease
For Property Located at:
,
Rocket Lawyer is the easy and affordable legal service for everyone -- giving you the legal help you need at a price you'll love. Our legal plans give families and businesses free legal documents, affordable access to licensed attorneys, plus a whole lot more.
Next Steps: Make It Legal
_____
Look over Agreement to Cancel Lease to ensure it matches your intentions. If you'd like to make changes, you can download this document in Microsoft Word, or you can make edits using the Document Manager on Rocketlawyer.com.
_____
You can use Rocket Lawyer's e-signature service to electronically have each party sign the document. Or, have the parties sign and date duplicate hard copies of the Agreement to Cancel Lease.
_____

If the original lease agreement has been recorded, it is recommended that this Agreement be recorded as well, which, in turn, usually requires that the document must be notarized. In that case, the specific requirements of the relevant state should be determined with respect to notarizing and/or recording the Agreement.
Copies
Share or give a signed copy of the Agreement to:
Reasons to Update
*
Parties have agreed to a different termination date from both the original date and a previous alternative date.
Members can always consult an attorney at no extra cost!
*
If you have quick questions or wish to review this document with an attorney, you can do so for free. Rocket Lawyer's On Call® service makes it fast and easy to speak with a local attorney. Get started by visiting the Find a Lawyer tab on our site, or calling (866) 243-2183.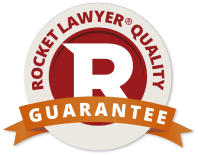 Our quality guarantee
We guarantee our service is safe and secure, and that properly executed Rocket Lawyer legal documents are legally enforceable under applicable US laws.
Need help? No problem!
Ask a question for free or get affordable legal advice when you connect with a Rocket Lawyer network attorney.
Agreement to Cancel Lease checklist
Complete your free Agreement to Cancel Lease with our Make it Legal™ checklist