MAKE YOUR FREE

Lease Renewal Agreement
Other Names:
Lease Extension Agreement
Rental Agreement Renewal
Rental Agreement Extension
Lease Renewal Form
Lease Extension Addendum
Lease Renewal Letter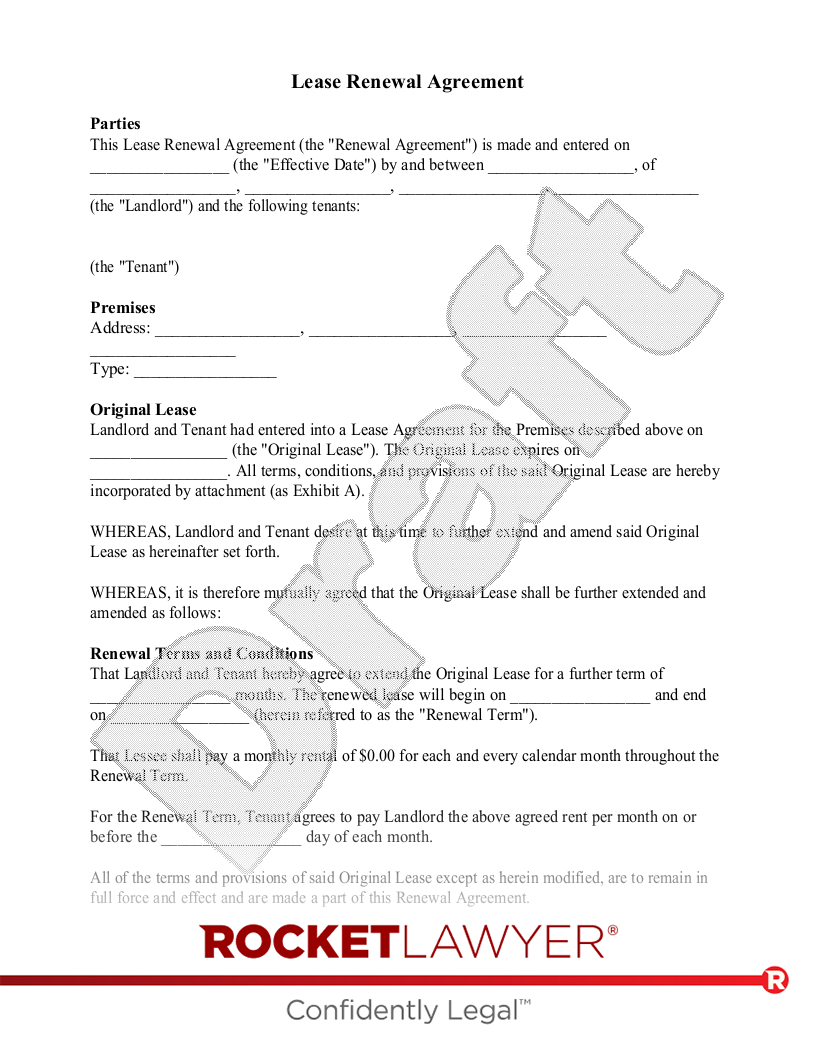 What is a Lease Renewal Agreement?
A Lease Renewal Agreement is a legally binding contract to renew an about-to-expire lease for an additional period. Lease Renewal Agreements can be used to extend the existing lease agreement for another term or to modify the terms with renewal, such as to increase rent for the new lease period.
When to use a Lease Renewal Agreement:
You are a landlord who wants to invite your tenant to renew or extend their lease.
You are a tenant who would like to ask your landlord to extend or renew your lease agreement.
Sample Lease Renewal Agreement
The terms in your document will update based on the information you provide
This document has been customized over 192.9K times
Legally binding and enforceable
Ask a lawyer questions about your document
Sign this document online for free with RocketSign®
Lease Renewal Agreement
Parties
This Lease Renewal Agreement (the "Renewal Agreement") is made and entered on (the "Effective Date") by and between , of , , , (the "Landlord") and the following tenants:
Premises
Address: , ,
Type:
Original Lease
Landlord and Tenant had entered into a Lease Agreement for the Premises described above on (the "Original Lease"). The Original Lease expires on . All terms, conditions, and provisions of the said Original Lease are hereby incorporated by attachment (as Exhibit A).
WHEREAS, Landlord and Tenant desire at this time to further extend and amend said Original Lease as hereinafter set forth.
WHEREAS, it is therefore mutually agreed that the Original Lease shall be further extended and amended as follows:
Renewal Terms and Conditions
That Landlord and Tenant hereby agree to extend the Original Lease for a further term of months. The renewed lease will begin on and end on (herein referred to as the "Renewal Term").
That Lessee shall pay a monthly rental of for each and every calendar month throughout the Renewal Term.
For the Renewal Term, Tenant agrees to pay Landlord the above agreed rent per month on or before the day of each month.
All of the terms and provisions of said Original Lease except as herein modified, are to remain in full force and effect and are made a part of this Renewal Agreement.
Lease Renewal Agreement Checklist
Make It Legal™
Find out next steps for your document
___Sign this document. This document needs to be signed by:
All Tenants
The Lease Renewal Agreement can be signed online. It becomes effective as of the date specified in the Agreement.
___Everyone gets a copy. Anyone named in the document should receive a copy of the signed document. If you sign this agreement online a copy will be securely stored in your account. You can share your document from your account.
Important Details
Make sure all attachments have been included. You should scan and upload a copy of Original Lease Agreement to your Rocket Lawyer account using your Rocket Lawyer account to ensure you have a complete record of all documents involved in this transaction.
Lease Renewal Agreement FAQs
What does it mean to renew a lease?

The time to renew a lease comes at the end of an existing lease term. If the landlord and tenant have had a good relationship and both are happy with the terms of the existing lease, then both may decide that renewing the lease makes sense. Most of the terms of the existing lease typically would continue in the new lease. However, some landlords may decide to increase the rent for the new lease. If a tenant does not sign a lease renewal, but remains in the rental, the tenancy usually automatically converts to a month-to-month arrangement. The benefit of being month-to-month is an increased level of flexibility if you haven't settled your future plans. The downside to a month-to-month is that your landlord may decide to rent to a new tenant who is willing to sign a longer term lease.

What's the difference between a lease renewal and a lease extension?

A lease extension is simply the continuation of an existing lease agreement, usually on a month-to-month basis. A lease renewal is essentially a new lease, and is usually for the same term as the previous lease. The benefits of renewing a lease include the stability of knowing there's a commitment for the term of the new lease, the savings to the landlord of not having to find and move in a new tenant, and the ability to raise the rent for the new lease.

Can a landlord refuse to renew a lease?

Yes, a landlord can refuse to renew a lease when the term of the original lease is over. In some states, however, a landlord may not refuse to renew a lease if doing so is for discriminatory reasons or is in retaliation for a tenant acting within their legal rights.

What are auto-renewing leases and are they legal?

Auto-renewing leases contain a clause that continues the lease agreement for the same (or lesser) period of time. For example, a month-to-month rental agreement is a common auto-renewing lease. The term of the lease automatically renews, unless the landlord or tenant provides proper notice that they intend to end the lease. In general, they are legal, but if you have a question about your lease, it's best to ask a lawyer.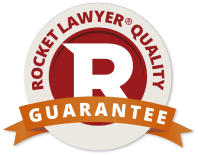 Our quality guarantee
We guarantee our service is safe and secure, and that properly executed Rocket Lawyer legal documents are legally enforceable under applicable US laws.
Need help? No problem!
Ask a question for free or get affordable legal advice when you connect with a Rocket Lawyer network attorney.
Lease Renewal Agreement checklist
Complete your free Lease Renewal Agreement with our Make it Legal™ checklist