MAKE YOUR FREE
Property Sale Agreement
Answer simple questions to create your document

Sign & share your document online

Save progress and finish on any device; download & print at home
Start Now

Preparing your document questions
We've sent you an email
with information about how to access your document from any device

Make your Free
Property Sale Agreement
Property Sale Agreement Basics
Congratulations - you're close to owning your new property! Signing a Property Sale Agreement gets you one step closer to making it official. This agreement lays out the terms to move your purchase or sale closer to closing.
Use the Property Sale Agreement document if:
You are ready to sell your property to an interested buyer and would like to outline the process for the sale until the closing date.
You would like to purchase a property and want to enter into a formal agreement with the Seller regarding the terms of the sale.
Selling a property can be complex. Having a Property Sale Agreement can help you avoid any missteps that could delay your closing. Maybe a seller has accepted your offer and your loan has been approved, or maybe you're still waiting for financing. Before anyone starts hiring moving trucks, both seller and buyer need to agree on the terms with more than a handshake. Buyers should also put down earnest money - a down payment - to seal the deal. Once you sign a Property Sale Agreement, you can't back out without a good reason, and without facing penalties, so it's important to get the details right the first time. Make sure your real estate deal doesn't go sour by putting the details in a Property Sale Agreement.

Other names for this document: Property Sale Contract, Property Purchase Agreement
---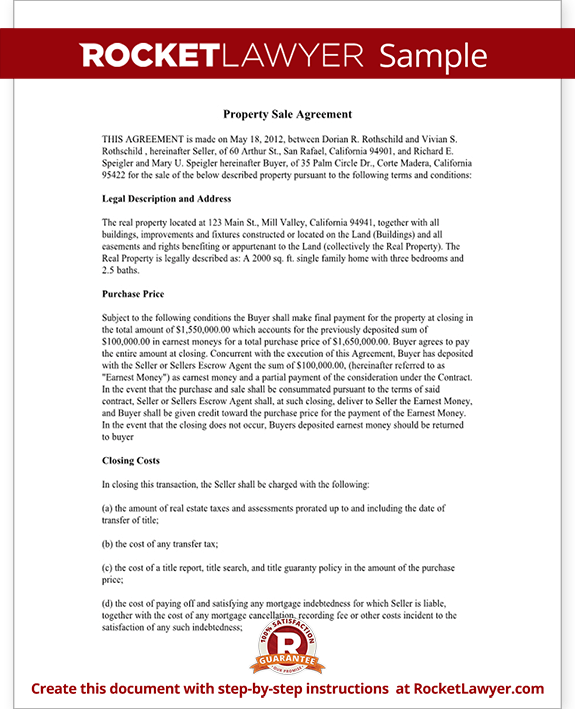 View Sample
Sample Property Sale Agreement
More than just a template, our step-by-step interview process makes it easy to create a Property Sale Agreement.

Save, sign, print, and download your document when you are done.

Sample Property Sale Agreement
Our step-by-step interview process makes creating a printable Property Sale Agreement easy.
Make Document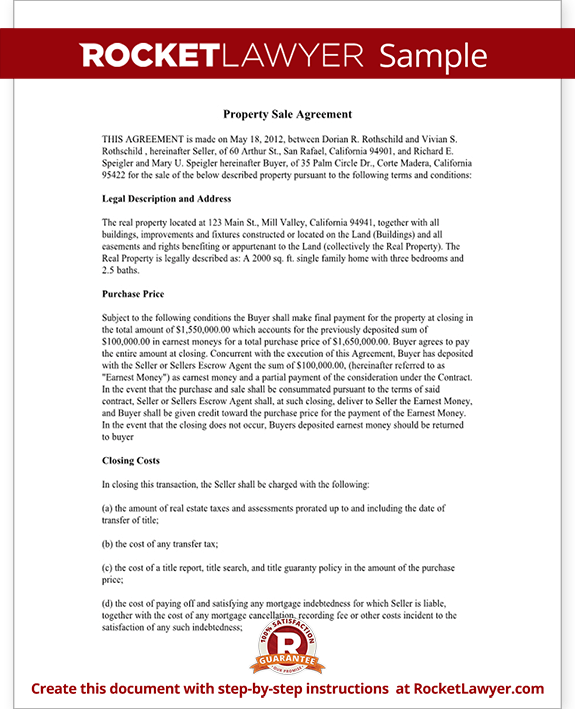 ---
Ready to create your Free Property Sale Agreement?
Your document is free within your one week membership trial.
Make Document