Reviewed by Rocket Lawyer On Call Attorney Carmina Tessitore, Esq

Whether it's a wedding, family portraits, or a commercial shoot, a Photography Contract ensures the only memories captured are good ones. If you are hiring a photographer, use our legal document to outline your expectations in terms of how the photos will be taken, the timing in which the prints will be delivered and other issues around photographic rights. You can also incorporate clauses into the Photography Contract that dictate payment terms and contingencies, should you decide you want more prints or time with the photographer than originally agreed upon.
Use the Photography Contract document if:
You are hiring a photographer for a special event or occasion.
You are a photographer providing freelance or contract services to a client.
If you're a photographer, our document will help to get your clients' expectations up front and in writing so there are no misunderstandings later. The Photography Contract also makes it easier to get paid on time and in-full.

If you have additional legal needs, we offer a full list of service contracts that are customizable to meet the requirements of your industry or situation.

Other names for this document: Photographer Contract Agreement, Photo Contract
---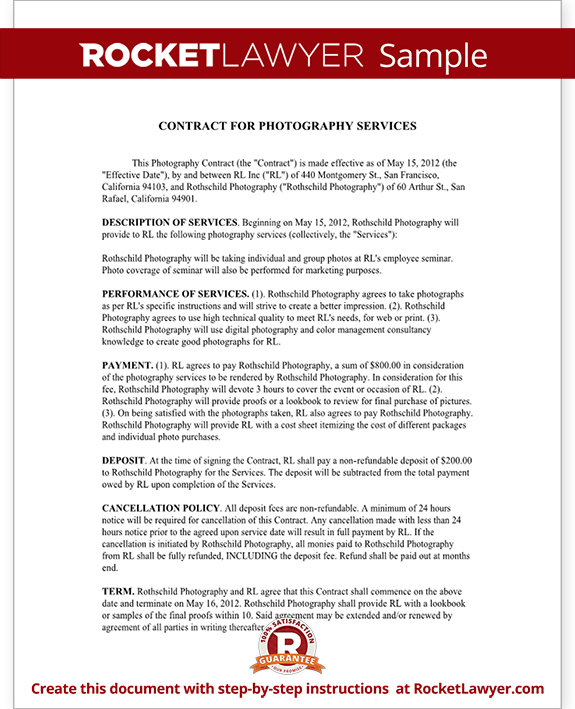 View Sample
Sample Photography Contract
More than just a template, our step-by-step interview process makes it easy to create a Photography Contract.

Save, sign, print, and download your document when you are done.
This document is sometimes called a Contract for Photography Services.