A Pet Addendum allows a landlord to define, document, and change their pet policies in a lease agreement. People love their pets, and being able to live peacefully with them is important. Whether you're a landlord leasing a property or a prospective tenant with a family pet, a Pet Addendum can help ensure all the details of the pet policy are clear and well documented.
Pet Addendum
You're a landlord who's allowing pets in rental properties.
You're renting a home and are allowed to bring your pets with you.
There's a current lease in place, but you need to add information on pets.
---
<![CDATA[ ]]>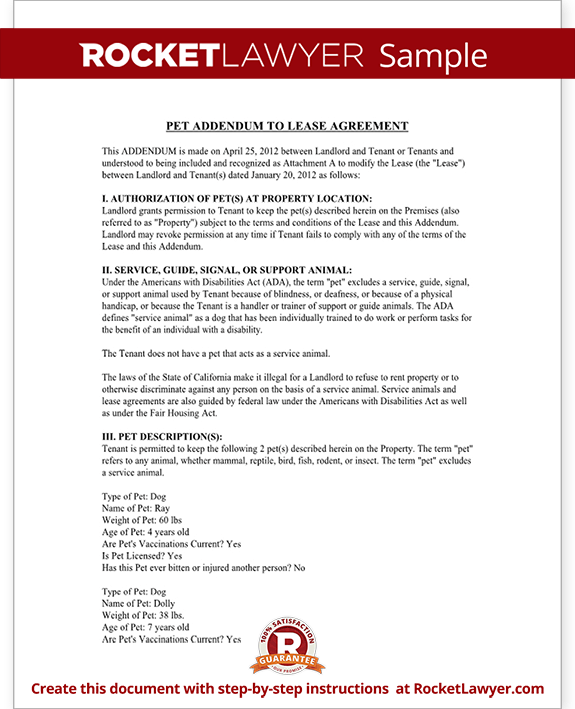 View Sample
Sample Pet Addendum
More than just a template, our step-by-step interview process makes it easy to create a Pet Addendum.

Save, sign, print, and download your document when you are done.
This document is sometimes called a Pet Addendum to Lease Contract.

Sample Pet Addendum
Our step-by-step interview process makes creating a printable Pet Addendum easy.
Make Document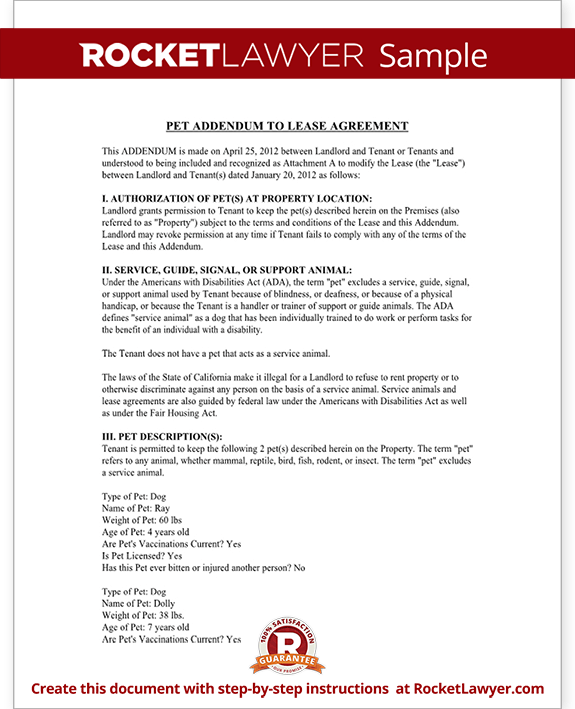 ---
Dogs and cats can make excellent companions, but not if you have to hide them from your landlord. A Pet Addendum can make sure your pet is welcome when you move into a new rental. If you're a landlord, your pet policy is probably one of the first questions a potential tenant asks about. A Pet Addendum allows you to specify what types of pets you'll allow and under what conditions. You may be okay with a small Border Collie on your property but not a giant Caucasian Shepherd - and while you might want to allow cats, you may want to limit them to no more than two in a single residence. No matter what your preferences are, you can document them in a Pet Addendum.

Other names for this document: Pet Addendum to Lease, Pet Agreement, Lease Addendum for Pets