MAKE YOUR FREE

Pet Application Form
Other Names:
Pet Application
Dog Application Form
Cat Application Form
Rental Application for Pets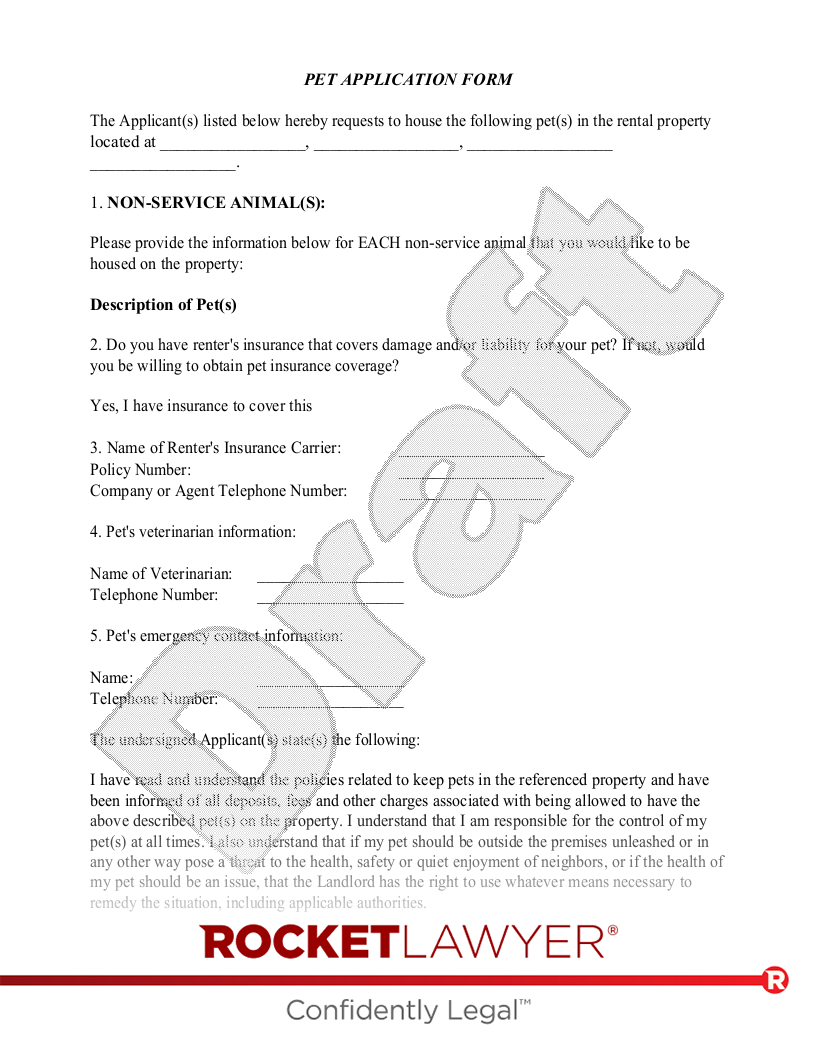 What is a Pet Application Form?
Both Tenants and Landlords may have a need to complete a Pet Application Form. A Tenant may have moved into his or her rental property without any pets, but later wants to move a pet into the home. If the Landlord has a policy allowing pets, the Tenant may still need to complete an application, providing all the important information of the specific pet. Or, a Landlord might want to print out a blank form Pet Application for a Tenant to complete by hand.

If you're a tenant who needs permission from your landlord to move in a new pet, a Pet Application Form is a great way to formalize your request. You'll be able to provide crucial information to your landlord about what sort of animal you'd like to move in, the name and phone number of your veterinarian, and whether you have insurance to cover any damages the animal might cause.

Completing a Pet Application Form takes only about 5 minutes. All you have to do is answer a few simply questions, and we'll take care of creating the form for you.
When to use a Pet Application Form for Rental:
You're a landlord who wants a formal process to approve pets.
You're a tenant who is interested in owning a pet.
You manage properties.
Sample Pet Application Form
The terms in your document will update based on the information you provide
This document has been customized over 4.8K times

Documents and communicates
Ask a lawyer questions about your document
PET APPLICATION FORM
The Applicant(s) listed below hereby requests to house the following pet(s) in the rental property located at , , under the lease dated .
Name of Applicant/Pet Owner:
Applicant Telephone Number:
. Do you have renter's insurance that covers damage and/or liability for your pet? If not, would you be willing to obtain pet insurance coverage?
Yes, I have insurance to cover this
. Pet's veterinarian information:
. Pet's emergency contact information:
The undersigned Applicant(s) state(s) the following:
I have read and understand the policies related to keep pets in the referenced property and have been informed of all deposits, fees and other charges associated with being allowed to have the above described pet(s) on the property. I understand that I am responsible for the control of my pet(s) at all times. I also understand that if my pet should be outside the premises unleashed or in any other way pose a threat to the health, safety or quiet enjoyment of neighbors, or if the health of my pet should be an issue, that the Landlord has the right to use whatever means necessary to remedy the situation, including applicable authorities.
Signature of Pet Owner(s) and Date: