Office Space Lease Basics
You've found the perfect commercial space for your business, hashed out the terms, and it's time to sign an Office Space Lease. Renting out a commercial space can be big business, so you'll want ensure a smooth start to your landlord-tenant relationship by drawing up well-written Office Space Lease.
Use the Office Space Lease document if:
You own commercial property that will be leased to a new tenant.
You own commercial property that will be converted to a rental property.
You want to lease commercial rental property from a landlord who does not have a lease form.
An Office Space Lease is a vital financial document for both parties. It's important to put everything on the table from the get-go. As a tenant, you want to make sure you are getting a fair deal, and are protected from any unpleasant surprises. Owners and managers want to ensure they are getting a return on their property, and that the tenant is reliable. You need to nail down the basics, like the amount of rent, due date, and length of the lease. You'll also want to lay how the tenant will use the space - and any prohibited uses. If you're the new tenant, you need to get any agreed-upon repairs in writing. Does the space include curtains, furniture, or other furnishings? Parking Spaces? Storage? Will the tenant be required to carry liability insurance? Will the lease renew automatically? These are all important things to get in writing before you sign an Office Space Lease. Leases are the lynchpin of any commercial real estate deal.

Other names for this document: Office Space Lease Agreement, Commercial Office Space Lease
---
<![CDATA[ ]]>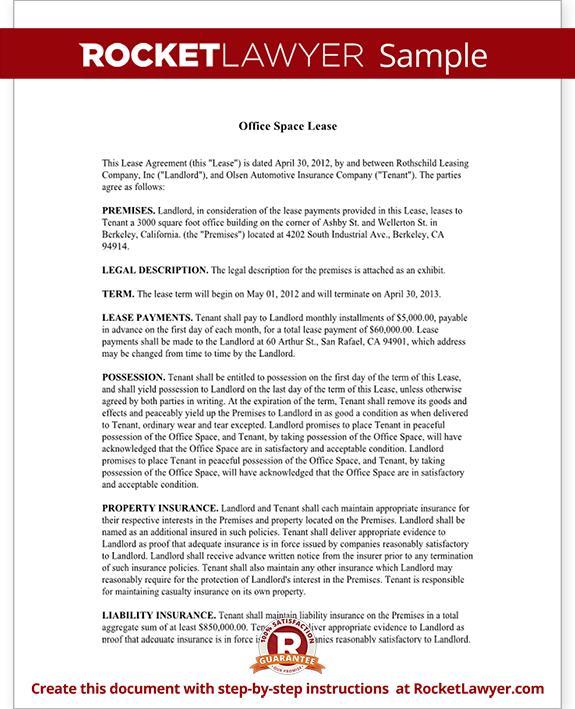 View Sample
Sample Office Space Lease
More than just a template, our step-by-step interview process makes it easy to create an Office Space Lease.

Save, sign, print, and download your document when you are done.

Sample Office Space Lease
Our step-by-step interview process makes creating a printable Office Space Lease easy.
Make Document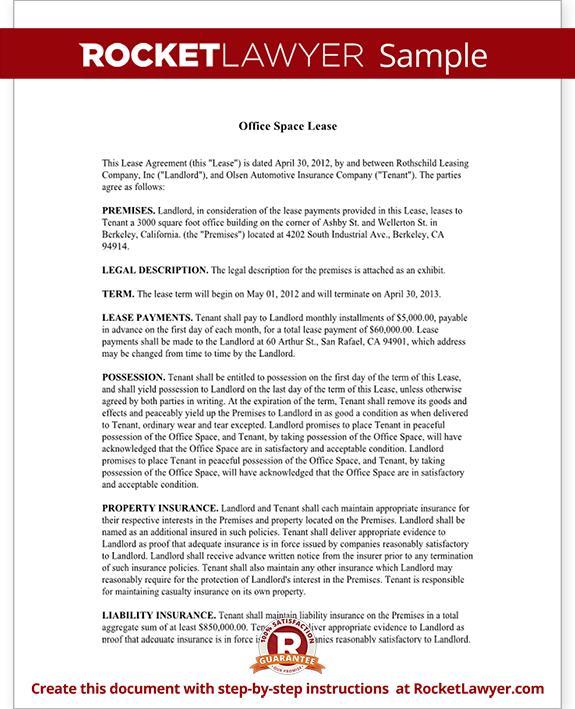 Why choose Rocket Lawyer?
Legally reviewed
Researched by lawyers
and legal staff.
Specialists to help
We're here to answer your
questions.
Free Trial
Your document is free with your subscription.
Our quality guarantee
We guarantee our service is
safe and secure.