MAKE YOUR FREE

Storage Space Lease Agreement
Other Names:
Storage Rental Agreement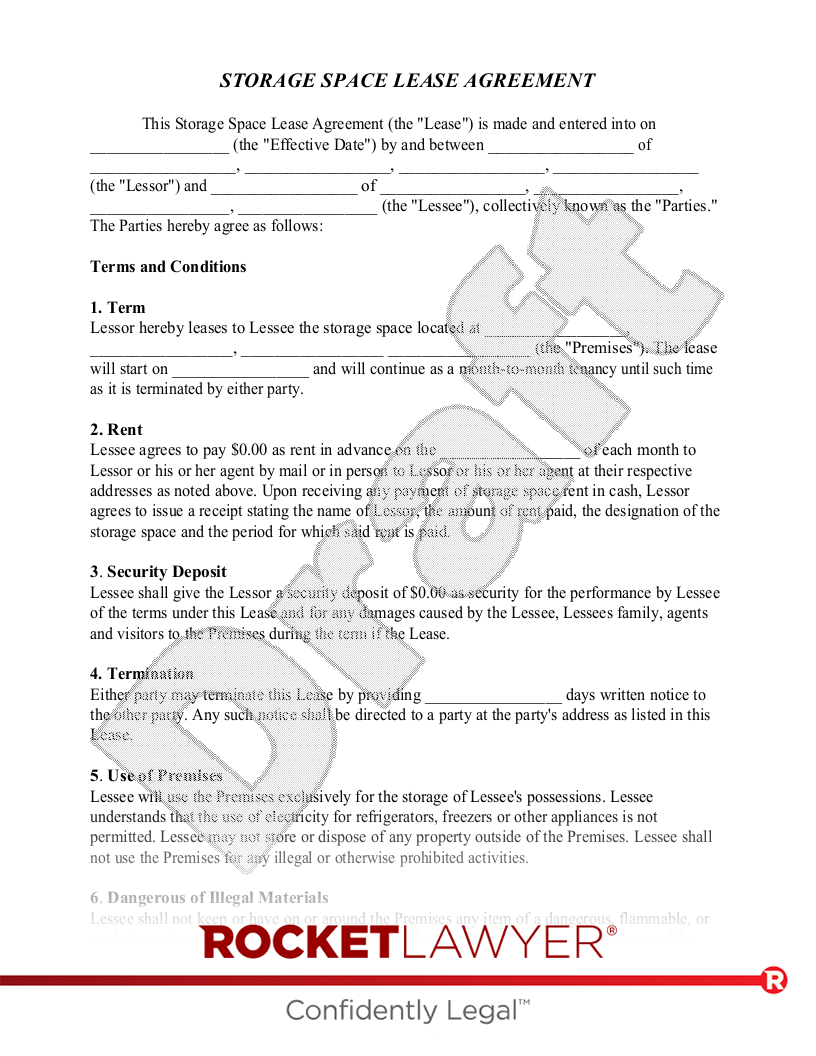 What is a Storage Space Lease Agreement?
The primary purpose of creating a Storage Space Lease Agreement is to set forth the terms and payment details related to the rental of a storage unit. When it contains the appropriate details, this essential legal contract can help to reduce conflicts by ensuring that the understanding is mutual. You can tap or click on the button labeled "Make document" to check out our sample Storage Space Lease Agreement and see what information you'll need to provide to build your document.
When to use a Storage Space Lease Agreement:
You are leasing storage space to an individual or business.
Sample Storage Space Lease Agreement
The terms in your document will update based on the information you provide
This document has been customized over 52.3K times
Legally binding and enforceable
Ask a lawyer questions about your document
Sign this document online for free with RocketSign®
STORAGE SPACE LEASE AGREEMENT
This Storage Space Lease Agreement (the "Lease") is made and entered into on (the "Effective Date") by and between of , , , (the "Lessor") and of , , , (the "Lessee"), collectively known as the "Parties." The Parties hereby agree as follows:
Terms and Conditions
. Term
Lessor hereby leases to Lessee the storage space located at , , (the "Premises"). The lease will start on and will continue as a month-to-month tenancy until such time as it is terminated by either party.
. Rent
Lessee agrees to pay as rent in advance on the of each month to Lessor or his or her agent by mail or in person to Lessor or his or her agent at their respective addresses as noted above. Upon receiving any payment of storage space rent in cash, Lessor agrees to issue a receipt stating the name of Lessor, the amount of rent paid, the designation of the storage space and the period for which said rent is paid.
. Security Deposit
Lessee shall give the Lessor a security deposit of as security for the performance by Lessee of the terms under this Lease and for any damages caused by the Lessee, Lessees family, agents and visitors to the Premises during the term if the Lease.
. Termination
Either party may terminate this Lease by providing days written notice to the other party. Any such notice shall be directed to a party at the party's address as listed in this Lease.
. Use of Premises
Lessee will use the Premises exclusively for the storage of Lessee's possessions. Lessee understands that the use of electricity for refrigerators, freezers or other appliances is not permitted. Lessee may not store or dispose of any property outside of the Premises. Lessee shall not use the Premises for any illegal or otherwise prohibited activities.
. Dangerous of Illegal Materials
Lessee shall not keep or have on or around the Premises any item of a dangerous, flammable, or explosive nature that might unreasonably increase the risk of fire or explosion on or around the Premises or that might be considered hazardous by any responsible insurance company. Lessee shall not keep or have on or around the Premises any illegal items, materials or substances.
. Security and Liability
Lessee understands that the Lessor does not provide any security system for the Premises. Lessee's possessions will occupy the Premises entirely at the risk of the Lessee. Lessor is not responsible for carrying any insurance covering Lessee's possessions. Lessee should, at his or her own expense, obtain insurance for the possessions stored at the Premises. Lessee releases Lessor from any loss, damage, claim or injury resulting from any casualty on the Premises. Lessee understands and agrees that the Lessee accepts full responsibility for any and all personal injuries or any other damages that may occur during use of the storage space, regardless of the reason. Further, Lessee agrees that Lessor, and all associated owners, agents, and employees, be held harmless for any and all injuries and damages occurring inside or outside of the Premises.
. Maintenance
Lessee will, at Lessee's sole expense, keep and maintain the Premises in good, clean and sanitary condition during the term of this Lease and any renewal thereof. Lessee will promptly advise Lessor if the Premises are in need of any maintenance or repair.
. Assignment and Sublease
Lessee shall not assign or sublease any interest in the Lease
. Governing Law
This Lease shall be governed by the laws of .
. Entire Agreement
This Lease contains the entire agreement of the parties, and there are no other promises or conditions in any other agreement whether oral or written concerning the subject matter of this Lease. This Lease supersedes any prior written or oral agreements between the parties.
. Severability
If any provision of this Lease will be held to be invalid or unenforceable for any reason, the remaining provisions will continue to be valid and enforceable. If a court finds that any provision of this Lease is invalid or unenforceable, but that by limiting such provision it would become valid and enforceable, then such provision will be deemed to be written, construed, and enforced as so limited.
. Amendment
This Lease may be modified or amended in writing, if the writing is signed by the party obligated under the amendment.
. Waiver of Contractual Rights
The failure of either party to enforce any provision of this Lease shall not be construed as a waiver or limitation of that party's right to subsequently enforce and compel strict compliance with every provision of this Lease.
IN WITNESS WHEREOF, this Lease has been executed and delivered in the manner prescribed by law as of the Effective Date first written above.
LESSOR
LESSEE
Storage Space Lease Agreement FAQs
Is this Storage Space Rental Agreement legally binding?

As with any other legal contract, Storage Space Lease Agreements will not be legally binding until they are signed by the storage space owner and tenant(s). This custom document from Rocket Lawyer offers much more than a blank Storage Space Lease Agreement template that you might come across elsewhere. As a Rocket Lawyer member, you may opt to access Document Defense® for your lease, which allows an attorney to help you get paid or otherwise enforce your legal rights.

Does a storage space owner always need to make a Storage Space Rental Agreement?

Regardless of who your renter is, you should always sign a Storage Space Lease Agreement. The benefits shown here might help to inform your decision to use one:

The storage space owner and tenant(s) understand their responsibilities
Lease start and end dates are agreed upon
Neither party is confused about the payment schedule

In the end, if you or the renter fail to sign a Storage Space Rental Agreement, neither party will enjoy the protections connected to having one in place.

What is included in a Storage Space Rental Agreement?

Storage Unit Contracts can include any type of unique information that you want to include, but most include at least the following:

Contact information - The address of the storage facility, both parties' phone numbers, the renter's address and the unit number. You can include email addresses or alternate phone numbers if you want.

Terms - When the contract begins and whether there is an end date, such as one year or if the contract is month-to-month. Also include instructions for how the renter can quit the agreement.

Payment information - How much the payment is and whether it may change. Also include due dates, grace periods, security deposit, and late fees.

Termination details - What happens if the rent is not paid or the renter violates one of the terms. Most often, the contents of the unit are sold to help pay the debt. Some unit owners may also proceed with legal collections.

Access hours - When the renter can access their unit and how long they can be in their unit. Time limitations can help deter people from trying to live in their units.

Use of premises - You can say how you will allow the unit to be used, such as whether they can run a business out of the unit, if they can use power, if they can keep equipment, such as refrigerators, plugged in, and so on.

Restricted items - It is a good idea to tell the renter what they cannot store, such as explosives, live animals, or illegal substances. Some unit owners also limit the value of the items stored.

Liability - In this section, you can encourage the renter to purchase insurance to protect their possessions and release your business from liability for any type of loss, damage or injury.

More custom edits are permitted as needed.

Where can I prepare a custom Storage Space Rental Agreement for free?

If you want to create a Storage Space Lease Agreement online for free with Rocket Lawyer, simply start by clicking the "Make document" button above. After gathering your answers to a series of questions, Rocket Lawyer will build your customized contract. After making your Storage Space Rental Agreement, it can be helpful to think about having a lawyer in our nationwide network of attorneys look at it. This solution, in many cases, would be much more affordable and convenient than meeting and hiring a conventional provider where invoices can total anywhere from hundreds of dollars to thousands, if your matter is complex.

Am I required to do anything else after I create a Storage Space Lease Agreement?

Storage Space Lease Agreements each have their own list of tips on what to do next. With a Premium membership, you will be able to make edits, copy it, get electronic signatures via RocketSign®, print it out, and/or save it in PDF format or as a Word file as needed. Finally, everyone should receive a copy of your final contract. You might also like to check out more documents in our library.

What if someone tries to live in a storage unit?

While it doesn't happen often, it does happen. You should consider having specific language in your contract about how living in storage units is prohibited. No matter how bad you may feel about a renter's situation, living in storage units can be dangerous and a huge liability to your business. Storage unit managers should routinely monitor the access logs, so they can see if it looks like someone is checking in and not checking out within a reasonable amount of time. Many storage unit managers also keep information such as what public services are available in the office to help those who may not have a place to sleep.

Can I sell the contents of a storage unit?

Yes, you can in almost every state. If the renter doesn't pay their rent according to the terms of your rental contract, you can sell the contents one-by-one or everything together. Often storage unit owners will hold a public auction to sell the contents of storage units. Some websites are dedicated to helping people sell storage unit contents. Selling stored items is time consuming, but it is a way to recoup some of your loss. Information about what happens to storage unit contents if the contract is violated should be included in the contract.