Whether you're a seller or a buyer, you need a receipt in the form of an Invoice. If you want to get paid for goods or services provided, a formal request for payment is a must. If you receive goods or services, an invoice is important for your tax records, and managing and tracking your cash flow. When using an Invoice, you help ensure that there's always a paper trail.
Use the Invoice document if:
You need to pay for goods or services.
You have to request payment for an itemized list of goods or services.
Your HR department needs to update documents.
An Invoice acts as a receipt and might be the only proof of a transaction. This document details the price, products or services, and quantity involved. By regularly using invoices you can help avoid losing track of money coming in and going out, especially with a new business. If you're a sole operator, you may be acting as your own bookkeeper, so with an Invoice you can help you more easily monitor your accounts. An Invoice is a key document in any business -- make sure you're covered.

Other names for this document: Commercial Invoice, Bill
---
<![CDATA[ ]]>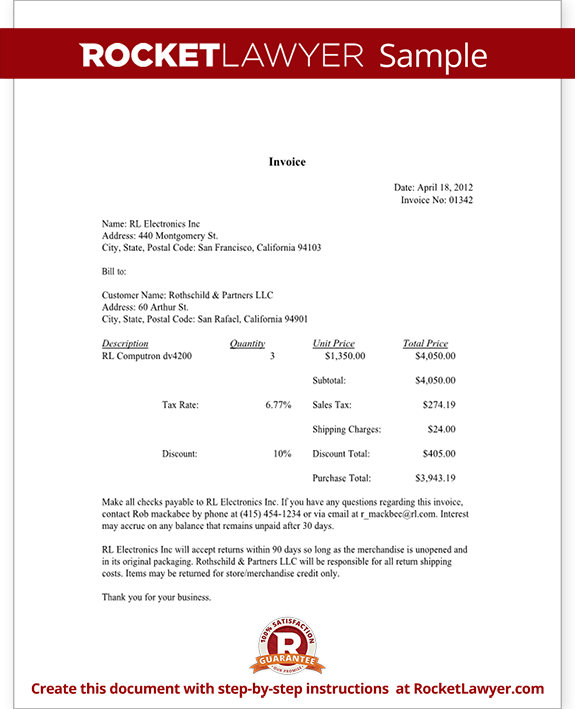 View Sample
Sample Invoice
More than just a template, our step-by-step interview process makes it easy to create an Invoice.

Save, sign, print, and download your document when you are done.

Sample Invoice
Our step-by-step interview process makes creating a printable Invoice easy.
Make Document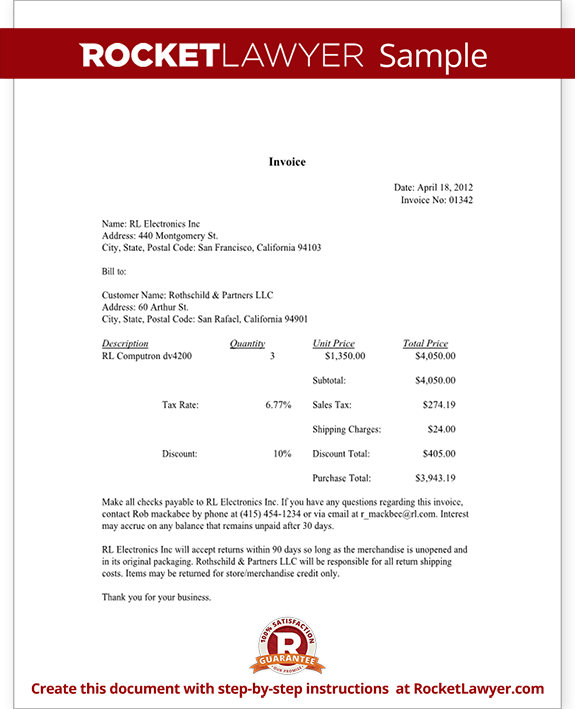 Why choose Rocket Lawyer?
Legally reviewed
Researched by lawyers
and legal staff.
Specialists to help
We're here to answer your
questions.
Free Trial
Your document is free with your subscription.
Our quality guarantee
We guarantee our service is
safe and secure.