Attorney Engagement Letter Basics
You're looking to hire a lawyer, or maybe you're a law firm about to sign a new client. Either way, you'll want to create an Attorney Engagement Letter to help protect your legal rights and obligations. Get the letter in writing before signing on for legal services, so that both parties can be on the same page.
Use the Attorney Engagement Letter document if:
You are a lawyer or law firm providing services to another business or individual.
You will be contracting with a lawyer or law firm to receive legal services.
Whether you're a lawyer or just looking to hire one, an Attorney Engagement Letter is a handy tool for outlining the attorney-client relationship. In essence, it documents the terms and conditions of the sale of legal services to a business or individual. With this information in writing, you'll have a better idea of your legal rights and responsibilities. Your Attorney Engagement Letter should include details like: the name of the client; the name of the attorney or law firm providing legal services; a description of the legal services being provided; how the attorney will be compensated; whether the attorney will charge hourly rates, or whether the law firm charges different rates for different members; the terms of the payment; whether the attorney charges a deposit, and how much; and which state's laws will govern this agreement.

Other names for this document: Legal Engagement Letter, Lawyer Engagement Letter, Attorney Client Engagement Letter,
---
<![CDATA[ ]]>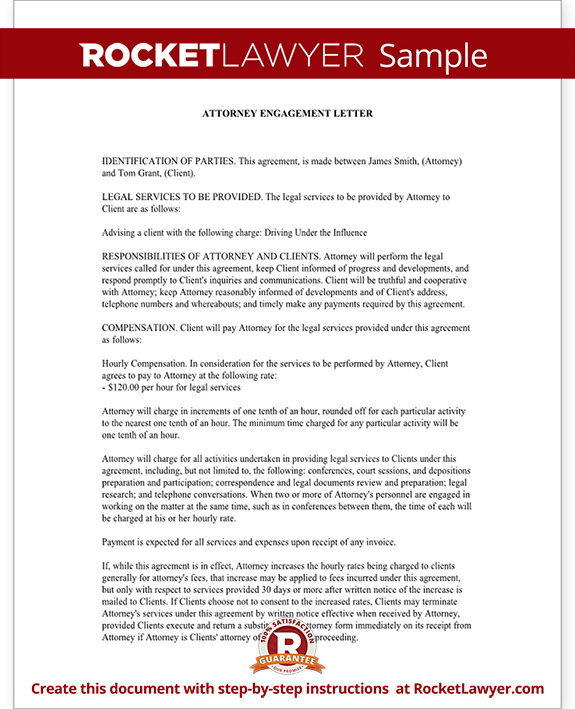 View Sample
Sample Attorney Engagement Letter
More than just a template, our step-by-step interview process makes it easy to create an Attorney Engagement Letter.

Save, sign, print, and download your document when you are done.

Sample Attorney Engagement Letter
Our step-by-step interview process makes creating a printable Attorney Engagement Letter easy.
Make Document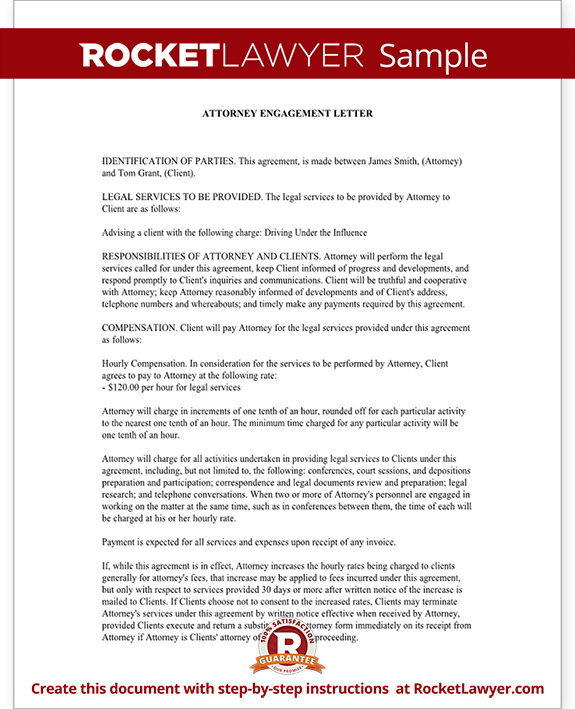 Why choose Rocket Lawyer?
Legally reviewed
Researched by lawyers
and legal staff.
Specialists to help
We're here to answer your
questions.
Free Trial
Your document is free with your subscription.
Our quality guarantee
We guarantee our service is
safe and secure.