MAKE YOUR FREE

Retainer Agreement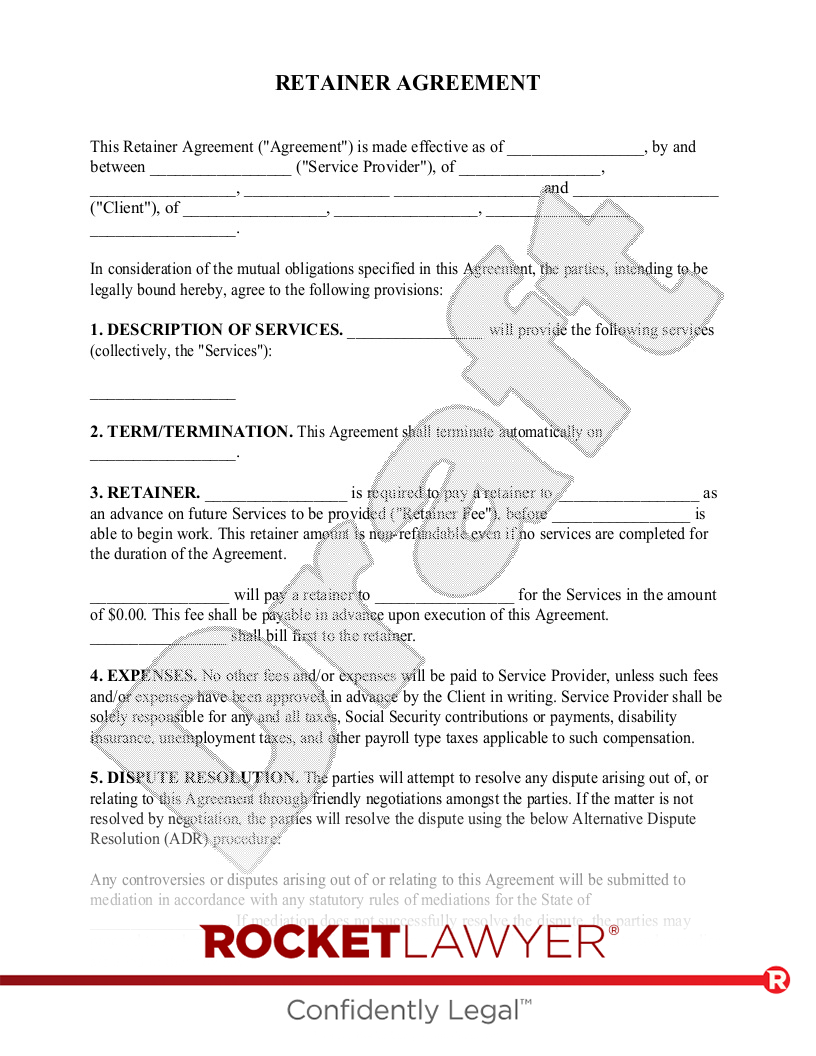 What is a Retainer Agreement?
A Retainer Agreement is a work-for-hire contract where the client or service recipient pays a service provider or contractor in advance for work which will be determined later. Before the service provider does any work, the client and service provider agree upon the fee which will be paid in advance and the type of services which will be rendered. The service provider is not an employee of the client, but is instead a Service Provider.
Sample Retainer Agreement
The terms in your document will update based on the information you provide
This document has been customized over 2.8K times
Legally binding and enforceable
Ask a lawyer questions about your document
This Retainer Agreement ("Agreement") is made effective as of , by and between ("Service Provider"), of , , and ("Client"), of , , .
In consideration of the mutual obligations specified in this Agreement, the parties, intending to be legally bound hereby, agree to the following provisions:
. DESCRIPTION OF SERVICES. will provide the following services (collectively, the "Services"):
. TERM/TERMINATION. This Agreement shall terminate automatically on .
. RETAINER. is required to pay a retainer to as an advance on future Services to be provided ("Retainer Fee"), before is able to begin work. This retainer amount is non-refundable even if no services are completed for the duration of the Agreement.
. EXPENSES. No other fees and/or expenses will be paid to Service Provider, unless such fees and/or expenses have been approved in advance by the Client in writing. Service Provider shall be solely responsible for any and all taxes, Social Security contributions or payments, disability insurance, unemployment taxes, and other payroll type taxes applicable to such compensation.
State of Commonwealth of State of Commonwealth of the State of the Commonwealth of the State of Commonwealth of the State of the Commonwealth of the the State of the Commonwealth of the
. WAIVER OF BREACH. The waiver by Client of a breach of any provision of this Agreement by Service Provider shall not operate or be construed as a waiver of any subsequent breach by Service Provider.
. INDEPENDENT CONTRACTOR STATUS. It is understood by the parties that Service Provider is not an employee of Client. Client will not provide fringe benefits, including health insurance benefits, paid vacation, or any other employee benefit, for the benefit of Service Provider. Service Provider, under the code of the Internal Revenue Service (IRS), is an independent contractor and neither Service Provider's employees or contract personnel are, or shall be deemed, Client's employees.
Client
. NO RIGHT TO ACT AS AGENT. An "employer-employee" or "principal-agent" relationship is not created merely because (1) the Client has or retains the right to supervise or inspect the work as it progresses in order to ensure compliance with the terms of the contract or (2) the Client has or retains the right to stop work done improperly. The Service Provider has no right to act as an agent for the Client and has an obligation to notify any involved parties that it is not an agent of the Client.
. TITLE AND COPYRIGHT ASSIGNMENT.
a. Service Provider and Client intend this to be a contract for services and each considers the products and results of the Services to be rendered by Service Provider hereunder (the "Work") to be a work made for hire. Service Provider acknowledges and agrees that the Work (and all rights therein including, without limitation, copyright) belongs to and shall be the sole and exclusive property of the Client.
b. If for any reason the Work or any part thereof would not be considered a work made for hire under applicable law, Service Provider does hereby sell, assign, and transfer to Client, its successors and assigns, the entire right, title and interest in and to the copyright in the Work and any registrations and copyright applications relating thereto and any renewals and extensions thereof, and in and to all works based upon, derived from, or incorporating the Work, and in and to all income, royalties, damages, claims and payments now or hereafter due or payable with respect thereto, and in and to all clauses of action, either in law or in equity for past, present, or future infringement based on the copyrights, and in and to all rights corresponding to the foregoing throughout the world.
c. If the Work is one to which the provisions of U.S.C. 106A apply, Service Provider hereby waives and appoints Client to assert on Service Provider's behalf Service Provider's moral rights or any equivalent rights regarding the form or extent of any alteration of the Work (including, without limitation, removal or destruction) or making of any derivative works based on the Work, including, without limitation, photographs, drawings or other visual reproductions of the Work, in any medium, for the Client's purposes.
d. Service Provider agrees to execute all papers and to perform such other proper acts as the Client may deem necessary to secure for the Client or its designee the rights herein assigned.
. GOVERNING LAW. This Agreement shall be governed by the laws of the .
. SEVERABILITY. If any provision of this Agreement shall be held to be invalid or unenforceable for any reason, the remaining provisions shall continue to be valid and enforceable. If a court finds that any provision of this Agreement is invalid or unenforceable, but that by limiting such provision it would become valid and enforceable, then such provision shall be deemed to be written, construed, and enforced as so limited.
. ENTIRE AGREEMENT. This Agreement constitutes the entire contract between the parties. All terms and conditions contained in any other writings previously executed by the parties regarding the matters contemplated herein shall be deemed to be merged herein and superseded hereby. No modification of this Agreement shall be deemed effective unless in writing and signed by the parties hereto.
. SIGNATORIES. This Agreement shall be signed by and by . This Agreement is effective as of the date first above written.
CLIENT:
SERVICE PROVIDER:
Retainer Agreement FAQs
Do I need a Retainer Agreement?

Retainer Agreements are not mandatory; however they will help make clear the terms under which a service provider is contracted. If you plan to pay a service provider upfront before the services are complete or provide services on a job or project basis, then a Retainer Agreement will be useful.

What should be included in a Retainer Agreement?

The Retainer Agreement should include all the terms of work agreed upon by both the client and service provider, payment, and any termination details. Allowing time for both parties to conduct a comprehensive review of the Retainer Agreement will help avoid any future misunderstandings between the parties when the time comes for the service(s) to be complete. If you have any questions as to whether a Retainer Agreement is the best fit for your circumstances and needs, a Rocket Lawyer On Call® attorney may be able to assist you.

How can I get a Retainer Agreement?

A Retainer Agreement is easy to make online with Rocket Lawyer. After answering some simple questions, our document builder will create your document for you. Consider the following questions beforehand to make the process faster:

When will the agreement be effective?
Who will provide and receive the services?
What services will be provided?
Will the retainer be a single advance payment or monthly payment?

If you've started your Retainer Agreement and find yourself stuck on a detail, you can save the document and finish it later.