MAKE YOUR FREE

Limited Scope Representation Agreement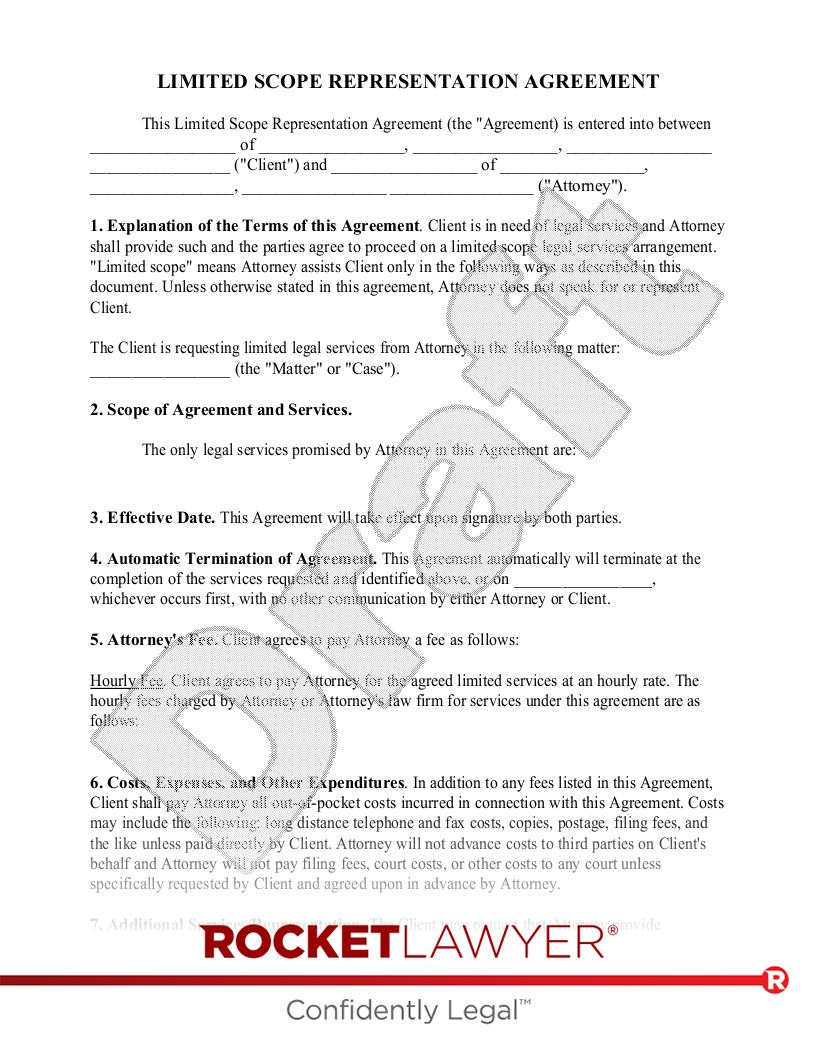 What is a Limited Scope Representation Agreement?
Lawyers and clients use Limited Scope Representation Agreements as a means of laying out the agreed upon scope of their work together. As a result of forming this contract, both parties will know what to expect. Unlike the blank templates that you may discover elsewhere, every Limited Scope Representation Contract that is built on Rocket Lawyer comes with the option of Document Defense®, so an attorney can assess the situation and take action if you need to demand payment or experience any other problem.
When to use a Limited Scope Representation Agreement:
You're an attorney and want to draft an agreement between yourself and a client, limiting the scope of your representation
You're requesting the services of an attorney to represent you in some areas of a legal matter but want to clarify exactly what those services are in a written agreement
Sample Limited Scope Representation Agreement
The terms in your document will update based on the information you provide
This document has been customized over 5.4K times
Legally binding and enforceable
Ask a lawyer questions about your document
Sign this document online for free with RocketSign®
LIMITED SCOPE REPRESENTATION AGREEMENT
This Limited Scope Representation Agreement (the "Agreement) is entered into between of , , ("Client") and of , , ("Attorney").
1. Explanation of the Terms of this Agreement. Client is in need of legal services and Attorney shall provide such and the parties agree to proceed on a limited scope legal services arrangement. "Limited scope" means Attorney assists Client only in the following ways as described in this document. Unless otherwise stated in this agreement, Attorney does not speak for or represent Client.
The Client is requesting limited legal services from Attorney in the following matter: (the "Matter" or "Case").
2. Scope of Agreement and Services.
a. The only legal services promised by Attorney in this Agreement are:
b. Services not listed above will not be provided. In this matter, the excluded services include, but are not limited to:
3. Effective Date. This Agreement will take effect upon signature by both parties.
4. Automatic Termination of Agreement.
5. Attorney's Fee. Client agrees to pay Attorney a fee as follows:
6. Costs, Expenses, and Other Expenditures. In addition to any fees listed in this Agreement, Client shall pay Attorney all out-of-pocket costs incurred in connection with this Agreement. Costs may include the following: long distance telephone and fax costs, copies, postage, filing fees, and the like unless paid directly by Client. Attorney will not advance costs to third parties on Client's behalf and Attorney will not pay filing fees, court costs, or other costs to any court unless specifically requested by Client and agreed upon in advance by Attorney.
7. Additional Services/Representation. The Client may request that Attorney provide additional services, or Attorney and Client may later determine that the Attorney should provide additional limited service or assume full representation. Attorney has no further obligation to Client and may accept or decline to provide additional services. If Attorney agrees to provide additional services, those additional services will be specifically listed in an amendment to this Agreement, signed and dated by both the Attorney and Client.
If Attorney and Client agree that Attorney will serve as Client's attorney of record on all matters related to handling Client's Case, Client and Attorney will create an amendment to this Agreement, signed and dated by both the Attorney and Client.
8. Obligations of Client. Client intends to retain control over all aspects of the Case except those specifically assigned to Attorney, and understands that he/she will remain in control of the Case and be responsible for all decisions made in the course of the Case. Client agrees to:
a. Assist Attorney and complete Attorney's requests for information (in whatever form it may appear) that is necessary for Attorney to provide legal services;
b. Travel to Attorney's office if requested and show up at any appearance where Attorney asks Client to be present;
c. Carefully consider Attorney's advice as to Client's Matter before making any major decisions;
d. Provide and maintain current and complete contact information to Attorney, including changes in residence, changes in jobs, changes to phone number or other electronic means of communication; and
e. Keep Attorney advised of any new developments or information that is relevant to Client's Case, including any court notices, letters from the opposing party, or other similar developments.
9. Grounds to Terminate Agreement. Client may terminate this Agreement for any or no reason, although Client still will be legally obligated under this Agreement to meet Client's obligations to Attorney, including the obligation to pay to Attorney the agreed-upon attorney's fees to the extent it has been earned. Attorney may terminate this Agreement if, in Attorney's sole judgment, Client has failed to fulfill one of Client's material obligations under this Agreement, or for other good cause, or for any other reason authorized by law (including the ethical rules that govern lawyers).
10. Client's Informed Consent. Client has read this Limited Scope Representation Agreement and understands all of its provisions. Client understands and accepts the limitations on the scope of Attorney's responsibilities identified above. Client understands that Attorney is not his or her attorney for any other purpose and does not have to provide any more legal help than what is agreed to above.
Limited Scope Representation Agreement FAQs
When should a legal professional use a Limited Scope Representation Agreement form?

Even if you are new to the industry, it's valuable to record the details of your work in a contract. You may decide to make a Limited Scope Representation Agreement because, when done accurately, it grants the following list of benefits:

The lawyer and client both understand the scope of their responsibilities
A timeline is established
Fee requirements are well-defined

If you don't have this document, you might have to manage one or more of the following unwanted issues: unrealistic expectations, challenges collecting payment, missed deadlines, worse service quality, and, unfortunately, limited ability to make demands if a problem arises.

How is an agreement for limited scope representation organized?

Before getting started, you should prepare the following information:

Name and address of the client
How much it will cost and when payment is due
What the duration of the engagement is
What tasks you are committed to performing

As usual, this Limited Scope Representation Agreement built on Rocket Lawyer also includes the typical language regarding the non-employer relationship between the parties, confidentiality, compensation for losses, and lastly, dispute resolution methods. During the process of building your contract, you also will have the ability to select which state's jurisdiction it falls under. Using the Rocket Lawyer document tool, you have the ability to implement further alterations, as necessary.

What would I usually need to pay for a representation agreement template on my own?

The cost of hiring and working with a conventional legal provider can total anywhere between hundreds of dollars to thousands. Creating a free Limited Scope Representation Agreement is easy to do with Rocket Lawyer. When you're ready to get started, you can click on the button labeled "Make Document." You might also try sending your draft for review by an attorney in our Rocket Lawyer attorney network once you have made it.

If you've got any questions about how to move forward, connect with a lawyer , or browse our full library of business legal documents .

Is anything else required once I have drafted my Limited Scope Representation Agreement?

Attached to your Limited Scope Representation Agreement, there is a list of directions on what you can do next. With a Rocket Lawyer membership, you will be able to edit, print out, add signatures using RocketSign®, copy, or save it in Word or PDF format as necessary. Most importantly, everyone should always get copies of the fully executed agreement.

Can my Limited Scope Representation Contract be looked at by a lawyer?

If you try to do it on your own, seeking out a legal professional to check contracts can be fairly time-intensive. Sometimes an attorney won't even agree to review contracts that they did not author. If an attorney does offer to give advice on your contract, they would still demand their standard fees to do so. An easier and more cost-effective route would be via the Rocket Lawyer attorney network. As a Premium member, you can get your contracts evaluated by an attorney with experience in business. Whether you decide to make another Limited Scope Representation Contract or other contracts for your business, we'll be here for you.