MAKE YOUR FREE
Affidavit of Service
Answer simple questions to create your document

Sign & share your document online

Save progress and finish on any device; download & print at home
Start Now

Preparing your document questions
We've sent you an email
with information about how to access your document from any device

Make your Free
Affidavit of Service
Affidavit of Service Basics
If you're a process server, you'll need evidence of the people or parties you've served documents to. Use our Affidavit of Service as your official record. We'll make it simple to create a custom Affidavit of Service so you can get your job done right.
Use the Affidavit of Service document if:
You're a process server hired to serve court documents or other important documents to a person or organization.
You've hired someone to serve documents and you need a record that the job has been completed.
Being a process server isn't an easy job. Generally, you deliver court documents to people who don't want to see you, or the court papers you're delivering. Creating an Affidavit of Service shows that you've followed through and done your job. It's the official way to prove you've served both the parties and the documents. It can even serve as evidence, for example, if a party denies they've been served. An affidavit is a formal sworn statement that you have either personally served or mailed specific documents to another individual. Make sure you're covered and create an Affidavit for every party and document served.

Other names for this document: Affidavit for Service of Process, Proof of Service, Service Affidavit
---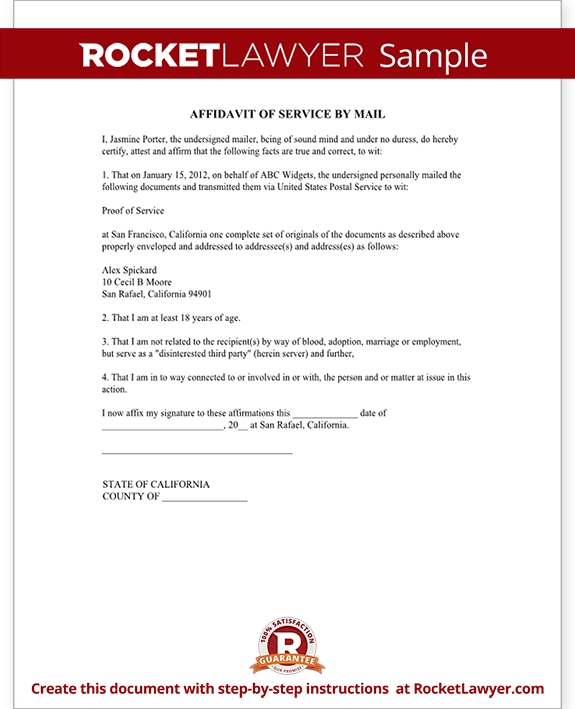 View Sample
Sample Affidavit of Service
More than just a template, our step-by-step interview process makes it easy to create an Affidavit of Service.

Save, sign, print, and download your document when you are done.

Sample Affidavit of Service
Our step-by-step interview process makes creating a printable Affidavit of Service easy.
Make Document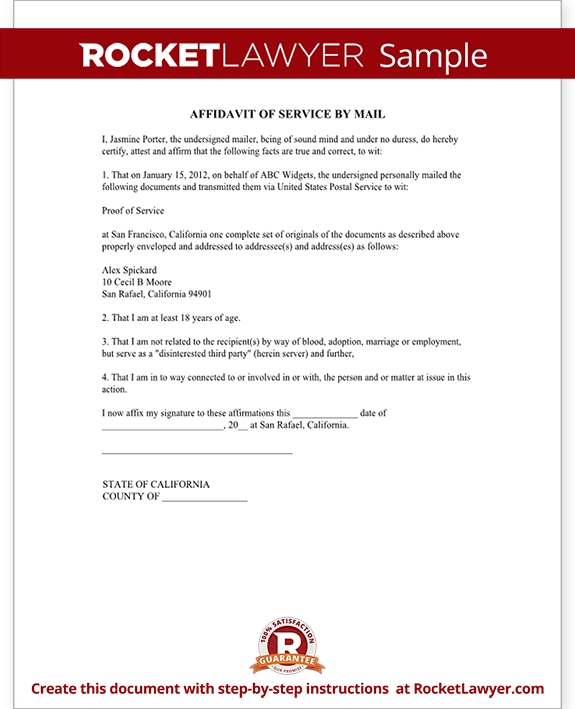 ---
Ready to create your Free Affidavit of Service?
Your document is free within your one week membership trial.
Make Document