MAKE YOUR FREE

Affidavit of Lost Document
Other Names:
Affidavit of Missing Document
Affidavit of Loss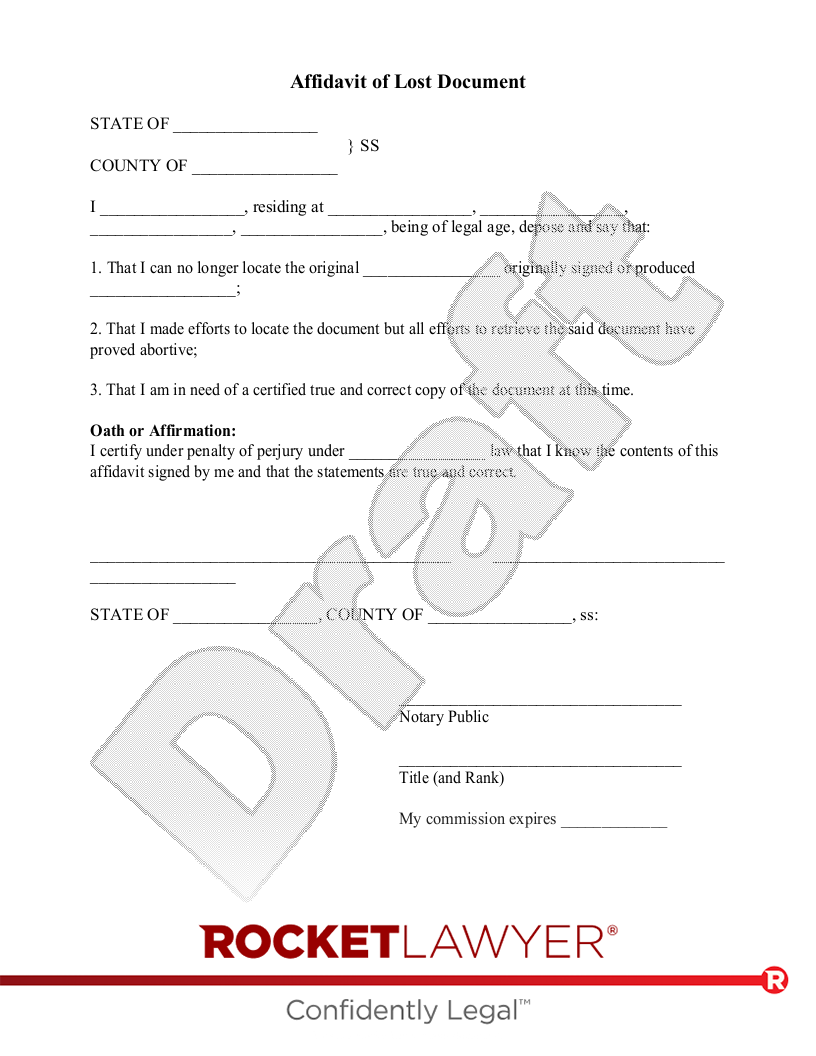 What is an Affidavit of Lost Document?
An Affidavit of Lost Document is a sworn statement that is used to confirm that a document was lost and to request a replacement. Losing an important document is stressful, but the recovery process doesn't have to be. An Affidavit of Lost Document is submitted to notify a court, registrar's office or other agency that a document has been lost and that the affiant (the person making the affidavit) would like a certified copy of the original. This Affidavit provides the name and date of the lost document and certifies that the affiant has taken all measures to find the original document but has been unable to locate it.
When to use an Affidavit of Lost Document:
You lost a court document and need a certified replacement.
Sample Affidavit of Lost Document
The terms in your document will update based on the information you provide
This document has been customized over 31.1K times
Legally binding and enforceable
Ask a lawyer questions about your document
Affidavit of Lost Document
I , residing at , , , , being of legal age, depose and say that:
1. That I can no longer locate the original originally signed or produced ;
2. That I made efforts to locate the document but all efforts to retrieve the said document have proved abortive;
3. That I am in need of a certified true and correct copy of the document at this time.
Oath or Affirmation:
I certify under penalty of perjury under law that I know the contents of this affidavit signed by me and that the statements are true and correct.
__________________________________________
Affidavit of Lost Document FAQs
Can I get an Affidavit of Lost Document Form online?

It is fast and simple to get what you need with a free Affidavit of Lost Document template from Rocket Lawyer:

Make the document - Provide a few general details and we will do the rest
Send and share - Discuss it with an attorney, if needed
Sign it - Sign your Affidavit and make it legal

Each Affidavit of Lost Document Form from Rocket Lawyer can be fully personalized to address your particular circumstances. When you're ready to get started, simply click the button that says "Make document". Your Affidavit will be assembled section by section as you answer simple questions to enter information.

Should I hire a lawyer for my Affidavit of Lost Document?

Writing an Affidavit of Lost Document is normally easy to do; however, you might have questions. The answer can depend on whom you ask, but sometimes a lawyer will not even agree to review documents that they did not work on. An easier approach to consider is to go through the Rocket Lawyer attorney network. When you sign up for a Premium membership, you can ask for guidance from an experienced attorney or get answers to additional questions related to your Affidavit. As always, Rocket Lawyer is here for you.

On average, how much would it usually cost me to make an Affidavit of Lost Document?

The fees associated with hiring and working with a law firm to make an Affidavit of Lost Document could add up to anywhere from two hundred to one thousand dollars, depending on where you are located and how complex the matter is. Different from other Affidavit template providers that you may find elsewhere, Rocket Lawyer provides Premium members up to 40% in savings when hiring a lawyer, so an attorney can review the situation and take action if you ever need support.

Will there be any additional steps that I will need to take after I have made my Affidavit of Lost Document?

Upon completing an Affidavit, you will have the ability to get to it in your account anytime and anywhere. With a Rocket Lawyer membership, you may edit it, print it out, and/or sign it. Alongside each Affidavit of Lost Document Form, there also is a list of helpful tips on what to do next.

Does an Affidavit of Lost Document Form need to be notarized or witnessed?

Yes, an Affidavit of Lost Document Form needs the signature of a notary. Witnesses are not legally required.