Affidavit of Character Basics
So you've been asked to formally swear that a person is upright and moral. An Affidavit of Character is your promise - under oath - that someone is just that. Someone might ask you for this document as part of a child custody case, or for an adoption, for example. When you sign an Affidavit of Character, you're legally responsible for a glowing recommendation.
Use the Affidavit of Character document if:
You've been asked to provide a declaration or statement about another person's character under oath as part of a contract or legal process
Don't sign an Affidavit of Character unless you truly believe everything you write. This isn't like an informal reference. If you stretch the truth, you might face perjury charges. It's always better to turn someone down rather than lie or exaggerate. After all, they need a sworn promise from someone who really thinks they have a solid character. You're not doing them - or yourself - any favors if you can't give a 100 percent shining reference. Or maybe you're the one asking for a character reference.

Choose who you ask wisely. Only ask people who really think you're amazing. After all, you're probably asking for a really important reason. Maybe you're angling for full custody of the kids during a divorce. Or you're this close to getting a high-profile dream job. An Affidavit of Character can also be a great tool.

Other names for this document: Affidavit of Good Moral Character
---
<![CDATA[ ]]>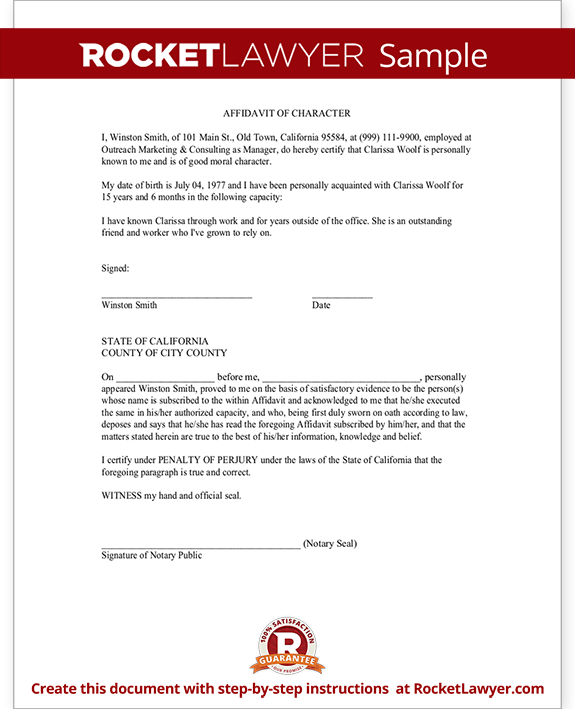 View Sample
Sample Affidavit of Character
More than just a template, our step-by-step interview process makes it easy to create an Affidavit of Character.

Save, sign, print, and download your document when you are done.

Sample Affidavit of Character
Our step-by-step interview process makes creating a printable Affidavit of Character easy.
Make Document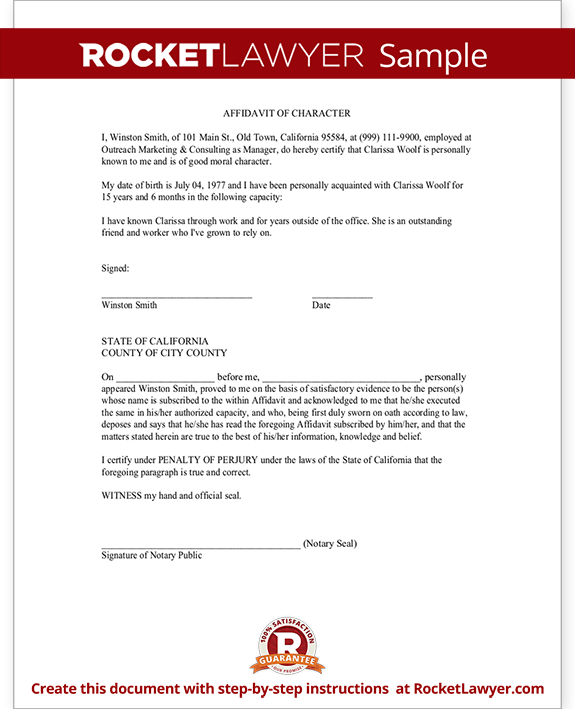 Why choose Rocket Lawyer?
Legally reviewed
Researched by lawyers
and legal staff.
Specialists to help
We're here to answer your
questions.
Free Trial
Your document is free with your subscription.
Our quality guarantee
We guarantee our service is
safe and secure.