Acceptance of Service Basics
When you've received lawsuit documents without formal service, you can use an Acceptance of Service document to waive your right to formal service in a lawsuit. In a legal action, waiving formal service can help you get right to your defense.
Use the Acceptance of Service document if:
You have received a copy of documents in a legal action and you would like to waive official service.
You have received a complaint in a lawsuit and want to file your defense quickly.
An Acceptance of Service is most often used when you've received the initial lawsuit documents before they've been officially served to you. Our Acceptance of Service document can be used to waive your service requirement in the legal action. After waiving, you'll no longer need to wait to be formally served to respond to the lawsuit. However, once you've agreed to waive the service, the clock on your response time starts ticking, and you'll need to file a response, or an answer, to the lawsuit.

Other names for this document: Acceptance of Service Process
---
<![CDATA[ ]]>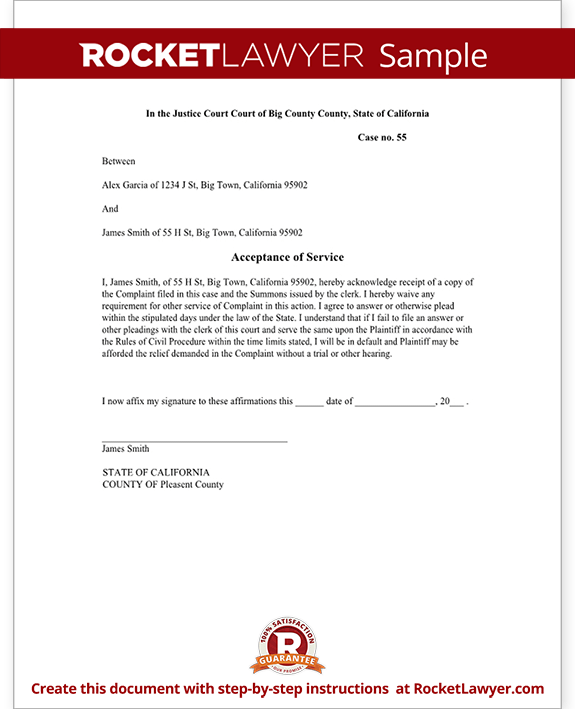 View Sample
Sample Acceptance of Service
More than just a template, our step-by-step interview process makes it easy to create an Acceptance of Service document.

Save, sign, print, and download your document when you are done.

Sample Acceptance of Service
Our step-by-step interview process makes creating a printable Acceptance of Service easy.
Make Document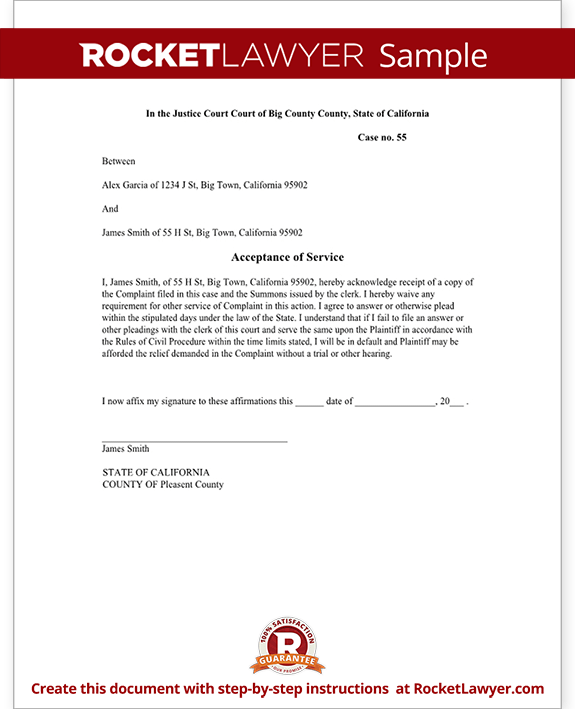 Why choose Rocket Lawyer?
Legally reviewed
Researched by lawyers
and legal staff.
Specialists to help
We're here to answer your
questions.
Free Trial
Your document is free with your subscription.
Our quality guarantee
We guarantee our service is
safe and secure.