MAKE YOUR FREE

Limousine Service Contract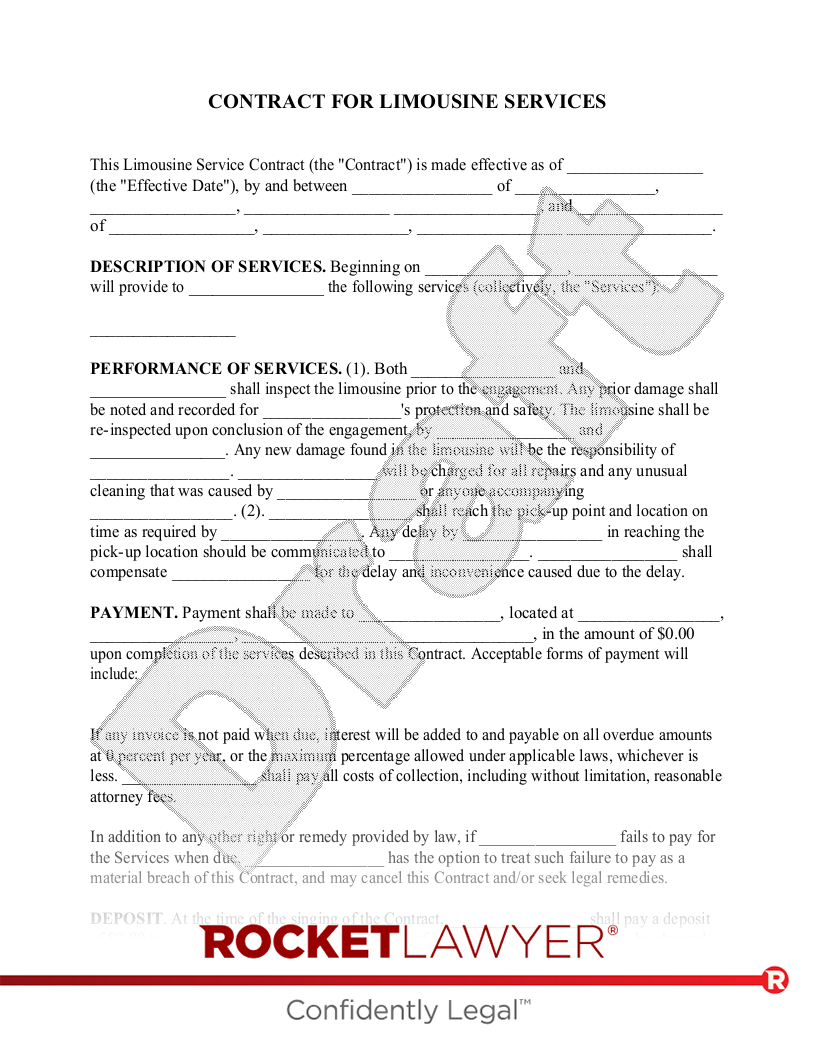 What is a Limousine Service Contract?
The reason to draft a Limousine Service Contract is to record the terms and conditions associated with transportation services that will be provided. With the appropriate information, this essential legal agreement can help to limit conflicts by ensuring that there is a mutual understanding between the signing parties. Different from many other sites you might come across, there's more that Rocket Lawyer offers besides PDF templates. If the client refuses to pay for your limo service or there is another problem, your Premium membership offers optional access to Document Defense® protection.
When to use a Limousine Service Contract:
You're hiring a limousine company for transportation services.
You're being hired to provide limousine service to an individual or business.
Sample Limousine Service Contract
The terms in your document will update based on the information you provide
This document has been customized over 9.4K times
Legally binding and enforceable
Ask a lawyer questions about your document
Sign this document online for free with RocketSign®
CONTRACT FOR LIMOUSINE SERVICES
This Limousine Service Contract (the "Contract") is made effective as of (the "Effective Date"), by and between of , , , and of , , .
DESCRIPTION OF SERVICES. Beginning on , will provide to
PERFORMANCE OF SERVICES. (1). Both and shall inspect the limousine prior to the engagement. Any prior damage shall be noted and recorded for 's protection and safety. The limousine shall be re-inspected upon conclusion of the engagement, by and . Any new damage found in the limousine will be the responsibility of . will be charged for all repairs and any unusual cleaning that was caused by or anyone accompanying . (2). shall reach the pick-up point and location on time as required by . Any delay by in reaching the pick-up location should be communicated to . shall compensate for the delay and inconvenience caused due to the delay.
PAYMENT. Payment shall be made to , in the amount of Acceptable forms of payment will include:
In addition to any other right or remedy provided by law, if fails to pay for the Services when due, has the option to treat such failure to pay as a material breach of this Contract, and may cancel this Contract and/or seek legal remedies.
ALCOHOL AND DRUGS. will strictly enforce State and Federal Laws and will maintain a zero tolerance compliance policy that no alcoholic beverages be consumed or used by any person under the legal drinking age. further understands and agrees that it is 's policy that no illegal drugs or contraband be used or in the possession of any passenger during transport. In the event the limousine is seized or damaged due to 's improper use of alcohol or use of illegal drugs or contraband. shall be held responsible for additional charges due to down time in which the vehicle is unable to be hired out and for repairs to any damages.
CLIENT SAFETY. or anyone traveling in the limousine under this Contract shall remain inside of the passenger cabin at all times while the vehicle is in motion and shall not stand or hang out of the sunroof or windows. If stands or hangs out of the sunroof or window, shall pay a fine immediately to . The fine amount shall be determined by . will not be responsible for injuries that may occur due to horse playing while the vehicle is in motion, at a standstill or entering and exiting vehicle. is responsible for the behavior, actions and damages caused by any guests or individuals permits to join in using the limousine service.
SMOKING. It is the policy of that no smoking takes place inside the limousine. will be held responsible for any damages or cleaning costs necessary due to violation of this policy.
PROVIDER SAFETY. is responsible to ensure each of 's employee's, drivers, and workers receive orientation to his or her job duties, including specific safety requirements, prior to beginning the assignment. No employee, driver or worker of will be placed on equipment or instructed to perform duties for which they do not have the skill or training to perform safely.
PERMITS. has obtained or shall obtain at 's sole expense all permits licenses, certificates, authorities or approvals required to comply with all laws in the performance of this Contract. shall provide with reasonable advance written notice if any such permits, license, certificate or approval becomes a subject of judicial or administrative action seeking revocation or suspension.
DEFAULT. The occurrence of any of the following shall constitute a material default under this Contract:
a.
The failure to make a required payment when due.
b.
The insolvency or bankruptcy of either party.
c.
The subjection of any of either party's property to any levy, seizure, general assignment for the benefit of creditors, application or sale for or by any creditor or government agency.
d.
The failure to make available or deliver the Services in the time and manner provided for in this Contract.
REMEDIES. In addition to any and all other rights a party may have available according to law, if a party defaults by failing to substantially perform any provision, term or condition of this Contract (including without limitation the failure to make a monetary payment when due), the other party may terminate the Contract by providing written notice to the defaulting party. This notice shall describe with sufficient detail the nature of the default. The party receiving such notice shall have days from the effective date of such notice to cure the default(s). Unless waived by a party providing notice, the failure to cure the default(s) within such time period shall result in the automatic termination of this Contract.
ENTIRE CONTRACT. This Contract contains the entire contract of the parties, and there are no other promises or conditions in any other contract whether oral or written concerning the subject matter of this Contract. This Contract supersedes any prior written or oral contracts between the parties.
SEVERABILITY. If any provision of this Contract will be held to be invalid or unenforceable for any reason, the remaining provisions will continue to be valid and enforceable. If a court finds that any provision of this Contract is invalid or unenforceable, but that by limiting such provision it would become valid and enforceable, then such provision will be deemed to be written, construed, and enforced as so limited.
AMENDMENT. This Contract may be modified or amended in writing, if the writing is signed by the party obligated under the amendment.
GOVERNING LAW. This Contract shall be construed in accordance with the laws of the State of .
NOTICE. Any notice or communication required or permitted under this Contract shall be sufficiently given if delivered in person or by certified mail, return receipt requested, to the address set forth in the opening paragraph or to such other address as one party may have furnished to the other in writing.
WAIVER OF CONTRACTUAL RIGHT. The failure of either party to enforce any provision of this Contract shall not be construed as a waiver or limitation of that party's right to subsequently enforce and compel strict compliance with every provision of this Contract.
SIGNATORIES. This Agreement shall be signed on behalf of by and on behalf of by and effective as of the date first above written.
Service Provider:
Client:
Limousine Service Contract FAQs
Does a limo company always need to create Limo Service Contracts?

Regardless of what work you plan to do, a Limousine Service Contract is always recommended. These benefits might help your decision-making:

Roles and responsibilities are understood by all
Neither party is confused about compensation
There are no surprises about how long the engagement lasts

If you opt not to make a Limousine Service Agreement, you may not get to experience any of the protections that come along with having one in place.

How is a Limo Service Contract structured?

Specific details that you may want to cover are:

The client's full name and address
What tasks you will be responsible for
How payment will be made
What the start and end dates are

As usual, your document will also include typical legal language about the non-employment relationship between the limo operator and client, liability for losses, and lastly, the method(s) of dispute resolution. During the process of making your agreement, you also can designate its state of jurisdiction. Further custom alterations are permitted, as well.

How do I get my own contract for limo service online for free?

With Rocket Lawyer, your Limousine Service Contracts will be personalized with your information and for your specific needs. Simply click the button labeled "Make document" and answer a few standard questions. Before signing your Limousine Service Agreement, you may also consider submitting your document for legal review by an attorney in our nationwide network. This solution is, in most cases, notably less time-consuming than finding and hiring a conventional provider at a cost that could add up to hundreds of dollars or even more.

If you have any particular doubts or concerns about how to move forward, you can always talk to an attorney . You might also like to take a look at our selection of business documents .

Would I need to take additional actions once I create my Limousine Service Contract?

After creating this custom contract on Rocket Lawyer, you will be able to see it wherever and whenever you choose. You also may interact with the document in any of the following ways: making edits, getting signatures via RocketSign®, printing it out, and saving it as a PDF document or Word file. Attached alongside each Limousine Service Contract, there will be a list of directions on what you should do next. You will need to give a copy of your signed contract to your client.

How do I get my Limousine Service Contract looked at by an attorney?

It will depend on whom you approach, but sometimes a lawyer may not even agree to review your document if they did not write it. An easier approach would be through the Rocket Lawyer On Call® attorney network. As a Premium member, you will be able to request guidance from an Rocket Lawyer network attorney with business experience or send additional questions related to your Limousine Service Agreement. Rocket Lawyer is here to help.