MAKE YOUR FREE

Catering Contract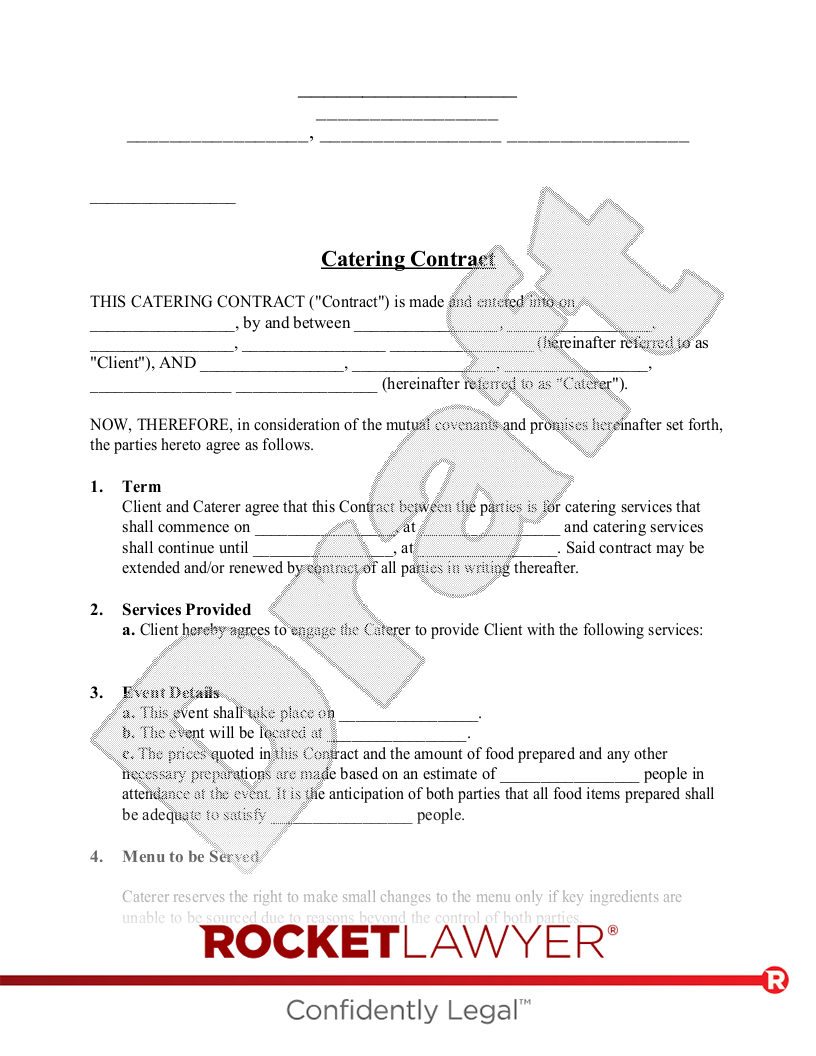 What is a Catering Contract?
Caterers and their clients use Catering Contracts as a means of documenting their engagements. When it is drafted correctly, this legal contract may help to reduce the volume of disagreements between the signers. Rocket Lawyer offers more than a blank PDF catering contract template. Under a Premium membership, this Catering Agreement is supported by Document Defense®, an optional membership benefit to help enforce your rights.
When to use a Catering Contract:
You're hiring a caterer for an event and want a written agreement.
You own a catering business and need a basic contract to present to clients.
You're an event planner and need a contract for a catering company you are hiring.
You own a restaurant and need a contract for providing catering services.
Sample Catering Contract
The terms in your document will update based on the information you provide
This document has been customized over 122.8K times
Legally binding and enforceable
Ask a lawyer questions about your document
Sign this document online for free with RocketSign®
THIS CATERING CONTRACT ("Contract") is made and entered into on , by and between , , , (hereinafter referred to as "Client"), AND , , , (hereinafter referred to as "Caterer").
NOW, THEREFORE, in consideration of the mutual covenants and promises hereinafter set forth, the parties hereto agree as follows.
Client and Caterer agree that this Contract between the parties is for catering services that shall commence on , at and catering services shall continue until , at . Said contract may be extended and/or renewed by contract of all parties in writing thereafter.
a. Client hereby agrees to engage the Caterer to provide Client with the following services:
a. This event shall take place on .
b. The event will be located at .
c. The prices quoted in this Contract and the amount of food prepared and any other necessary preparations are made based on an estimate of people in attendance at the event. It is the anticipation of both parties that all food items prepared shall be adequate to satisfy people.
Caterer reserves the right to make small changes to the menu only if key ingredients are unable to be sourced due to reasons beyond the control of both parties.
5.

Consideration and Payment Terms
In exchange for the specified service, the client shall pay the Caterer a total sum of for the per person in attendance at the event by Cash. Check. Credit. Client agrees to pay Caterer . The Client shall not withhold any amount towards tax from the payment due to the Caterer
Client agrees to pay for any and all additional services requested by the client not included in this Contract.
Any additional services requested shall be made by the client in writing.
7.

Independent Contractor
It is agreed that Caterer shall perform the specified work as an independent contractor. The Caterer shall maintain his or her own independent business and shall use his or her own tools and equipment.
Caterer shall not be liable for the losses resulting from nonfulfillment of any terms or provisions of this Contract, if Caterer shall be prevented or delayed from performing in whole or in part because of war, riot, strike, or flood or by any other act or occurrence not within the reasonable control of Caterer, which it could not prevent.
In the event of cancellation of the function by the Client, Caterer is entitled to liquidated damages equivalent to % of the total estimated charges for the cancelled function.
10.

Insurance and Indemnification
Caterer shall procure and maintain in full force and effect during the term of this Contract a general liability insurance policy. Client agrees to indemnify and hold harmless Caterer for any damage, theft or loss of Caterer's property (including without limitation, equipment, plates, utensils and motor vehicles) occurring at the event that is caused by guests attending the event.
11.

Rules and Regulations
Caterer shall work in compliance with all county health department rules and regulations with regard to hygienic preparation and service of food.
This Contract shall not be assignable by either party without the prior written consent of the other party. Subject to the foregoing limitation, this Contract shall inure to the benefit of and be binding on the successors and assigns of the respective parties
This Contract constitutes the entire contract of the parties with respect to the subject matter, and supersedes any and all other agreements, understandings, statements, or representations, either oral or in writing.
This Contract shall be construed under and in accordance with the laws of . Any and all disputes arising under or related to this Agreement shall take place and have venue in the courts in County, .
If either party institutes suit or other action against the other to enforce this contract or seek damages with respect to default of obligations hereunder, party ruled in favor shall be entitled to recover all costs and reasonable attorney's fees.
This Contract shall be signed on behalf of by , and on behalf of by , and shall be effective as of the date first written above.
Executed and delivered by its duly authorized representative as of the date first written above
Catering Contract Checklist
Make It Legal™
Find out next steps for your document
___Sign this document. This document needs to be signed by:
The Contract can be signed online. It becomes effective as of the date specified in the Contract.
___Everyone gets a copy. Anyone named in the document should receive a copy of the signed document. If you sign this agreement online a copy will be securely stored in your account. You can share your document from your account.
Catering Contract FAQs
Does a caterer always need to write a contract for catering services?

Even if you are being contracted by a friend or family member, it is always a best practice to create a Catering Contract. Making this document most likely will be good for your business due to the following benefits:

Both parties understand the scope of their responsibilities
Both parties know when billing will happen
Neither party is surprised by how much time is required

Any caterer choosing not to use a Catering Agreement ought to anticipate some issues, including ambiguity about fees and the miscommunication of requirements. This document can be used by anyone who owns a catering business or restaurant or by event planners who are hiring a catering service.

What information should a Catering Agreement cover?

Catering Contracts make sure that everyone is on the same page regarding what menu options will be served, when service is expected, payment details, cancellation policies, health and hygiene compliance, and insurance requirements. Specific details to cover are:

Your client's full name and address
What kind of services will be provided
What foods will be on the menu
What fees will be charged and when
Whether the event will last for a predetermined period of time and how many people will attend

As expected, the Catering Contract will also contain standard legalese in relation to the non-employer relationship between the caterer and event organizer, force majeure events or "Acts of God", the method(s) of dispute resolution, and lastly, indemnity for losses. During the process of making your agreement, you also will be able to pick its state of jurisdiction. With the Rocket Lawyer document tool, you are able to make more custom modifications, as necessary.

What questions do clients ask when hiring a caterer?

During your early conversations with prospective catering clients, they may have questions like:

How long have you been in business? If a restaurant, how long has your restaurant provided catering services?
Are your staff members employees or temp workers? How experienced are they? How will your staff dress during the event?
Can you provide options for those with dietary restrictions? How will those items be labeled?
Will the food be prepared onsite or brought to the event and reheated? Do you need kitchen accommodations?
Can you provide additional equipment such as tables and chairs?
Where are your ingredients sourced from?
Do you have sample menus we can try? How much would sample items cost? Can I tour your kitchen?
Have you ever provided services at my chosen venue before? What should I know about this venue to be able to better accommodate hired services?
What happens if I need to make a last-minute change?
Are there any extra fees I should know about besides the per-plate fee? Such as linen fees, charges for ice, delivery fees or other?
What plating options are available? Do you have eco-friendly options? If plating is not provided, what services would you recommend?
Do you offer discounts or advantages for booking multiple events?

Having answers prepared for these questions can help you win business and put your catering clients at ease.

What would I typically need to pay for a Catering Contract?

Fortunately, you won't need to pay an expensive lawyer to get your agreement in writing. When using Rocket Lawyer, any caterer should feel empowered to create a Catering Contract for free today. Your agreement is built piece by piece, as you provide more information along the way. Simply click the button that says "Make document" to begin.

If you've got any hesitations or questions about how to move forward, you can always ask a lawyer. You should also feel free to check out our larger selection of business legal documents.

Can my Catering Contract be evaluated by an attorney before I sign?

Having someone double-check your agreement might take a lot of time if you attempt to do it on your own. Another approach to consider is to request help from the Rocket Lawyer network of attorneys. Premium members can request a contract review from an attorney with business experience or pose additional questions. As a small business owner or operator, you can Work Confidently® knowing that Rocket Lawyer is by your side.

What are my next steps after I make my Catering Contract?

Each Catering Contract will come with its own list of next steps you can take once the document is finished. With a Premium membership, you can edit, download, make copies, print out, or sign it electronically with RocketSign® whenever you are ready. Most importantly, you should make sure that everyone has a copy of your final contract. Depending on your specific payment terms, you may find it helpful to make an Invoice as a next step. Your catering invoice can include an invoice number, the catering services provided, the tax rate for the transaction, and contact and payment information.

How do I improve and grow my catering business?

No one is going to tell you that catering is an easy business. It's more difficult than running a restaurant since it is more like running a moving restaurant. If you are just starting out, we can help you incorporate and write a Business Plan. Since operating a catering company can be tough, it is always a good idea to try to find ways to improve your business, such as:

Test your menu items. It may be tempting at times to try to create unique menus based on your client's preferences, but it is always wise to test your recipes. Research ahead of time what substitutions will work if you should need to make last minute changes. If you are catering an event in a remote or unfamiliar area, try to visit the venue in advance to see if your recipes will work in that environment.
Get to know your customer. Customers can be fickle and some may not quite know what they want. Remember that for them, this event may be the only large event they have ever hosted. Try to help guide them to a decision that will make them happy.
Hire experienced team members. While you may be a great chef, you may not be the best at leading a team. If you need help, find the best support staff you can and let them help you run a top-rated catering company.
Learn how to manage your money well. Catering gigs are often seasonal. You'll need to find ways to survive the lean months. If you already own a restaurant, you may try adding food trucks for an additional avenue of income. If you can, find an accountant who has experience with your industry to manage your books and do your taxes.
Consider adding additional services. If you have not already, consider offering add-on services such as bartending, cleaning services or dessert catering. You don't necessarily have to be the person providing the service. You could use a subcontractor and take a portion of what they get paid or perhaps they would agree to paying a referral fee.
Learn how to market yourself. This is difficult for many small business owners, but it is necessary. Most experts recommend that you spend about 30 minutes per day just managing your social media. If you are overwhelmed with running the other parts of your business, you may consider hiring a professional.
Follow up. Give your clients a few days to recover from the event and then follow up. You may choose to create a standard list of questions you ask or you can customize every follow up conversation. Make sure to follow up even if things go wrong. If everything goes well, see if you can use your client as a reference and invite them to share your company's information with their associates.
Consider B2B discount programs. Some companies regularly cater meals for their employees. Consider offering incentives for those that order from your business weekly or monthly. Or if they have scheduled orders, offer a discounted rate for their large events. Once you know your customers, you'll know what kind of program might be most attractive.
Provide online ordering. If you have not already, consider adding an online ordering option. While this option is not suitable for all events, it can be beneficial for increasing day-to-day transactions such as an office ordering 100 sandwiches or a fundraiser ordering simple hors-d'oeuvres for an event.
Add a breakfast option. It is becoming increasingly popular for businesses to order breakfast for morning meetings. If it makes sense for your business, consider adding a few breakfast choices to the menu. You may even consider offering a happy hour menu for after-hours corporate events.