MAKE YOUR FREE

Musical Performance Contract
Other Names:
Musical Performance Agreement
Band Performance Contract
Performance Contract
Performer Contract
Artist Performance Contract
Live Performance Contract
Event Performance Contract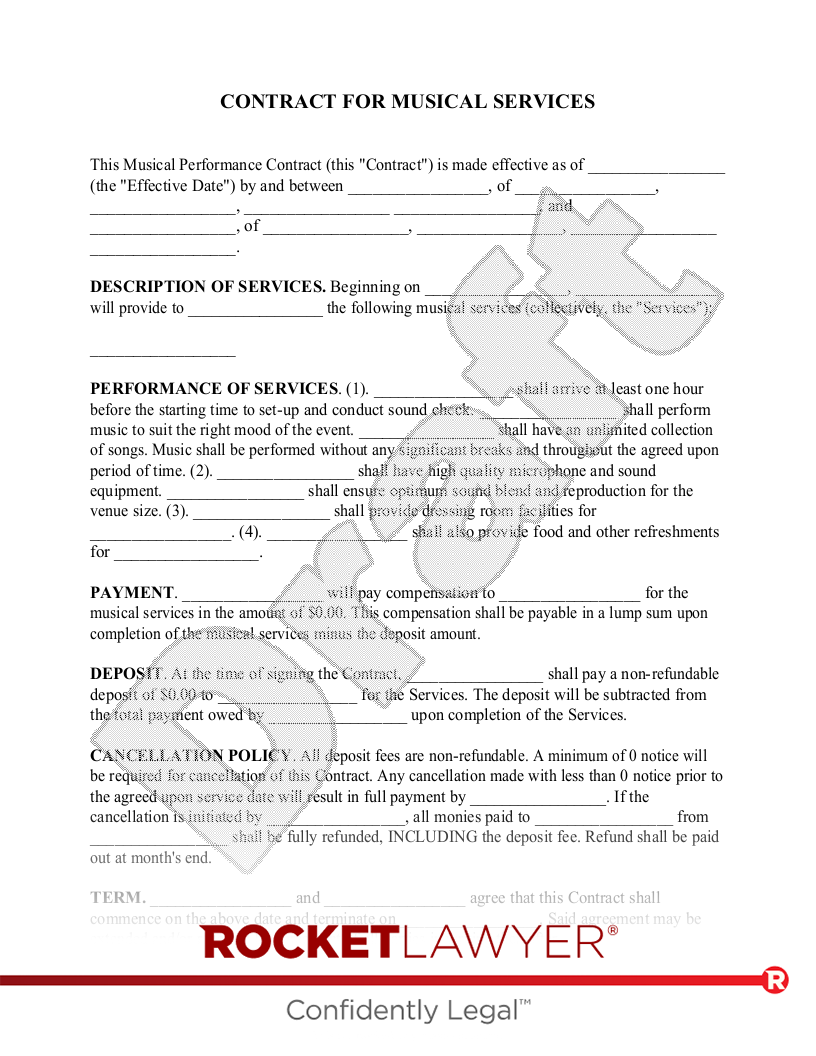 What is a Musical Performance Contract?
A Musical Performance Contract is a legally binding agreement under which a musician or band contracts to provide musical services to a company or an individual. Musical Performance Contracts outline the scope of services, how services are to be performed, and payment terms. Additionally, this contract contains special provisions unique to musical services, including: performance guidelines, deposits, cancellation policy and other provisions specifically related to the music service industry.

With signatures from the event organizer and the musician or band, this Musical Performance Contract can help each party to set appropriate expectations.
When can you use a Musical Performance Contract?
You are a musician who wants the security of a contract.
You are hiring musical talent and want a professional agreement.
Sample Musical Performance Contract
The terms in your document will update based on the information you provide
This document has been customized over 10.1K times
Legally binding and enforceable
Ask a lawyer questions about your document
Sign this document online for free with RocketSign®
CONTRACT FOR MUSICAL SERVICES
This Musical Performance Contract (this "Contract") is made effective as of (the "Effective Date") by and between (""), of , , , and (""), of , , .
DESCRIPTION OF SERVICES. Beginning on , will provide to the following musical services (collectively, the "Services"):
PERFORMANCE OF SERVICES. (1). shall arrive at least one hour before the starting time to set-up and conduct sound check. shall perform music to suit the right mood of the event. shall have an unlimited collection of songs. Music shall be performed without any significant breaks and throughout the agreed upon period of time. (2). shall have high quality microphone and sound equipment. shall ensure optimum sound blend and reproduction for the venue size. (3). shall provide dressing room facilities for . (4). shall also provide food and other refreshments for .
DEPOSIT. At the time of signing the Contract, shall pay a non-refundable deposit of to for the Services. The deposit will be subtracted from the total payment owed by upon completion of the Services.
CANCELLATION POLICY. All deposit fees are non-refundable. A minimum of notice will be required for cancellation of this Contract. Any cancellation made with less than notice prior to the agreed upon service date will result in full payment by . If the cancellation is initiated by , all monies paid to from shall be fully refunded, INCLUDING the deposit fee. Refund shall be paid out at month's end.
TERM. and agree that this Contract shall commence on the above date and terminate on . Said agreement may be extended and/or renewed by agreement of all parties in writing thereafter.
RELATIONSHIP OF PARTIES. It is understood by the parties that is an independent contractor with respect to , and not an employee of .
INDEMNIFICATION. agrees to indemnify and hold harmless from all claims, losses, expenses, fees, including attorney fees, costs, and judgments that may be asserted against that result from the acts or omissions of , 's members, if any, and 's agents.
ENTIRE CONTRACT. This Contract contains the entire Contract of the parties, and there are no other promises or conditions in any other contract whether oral or written concerning the subject matter of this Contract. This Contract supersedes any prior written or oral agreements between the parties.
SEVERABILITY. If any provision of this Contract shall be held to be invalid or unenforceable for any reason, the remaining provisions shall continue to be valid and enforceable. If a court finds that any provision of this Contract is invalid or unenforceable, but that by limiting such provision it would become valid and enforceable, then such provision shall be deemed to be written, construed, and enforced as so limited.
AMENDMENT. This Contract may be modified or amended in writing, if the writing is signed by the party obligated under the amendment.
GOVERNING LAW. This Contract shall be governed by the laws of the State of Commonwealth of .
NOTICE. Any notice or communication required or permitted under this Contract shall be sufficiently given if delivered in person or by certified mail, return receipt requested, to the address set forth in the opening paragraph or to such other address as one party may have furnished to the other in writing.
WAIVER OF CONTRACTUAL RIGHT. The failure of either party to enforce any provision of this Contract shall not be construed as a waiver of limitation of that party's right to subsequently enforce and compel strict compliance with every provision of this Contract.
ASSIGNMENT. Neither party may assign or transfer this Contract without the prior written consent of the non-assigning party, which approval shall not be unreasonably withheld.
SIGNATORIES. This Agreement shall be signed by , on behalf of and by , on behalf of . This Agreement is effective as of the date first above written.
Final Checklist for Contract for Musical Services
Company:
Service Provider:
Rocket Lawyer is the easy and affordable legal service for everyone -- giving you the legal help you need at a price you'll love. Our legal plans give families and businesses free legal documents, affordable access to licensed attorneys, plus a whole lot more.
Next Steps: Make it Legal
_____
Look over the Contract to ensure it matches your intentions. If you need to make changes to the Contract outside of the interview, you will be able to make changes online in the Document Manager at the end of the process or downloaded to any word processor.
_____
Use the easy E-signature service to sign electronically without having to print, sign and deliver hard copies. Or, print and sign hard copies of your Contract in duplicate.
_____
Share or deliver a copy of the Contract to the other Party.
Copies
_____
Keep a copy of all documents for your own records and in case there is a problem.
_____
Each Party should receive an original signed copy of the Contract. Your copy should be kept in a safe place. If you signed a paper copy of your document, you can use Rocket Lawyer to store and share it. Safe and secure in your Rocket Lawyer File Manager, you can access it any time from any computer, as well as share it for future reference.
Other Information
*
It is not necessary that the signatures be witnessed or notarized.
Members can always consult an attorney at no extra cost!
*
If you have quick questions or wish to review this document with an attorney, you can do so for free. Rocket Lawyer's On Call® service makes it fast and easy to speak with a local attorney. Get started by visiting the Find a Lawyer tab on our site, or calling (866) 243-2183.
About Musical Performance Contracts
Learn how to document your musical performance agreement
What to include in Musical Performance Contracts

A Musical Performance Contract, also known as a Performance Contract, is an agreement under which a musician or band contracts to provide musical services to a company or an individual. Musical performance services are usually sought out for parties or during special events at halls or restaurants and bars. Occasions such as birthdays and wedding receptions typically demand musical performance services. This contract outlines the scope of services, how the service is to be performed, and payment terms. Additionally, this contract contains special provisions unique to musical services, including: performance guidelines, deposits, cancellation policy and other provisions specifically related to the music service industry.

Band or gig contracts are often short and easy to understand. However, they can be as complicated as you want them to be depending on the event. Most will be short, but if you are managing a large, expensive event, expectations may be more extensive on both sides.

Following is basic information typically included in Musical Performance Contracts:

Name and contact information of both parties

Most often full, real names (rather than stage names) are included, as well as contact information, such as email addresses and phone numbers.

Description of services

This section includes the location and name of the venue as well as the date and time of the performance. Additional provisions you might consider including here are covered later in this article.

Performance of services

This section covers the details, such as set-up and sound check times. It can also include information such as music type, how long the band is to play per set, the variety of music (limitation of repeats), and etiquette expectations (for example if swearing needs to be limited). Some also include in this section the sound equipment and expertise the band is expected to bring.

Payment

Payment information includes how much is to be paid for the performance, when it will be paid, and how it will be paid. The Musical Performance Contract typically provides a detailed description of the payment terms agreed upon by both parties. The contract usually outlines a single lump sum payment to be made at the completion of the musical service. You might consider including additional provisions related to monetary payments, such as a deposit section or a cancellation policy.

Deposit

A deposit is a non-refundable monetary fee that the musician can require a client to pay at the time of contracting for services. A monetary deposit is a standard policy in the music service industry due to the distinct nature of the industry. The deposit protects the musician against possible financial losses if the client cancels. This is not common, however, for small venues, but popular bands with busy schedules may require a deposit to guarantee their services. Most often, the deposit is non-refundable and subtracted from the total amount due after the performance.

Cancellation policy

A cancellation policy protects the musician against possible financial losses if the client decides to cancel the contract on short notice. A cancellation policy is also a standard policy in the music service industry. In the event a client cancels at the last minute, the musician will have difficulty finding another reservation or booking, therefore resulting in a loss of profit. This provision allows for a musician to receive full payment if the client cancels the contract without enough prior notice. This section outlines the minimum time required for giving notice of cancellation. If the band needs to cancel, it should be within enough time to book another similar act. If the venue or event organizer cancels within a certain period, often the contract will require that the band still be paid in full.

Terms

Usually, performances are singular and just list one date, but if you have a contract for repeated performances, such as once per week, you can create a contract with terms and options for renewal.

Relationship of parties

This indicates, in most cases, that the band or musician is not an employee of the individual, venue, or event organizer. This helps relieve liability issues.

Force Majeure

This simply means something like 'superior force.' This section outlines rules about what things could happen that would release both parties from the agreement without consequences. These are often "act of god" events such as floods or earthquakes.

Some additional information or terms you may want to add to the Description of Services section of your contract include:

Equipment and layout

It is helpful if the bands know in advance things like what kind of power is available, lighting provided, sound equipment details, drum riser specs, and so on. Details should be specific, for example, exact brand and tech specifics should be provided for PA equipment.

Riders or backstage perks

Most bands do not have the influence to request complicated, expensive backstage accommodations, but many ask for a few hospitality items. Common requests include bottled water, tea, energy drinks, alcohol, coffee, and food. Often, the venue can save money by providing catering services backstage and limit requests to dietary restrictions.

Merchandise sales

Bands should know if they can sell merchandise, and if so, if there is a designated area for sales and tables available. If the band needs their salespeople to be allowed into the event without a ticket, that should be arranged in advance, as well. If the venue takes a part of the sale, that should be clearly communicated.

Video and audio recordings

If the performance is recorded, how those recordings are planned to be used should be discussed. If the band or performer wants a copy of the recording for promotional reasons, how that will be shared should be arranged in advance.

Performance expectations

The drunken musician cliche was not fabricated out of thin air. Both parties should set expectations around intoxication and performance. If a band member cannot make a performance, the band should have a backup player willing and ready to perform.

Parking and loading/unloading

Bands should know in advance where they can park and load and unload their gear. Some venues will put out signage directing the bands where to go. If they need to park their vehicle and gear overnight, the organizer or booking person should have suggestions for safe places to park.

Lodging and transportation

Some events pay for musicians to have pre-event or post-event accommodations and may help with transportation costs. Location and access information to hotels, homestays, or campsites should be communicated in advance as much as possible. Transportation costs such as gas or airfare (including airport shuttles) should be agreed upon before the day of the event.

Signing instructions

This Musical Performance Contract should be signed by authorized representatives of both parties and becomes effective as of the date specified in the contract. It is not necessary that the signatures be witnessed or notarized. Using electronic signatures can save time, and make contracts easier to manage and store.

If you plan to print and sign hard copies of the contract, you may want to sign two copies of the contract so that each party will have a copy with original signatures. Original copies should be kept in a fireproof and safe location.

Definitions of Musical Performance Contract Terms

Term

Definition

Alternative Dispute Resolution (ADR)

A method of settling disputes that does not involve litigation or other use of the court system. The parties to a contract may agree to use a specific form of Alternative Dispute Resolution (ADR) to resolve any disputes that arise in relation to the contract. The most common forms of ADR are:

Negotiation.
Mediation.
Arbitration.

The outcome of certain types of ADR may be binding on the parties if they agree to that in advance. Courts may review some ADR results, but they are not likely to overturn them without evidence of fraud, duress, or other misconduct.

Assignment

The transfer of the obligation and/or benefits of a contract from one person (the "assignor") to another (the "assignee"). The assignee steps into the assignor's shoes and assumes any and all responsibilities that they have under the contract.

A contract may specifically prohibit assignment by one or both parties. An assignment may be invalid if it materially changes the contract, regardless of whether the contract prohibits assignment. A musician, for example, might not be able to assign their obligations to another musician, especially if the original musician's performance will be essential to the event.

Governing law

A provision in a contract, also known as "choice of law," that identifies which jurisdiction's laws will apply to disputes between the parties. A contract between a musician who lives in California and an event organizer based in Nevada, for example, might specify that the laws of Nevada will govern any disputes between the parties related to the contract. This type of clause also often specifies where either party must file a lawsuit. The contract described above might state that any lawsuit must be filed in Clark County, Nevada.

Indemnity

An agreement that one party to a contract will cover the other party against liability for matters that are the first party's responsibility. A client can require that the musician indemnify the client for any injuries that the musician may encounter or cause through the acts of the musician or the band. This essentially means that the musician is responsible if something or someone is harmed because of the acts committed by the musician or band.

On the other hand, if a contract states that a venue owner will be solely responsible for maintaining the safety of the premises where the performance will take place, the venue owner must cover ("indemnify") the musician in the event that someone sues the musician for a slip-and-fall accident at the venue.

Independent contractor

A self-employed individual or business that enters into a contract to provide services to another individual or business, often known as the client. Although the independent contractor "works" for the client, the contract does not create an employer/employee relationship between them. Musical performance contracts often specify that the musician is an independent contractor, not an employee.

Severability

A clause in a contract that states that if any other provision of the contract is found by a court of law to be invalid, unlawful, or unenforceable, that provision may be removed without invalidating the rest of the contract. Severing a provision may still render a contract invalid if the contract is unworkable without that provision.

Waiver

A contractual provision stating that the waiver of any rights by either party under the contract does not prevent them from asserting those or other rights later. This allows the parties to be flexible about how they assert their rights. With a waiver clause, a party does not have to file a claim for breach of contract every time the other party makes a mistake.
Musical Performance Contract FAQs
As a musician, should I always create a contract for musical performances?

It only takes one no-show or one venue not paying your band for both parties to learn that Musical Performance Contracts are a smart idea. Whether you are doing a solo gig or a full band setup, it is always crucial to record the details of your shows. You might decide to use a Musical Performance Contract because, when done properly, it yields the benefits listed here:

Neither party is confused about compensation
The duration of the performance is agreed upon
Both parties understand the scope of their responsibilities

If you decide against making a Band Contract, you may not experience any of the protections connected to having one.

How can I fill out my own performance contract template online for free?

The good news is you do not need to start from scratch when getting your agreement in writing. When using the document tools on Rocket Lawyer, any musician should feel empowered to draft a free Musical Performance Contract with ease. Your contract will be built step by step, so you can feel confident that it has the proper details that you'll need. Ordinarily, given the level of customization, you might ultimately pay a conventional lawyer fees in the hundreds of dollars, if not more.

If you have any doubts before getting started, ask a lawyer, or browse our full repository of business documents.

Can my Musical Performance Agreement be checked by a lawyer?

If you opt to do it by yourself, seeking out a legal professional to give feedback on your document could be relatively time-intensive. Some lawyers may not even agree to review a contract if they were not the author. In the event that an attorney does offer to help you, they would still charge their standard fees to do so. An easier and more cost-effective alternative is to go through Rocket Lawyer attorney services. If you sign up for a Premium membership, you can get your agreements reviewed or send specific questions. Whether you decide to produce more copies of your Musical Performance Agreement or other agreements for your business, we'll be here to support you.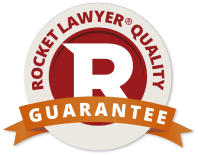 Our quality guarantee
We guarantee our service is safe and secure, and that properly executed Rocket Lawyer legal documents are legally enforceable under applicable US laws.
Need help? No problem!
Ask a question for free or get affordable legal advice when you connect with a Rocket Lawyer network attorney.
Musical Performance Contract checklist
Complete your free Musical Performance Contract with our Make it Legal™ checklist