MAKE YOUR FREE

Staffing Agency Contract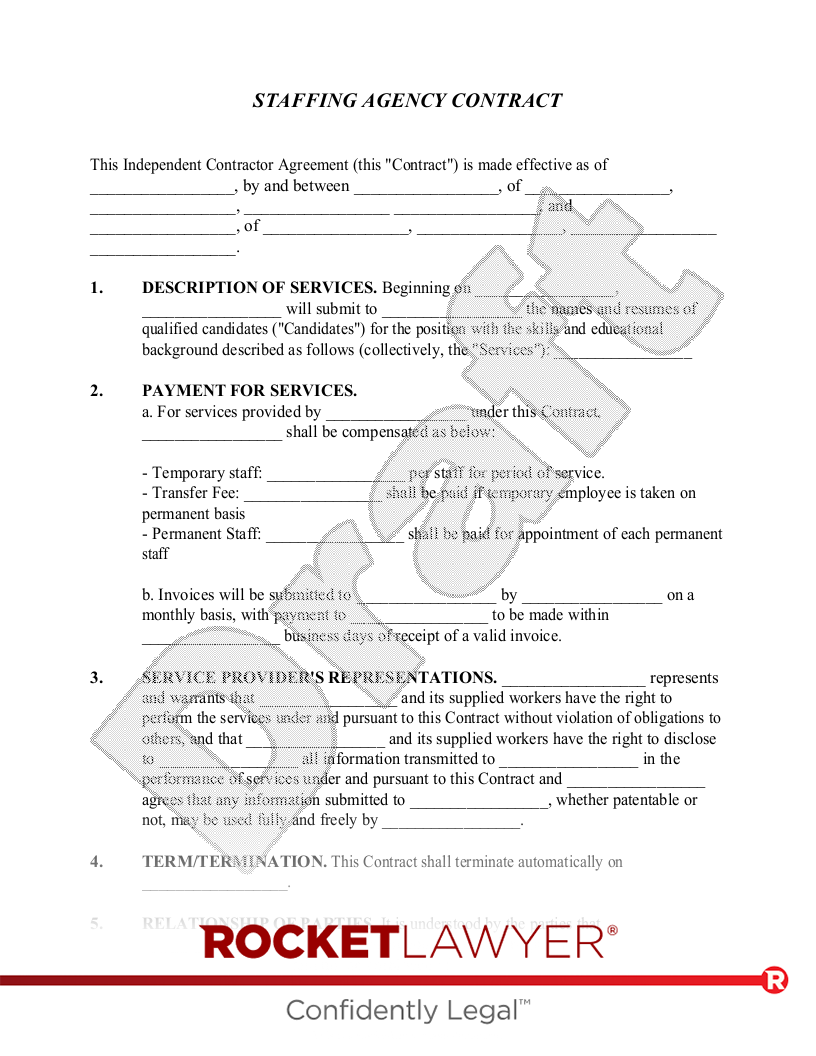 What is a Staffing Agency Contract?
Typically, Staffing Agency Contracts are created to describe the agreed-upon terms associated with staffing services being provided. By accepting this agreement with each other, all signers will be more likely to share the same set of expectations. More than a generic PDF template, any Staffing Agency Agreement under an active Rocket Lawyer Premium membership is supported by Document Defense®, an optional membership benefit to help enforce your rights.
When to use a Staffing Agency Contract:
You're hiring a staffing agency to provide you with full-time, part-time or temporary staff.
You're being hired to provide staffing services.
Sample Staffing Agency Contract
The terms in your document will update based on the information you provide
This document has been customized over 38.6K times
Legally binding and enforceable
Ask a lawyer questions about your document
Sign this document online for free with RocketSign®
STAFFING AGENCY CONTRACT
This Independent Contractor Agreement (this "Contract") is made effective as of , by and between , of , , , and , of , , .
.
DESCRIPTION OF SERVICES. Beginning on , will submit to the names and resumes of qualified candidates ("Candidates") for the position with the skills and educational background described
a. For services provided by under this Contract, shall be compensated as below:
- Temporary staff: per staff for period of service.
- Transfer Fee: shall be paid if temporary employee is taken on permanent basis
- Permanent Staff: shall be paid for appointment of each permanent staff
b. Invoices will be submitted to by on a monthly basis, with payment to to be made within business days of receipt of a valid invoice.
.
SERVICE PROVIDER'S REPRESENTATIONS. represents and warrants that and its supplied workers have the right to perform the services under and pursuant to this Contract without violation of obligations to others, and that and its supplied workers have the right to disclose to all information transmitted to in the performance of services under and pursuant to this Contract and agrees that any information submitted to , whether patentable or not, may be used fully and freely by .
.
TERM/TERMINATION. This Contract
.
RELATIONSHIP OF PARTIES. It is understood by the parties that is an independent contractor with respect to , and not an employee of . will not provide fringe benefits, including health insurance benefits, paid vacation, or any other employee benefit, for the benefit of .
Upon termination of this Contract, will return to all records, notes, documentation and other items that were used, created, or controlled by during the term of this Contract.
.
ENTIRE AGREEMENT. This Contract contains the entire agreement of the parties, and there are no other promises or conditions in any other agreement whether oral or written.
.
SEVERABILITY. If any provision of this Contract shall be held to be invalid or unenforceable for any reason, the remaining provisions shall continue to be valid and enforceable. If a court finds that any provision of this Contract is invalid or unenforceable, but that by limiting such provision it would become valid and enforceable, then such provision shall be deemed to be written, construed, and enforced as so limited.
.
APPLICABLE LAW. This Contract shall be governed by the laws of the State of .
.
SIGNATURES. This Contract shall be signed on behalf of by

, and on behalf of by

.
PARTY CONTRACTING SERVICES:
STAFFING AGENCY:
Staffing Agency Contract FAQs
Should every staffing agency write a contract for staffing?

Whether you are providing full-time, part-time, or temporary staff for an employer, creating documentation of your engagement is key. Making a Staffing Agency Contract most likely will be helpful to you due to the following list of benefits:

Roles and responsibilities are understood by all
There are no surprises about how long the engagement will last
There is no confusion about compensation

Any agency operator deciding not to make a Staffing Contract can anticipate some issues, including questions about timing and uncertainty about fees.

What details are needed in my Staffing Contract?

Specifics that you will need to include are:

The client's full name and address
What specific tasks you will be doing once hired
Whether the work will be ongoing or if it will last for a distinct period of time
How much it will cost and when payment is due

As usual, this Staffing Agency Contract made on Rocket Lawyer also contains the standard language with regard to the non-employer relationship between the agency operator and client, confidentiality, and dispute resolution. During the process of building your agreement, you also will be able to decide which state's jurisdiction it will fall under. Using the document tool, you are able to add more custom edits, as well.

Can I fill out a staffing agency contract template for free?

As an agency operator who has decided to create this document with Rocket Lawyer, you will need to use the directions that are presented. Our step-by-step interview will guide you through a set of questions about your situation to help us generate a Staffing Agency Contract that is customized to fit your needs. It may be helpful to have a lawyer in our nationwide network of attorneys review it for you. This route is often going to be much less time-consuming than meeting with and hiring a conventional lawyer at a cost totaling anywhere from hundreds of dollars to thousands, depending on the location.

If you've got any hesitations about getting started, ask a lawyer . You should also feel free to check out our full collection of legal documents for independent contractors .

Am I required to do anything else next after creating my Staffing Agency Contract?

Your Staffing Agency Contract will come with a series of next steps you should take once your document is completed. You are encouraged to interact with your document in any or all of these ways: making edits, using RocketSign® to sign electronically, printing, and/or saving it in PDF format or as a Word document. Most importantly, you should be sure to send a copy of your signed agreement to your client.

Will Rocket Lawyer be able to review my Staffing Agency Contract?

If you do it by yourself, seeking out an attorney to proofread your document might be costly. Some attorneys will not even agree to review your contract if they did not draft it. In the event that a lawyer does offer support, they are still going to charge their standard fees to do it. A more cost-effective alternative would be to go through the Rocket Lawyer attorney network. With a Premium membership, you can get your agreements reviewed or send any questions. Whether you create more copies of your Staffing Agency Agreement or other agreements for your business, Rocket Lawyer will be by your side.