MAKE YOUR FREE

Software Maintenance Agreement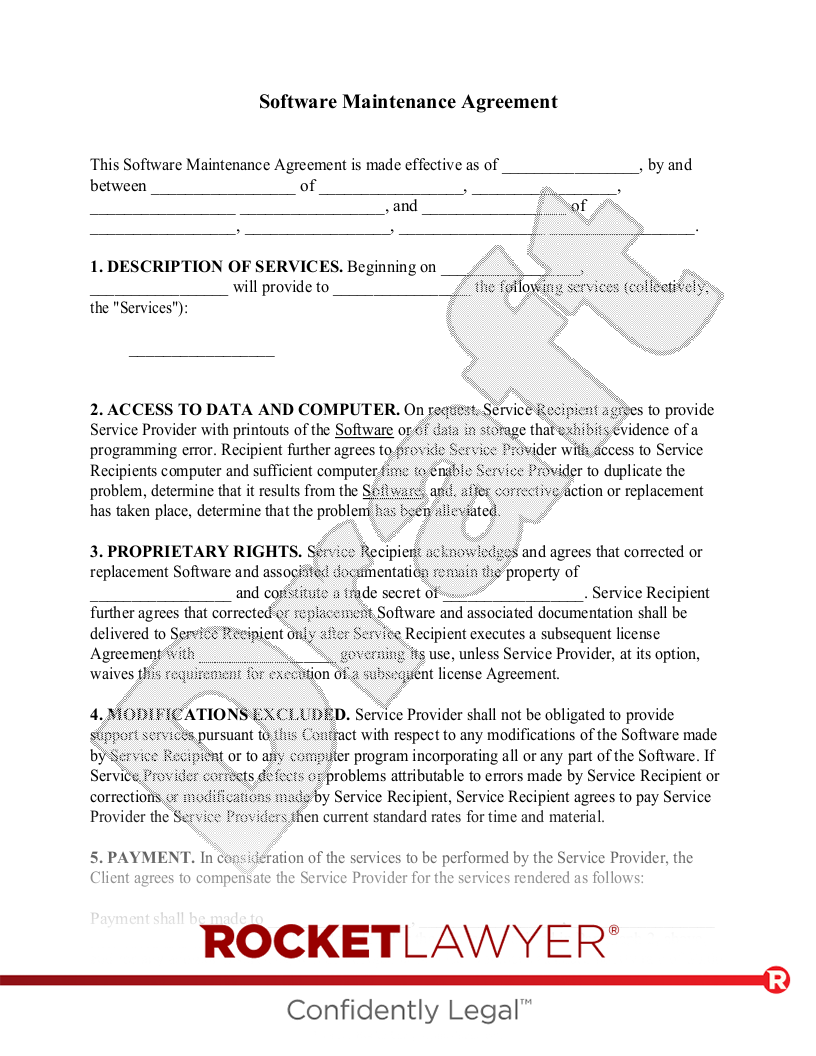 What is a Software Maintenance Agreement?
A Software Maintenance Agreement is often prepared by a software technician to record the terms of an arrangement made with a client. When it is drafted properly, this essential legal agreement may help to limit the likelihood of disagreements between the signers. Different from the generic templates that you might download elsewhere, each Software Maintenance Contract that is built on Rocket Lawyer comes with the option of Document Defense®, so an On Call attorney can assess the situation and take action if you need to demand payment or have another issue.
When to use a Software Maintenance Agreement:
Your business will be providing software support services to another business or individual.
You will be contracting with a business to receive software support services
Sample Software Maintenance Agreement
The terms in your document will update based on the information you provide
This document has been customized over 8.7K times
Legally binding and enforceable
Ask a lawyer questions about your document
Sign this document online for free with RocketSign®
This is made effective as of , by and between of , , , and of , , .
. DESCRIPTION OF SERVICES. Beginning on , will provide to the services described in the attached Exhibit (collectively, the "Services").
. ACCESS TO DATA AND COMPUTER. On request, Service Recipient agrees to provide Service Provider with printouts of the Software or of data in storage that exhibits evidence of a programming error. Recipient further agrees to provide Service Provider with access to Service Recipients computer and sufficient computer time to enable Service Provider to duplicate the problem, determine that it results from the Software, and, after corrective action or replacement has taken place, determine that the problem has been alleviated.
. PROPRIETARY RIGHTS. Service Recipient acknowledges and agrees that corrected or replacement Software and associated documentation remain the property of and constitute a trade secret of . Service Recipient further agrees that corrected or replacement Software and associated documentation shall be delivered to Service Recipient only after Service Recipient executes a subsequent license Agreement with governing its use, unless Service Provider, at its option, waives this requirement for execution of a subsequent license Agreement.
. MODIFICATIONS EXCLUDED. Service Provider shall not be obligated to provide support services pursuant to this Contract with respect to any modifications of the Software made by Service Recipient or to any computer program incorporating all or any part of the Software. If Service Provider corrects defects or problems attributable to errors made by Service Recipient or corrections or modifications made by Service Recipient, Service Recipient agrees to pay Service Provider the Service Providers then current standard rates for time and material.
. PAYMENT. In consideration of the services to be performed by the Service Provider, the Client agrees to compensate the Service Provider for the services rendered as follows:
Payment shall be made to . Service Provider's fees for the services specified in Paragraph 2, above, and for any additional services, will be charged
Any additional services not specified in Paragraph 2, above, will be charged to Client on an hourly rate basis at Service Provider's standard hourly rate of per hour.
Service Recipient agrees to pay Service Provider for all travel and other incidental expenses, including meals, telephone charges, and shipping costs, incurred in connection with Service Providers performance of its duties under this Contract.
Payment discount terms include a percent discount if the total bill is paid within days.
In addition to any other right or remedy provided by law, if fails to pay for the Services when due, has the option to treat such failure to pay as a material breach of this Contract, and may cancel this Contract and/or seek legal remedies.
. COSTS AND EXPENSES
In addition to the fees specified above, Client will reimburse Service Provider for any incidental costs and expenses Service Provider incurs in performing services for Client under this Contract, including, but not limited to, secretarial and similar charges, telephone calls, photocopying and related expenses, shipping and mailing charges, document filing fees, other government fees, notary fees, and similar expenses. Costs and expenses will be billed to Client on a basis and will be due and payable within days thereafter.
. TAXES. Service Recipient shall be responsible for all sales or use taxes or any other taxes, fees, or duties imposed by federal, state, local, or other governments or governmental entities on or with respect to the services rendered or property provided by Service Provider pursuant to this Contract.
. CONFIDENTIALITY. , and its employees, agents, or representatives will not at any time or in any manner, either directly or indirectly, use for the personal benefit of , or divulge, disclose, or communicate in any manner, any information that is proprietary to . and its employees, agents, and representatives will protect such information and treat it as strictly confidential. This provision will continue to be effective after the termination of this Contract.
. DEFAULT. The occurrence of any of the following shall constitute a material default under this Contract:
a.
The failure to make a required payment when due.
b.
The insolvency or bankruptcy of either party.
c.
The subjection of any of either party's property to any levy, seizure, general assignment for the benefit of creditors, application or sale for or by any creditor or government agency.
d.
The failure to make available or deliver the Services in the time and manner provided for in this Contract.
e.
The occurrence of a default on the part of the Service Recipient of the Contract pursuant to which Service Recipient obtained the Software.
. REMEDIES. In addition to any and all other rights a party may have available according to law, if a party defaults by failing to substantially perform any provision, term or condition of this Contract (including without limitation the failure to make a monetary payment when due), the other party may terminate the Contract by providing written notice to the defaulting party. This notice shall describe with sufficient detail the nature of the default. The party receiving such notice shall have days from the effective date of such notice to cure the default(s). Unless waived by a party providing notice, the failure to cure the default(s) within such time period shall result in the automatic termination of this Contract.
, or other labor disputes
. ENTIRE AGREEMENT. This Contract contains the entire agreement of the parties, and there are no other promises or conditions in any other agreement whether oral or written concerning the subject matter of this Contract. This Contract supersedes any prior written or oral agreements between the parties.
. NOTICE. Any notice or communication required or permitted under this Contract shall be sufficiently given if delivered in person or by certified mail, return receipt requested, to the address set forth in the opening paragraph or to such other address as one party may have furnished to the other in writing.
. WAIVER OF CONTRACTUAL RIGHT. The failure of either party to enforce any provision of this Contract shall not be construed as a waiver or limitation of that party's right to subsequently enforce and compel strict compliance with every provision of this Contract.
. SIGNATORIES. This Agreement shall be signed on behalf of by and on behalf of by and effective as of the date first above written.
Service Recipient:
Service Provider:
Software Maintenance Agreement FAQs
Do software technicians need to use Software Maintenance Contracts?

Regardless of how long your business has been in operation, it's critical to record the details of your work in a contract. Using this document could be good for you due to the following benefits:

The software technician and client both understand the scope of their responsibilities
Both parties know when invoicing will happen
Neither party is surprised by how long the engagement lasts

In the end, if you and/or the client fail to sign a Software Maintenance Contract, you might not be able to enjoy all of the associated benefits and protections.

What details does a software maintenance agreement template typically include?

The specific details that you should plan to cover are:

Contact information for your client
How much it will cost and when payment is due
What the start and end dates are
What tasks you will be doing once hired

As expected, your agreement from Rocket Lawyer also contains the typical language with regard to the non-employment relationship, the protection of confidential information, the method(s) of dispute resolution, and finally, indemnity. During the process of making your contract, you also can decide which state's jurisdiction it will fall under. Using the Rocket Lawyer document tool, you have the ability to make additional custom alterations, as needed.

What would I usually pay for an attorney to draft a contract for software maintenance?

Luckily, you won't need to pay hundreds of dollars to get your contract in writing. When using Rocket Lawyer, anyone can draft a free Software Maintenance Agreement today. Your contract will be constructed section by section, as you answer simple questions to enter details. Simply tap or click on "Make document" above to begin.

If you've got any hesitations or concerns about the process, you can talk to a lawyer today. Also feel free to check out more business documents in our library.

Am I required to do anything else after I draft my Software Maintenance Agreement?

Alongside your Software Maintenance Agreement, you'll find a set of instructions on what you can do next. Feel free to take any of the following actions with your document: editing, downloading it as a Word document or PDF file, printing it out, or signing it with RocketSign® electronic signatures. Most importantly, the client should always get a copy of the fully executed contract.

Can my Software Maintenance Agreement be checked by a lawyer before it is signed?

Locating a lawyer to check your contract might take longer than you think if you attempt to do it by yourself. Another approach could be through the Rocket Lawyer On Call® network. Rocket Lawyer members are able to ask for advice from an experienced lawyer or ask additional questions. As a small business owner or operator, you can Work Confidently® with Rocket Lawyer by your side.