MAKE YOUR FREE

Advertising Agency Agreement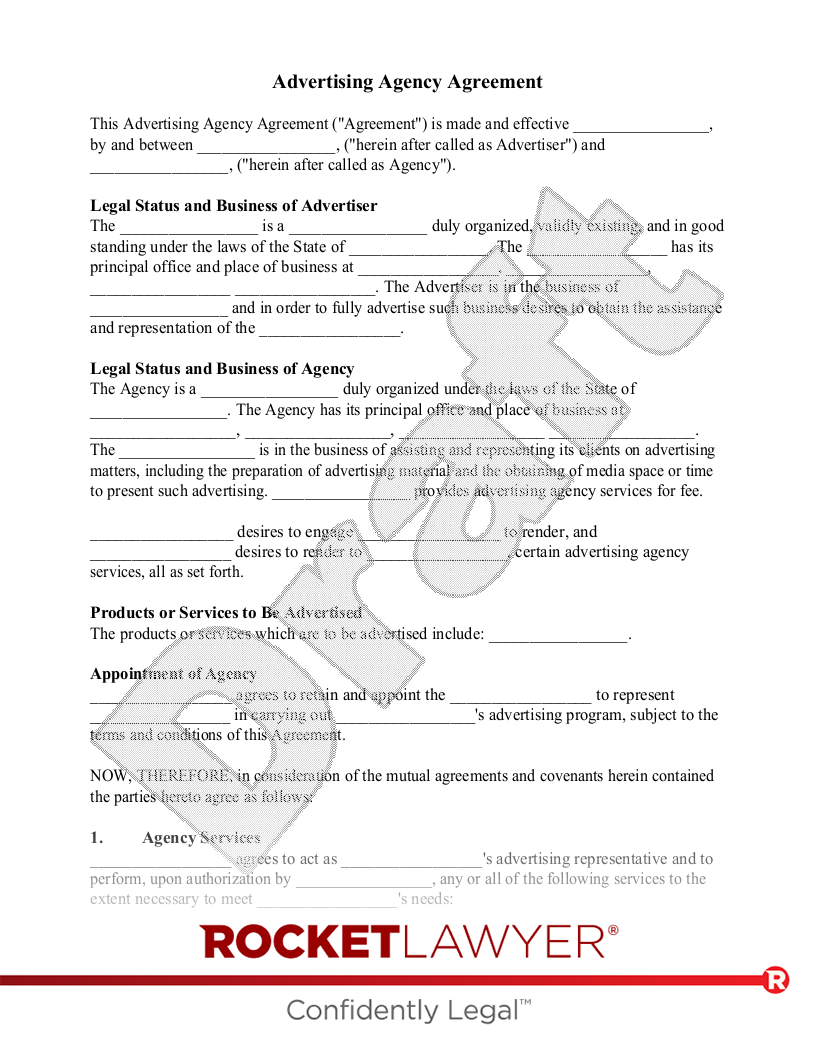 What is an Advertising Agency Agreement?
Agency operators and clients often use Advertising Agency Agreements as a means of documenting their work together. By accepting this agreement with each other, both parties will know what to expect. With Rocket Lawyer, your Advertising Agency Contract isn't a generic template. In case you ever need assistance from an attorney in the event of nonpayment or any other issue, your Rocket Lawyer membership offers the optional benefit of Document Defense®.
When to use an Advertising Agency Agreement:
You are an advertising agency who has secured a client seeking your advertising and marketing services.
You are a business who will be engaging an advertising agency to do some marketing and advertising work for your business.
Sample Advertising Agency Agreement
The terms in your document will update based on the information you provide
This document has been customized over 22.3K times
Legally binding and enforceable
Ask a lawyer questions about your document
Sign this document online for free with RocketSign®
Advertising Agency Agreement
This Advertising Agency Agreement ("Agreement") is made and effective , by and between , ("herein after called as Advertiser") and , ("herein after called as Agency").
Legal Status and Business of Advertiser
The is a duly organized, validly existing, and in good standing under the laws of the State of . The has its principal office and place of business at , , . The Advertiser is in the business of and in order to fully advertise such business desires to obtain the assistance and representation of the .
Legal Status and Business of Agency
The Agency is a duly organized under the laws of the State of . The Agency has its principal office and place of business at , , . The is in the business of assisting and representing its clients on advertising matters, including the preparation of advertising material and the obtaining of media space or time to present such advertising. provides advertising agency services for fee.
desires to engage to render, and desires to render to , certain advertising agency services, all as set forth.
Products or Services to Be Advertised
The products or services which are to be advertised include: .
Appointment of Agency
agrees to retain and appoint the to represent in carrying out 's advertising program, subject to the terms and conditions of this Agreement.
NOW, THEREFORE, in consideration of the mutual agreements and covenants herein contained the parties hereto agree as follows:
agrees to act as 's advertising representative and to perform, upon authorization by , any or all of the following services to the extent necessary to meet 's needs:
a.
Study and analyze 's business and products or services and survey the market therefore.
b.
Develop an advertising program designed to meet 's needs and budgetary limitations.
c.
Counsel on his overall merchandising program or make plans therefore.
d.
Determine and analyze the effect of the advertising used.
e.
Plan, create, write, and prepare layouts and the actual copy to be used in advertisements of all types.
f.
Analyze all advertising media to determine those which are most suitable for use by .
g.
Make contracts with the advertising media for space or time and with others to effectuate the advertising program and obtain the most favorable terms and rates available.
h.
Check and follow up on all contracts with the various media for proper performance in the best interests of the Advertiser, including the appearance, accuracy, date, time, position, size, extent, site, workmanship, and mechanical reproduction, as appropriate to the advertisements used.
i.
Negotiate, arrange, and contract for any special talent required and for all photography, models, special effects, layouts, and art work, and for all printing, including any required engravings, electrotypes, typography, and any other necessary technical material for use in the advertising program.
j.
Make timely payments to all persons or firms supplying goods or services in connection with the advertising program.
k.
Advise and bill for all remittances made by the Agency for the Advertiser's account and maintain complete and accurate books and records in this regard.
l.
Cooperate with and 's other representatives with regard to achieving the best possible tax advantages to with respect to advertising expenditures.
m.
Insert the appropriate __________'s copyright notice on all advertising material prepared for any publication.
's engagement shall relate to the following products and services of :
3.
Prior Approval of Advertiser
shall not incur any obligations or provide any services for 's account without first obtaining written approval therefore from or any other person designated by in writing. In order to obtain 's approval, shall submit written proposals to , containing full descriptions of the proposed advertisements and estimates of the cost of the obligations or services involved, including media costs, cost of preparation of the advertisements, costs of production, and any additional costs, such as travel, mailing, postage, and similar items.
Agency shall be the exclusive advertising agency in the U.S. for with respect to .
5.
Advertising Costs and Expenditures
a.
shall reimburse for all costs incurred and expenditures made on behalf of for approved advertising, except as specifically provided herein and, in addition, shall compensate for services rendered.
b.
shall pay for its direct costs of mailing, packaging, shipping, taxes and duties, and telephones and telegrams incurred by in connection with the performance of this Agreement.
c.
shall pay all of 's costs for any necessary traveling done on behalf of .
d.
In the event media or other charges increase or decline after has submitted an estimate, shall pay for such increase or be given a credit for such reduction, as the case may be.
6.Agency's Compensation.
a.
shall receive a commission of of the gross charges made by the advertising media for time or space used by , except with respect to outdoor advertising for which 's commission shall be of the gross charges.
b.
shall receive a commission of of the charges made by third parties with whom has contracted for products or services which are to be used to implement the advertising proposals approved by .
c.
For those items where is not compensated on a commission basis, shall pay on an hourly basis for services provided hereunder.
d.
In the event of special projects, shall prepare an estimate of total charges for any such special project, including therein any charges for materials or services purchased from outside sources. In the event that elects to proceed with the special project based upon 's estimated cost, shall perform the services with respect to such special project at its estimated cost, subject to modification as mutually agreed by the parties.
e.
shall not be obligated to reimburse for any travel or other out-of-pocket expenses incurred in the performance of services pursuant to this Agreement unless expressly agreed by in advance.
a.
shall bill in conformity with the standards recommended by the American Association of Advertising Agencies and on 's standard forms.
b.
shall bill from time to time as necessary to take advantage of cash discounts provided by the media and other third-party suppliers. Bills estimating the costs involved may be preliminarily used, but final, detailed bills, supported by invoices of charges of third parties and showing all adjustments and credits, will be submitted to as soon as available.
c.
's bills shall indicate the amount of media commissions involved and the adjustments thereof necessary to bring them into conformity with this Agreement. The amount of cash discount allowed to by third-party suppliers will be credited to provided that payment is made to in accordance with the specific discount terms contained in 's bills to , and provided further that the Advertiser is not in default in payment of any amounts due to .
8.
Indemnification and Insurance
shall indemnify and hold the harmless from and against any and all claims, liabilities, or damages arising from the preparation or presentations of any advertising covered by this Agreement including the costs of litigation and counsel fees.
agrees to procure and maintain in force during the term of this Agreement, at 's expense, an advertising agency liability policy or policies having a minimum limit of at least , naming as an additional insured and loss payee under such policy or policies.
The term of this Agreement shall commence on and shall continue in full force and effect until terminated by either party upon at least days prior written notice. The rights, duties and obligations of the parties shall continue in full force during or following the period of the termination notice until termination, including the ordering and billing of advertising in media whose closing dates follow then such period. On receipt of notice of termination, shall not commence work on any new advertisements, but it shall complete and place all advertisements previously approved by . All other rights and duties of the parties shall continue during the notice period and shall be responsible to for the payment of any contract obligation incurred with third parties during this period.
In the event or desires to terminate all work in progress on advertisements commenced before receipt of notice of termination, it may be so agreed upon the parties' mutual consent and determination of the compensation to be received by for partially completed work.
10.
Assignment of Contracts
shall assign to all of its rights in contracts, agreements, arrangements, or other transactions made with third parties for 's account, effective on the date of termination or on such other date as may be agreed upon by the parties; and shall assume all obligations and hold harmless from all liability there under. In the event any such contract is nonassignable and consent to assignment is refused, or cannot obtain a release from its obligations, shall continue performance thereof, and shall meet its obligations to the as though this Agreement had not been terminated.
11.
Disposition of Property and Materials
All plans, preliminary outlines, sketches, copy, and all other property and materials which are produced by reason of the terms of this Agreement shall be the property of the Advertiser as soon as payment has been made therefore. Upon termination of this Agreement, all such property and materials shall be the property of unless pays therefore in accordance with the terms of this Agreement even though or another party has physical possession thereof.
During the term of this Agreement, may accept employment from, render services to, represent or otherwise be affiliated with any person, firm, corporation or entity in connection with any product or service directly or indirectly competitive with or similar to any product or service of with respect to which the is providing any service pursuant to this Agreement.
shall not commence work on any project pursuant to this Agreement without first estimating costs for preparation, including copy, service, layout, art, engraving, typography, processing, and paste up and production. After determining the estimated cost, completion of the work shall be subject to 's prior approval.
agrees that following reasonable prior notice any and all contracts, agreements, correspondence, books, accounts, and other information relating to 's business or this Agreement shall be available for inspection by and 's outside accountants, at 's expense.
shall insure, to the fullest extent possible under law, that shall own any and all right, title and interest in and to, including copyrights, trade secret, patent, and other intellectual property rights, with respect to any copy, photograph, advertisement, music, lyrics, or other work or thing created by or at 's direction for pursuant to this Agreement and utilized by .
In the event of any default of any material obligation by or owed by a party pursuant to this Agreement, then the other party may provide written notice of such default and if such default is not cured within days of the written notice, then the non-defaulting party may terminate this Agreement.
If performance of this Contract or any obligation under this Contract is prevented, restricted, or interfered with by causes beyond either party's reasonable control ("Force Majeure"), and if the party unable to carry out its obligations gives the other party prompt written notice of such event, then the obligations of the party invoking this provision shall be suspended to the extent necessary by such event. The term Force Majeure shall include, without limitation, acts of God, plague, epidemic, pandemic, outbreaks of infectious disease or any other public health crisis, including quarantine or other employee restrictions, fire, explosion, vandalism, storm or other similar occurrence, orders or acts of military or civil authority, or by national emergencies, insurrections, riots, or wars, or strikes, lock-outs, work stoppages or other labor disputes, or supplier failures. The excused party shall use reasonable efforts under the circumstances to avoid or remove such causes of non-performance and shall proceed to perform with reasonable dispatch whenever such causes are removed or ceased. An act or omission shall be deemed within the reasonable control of a party if committed, omitted, or caused by such party, or its employees, officers, agents, or affiliates.
Any controversies or disputes arising out of or relating to this Contract shall be resolved by binding arbitration in accordance with the then-current Commercial Arbitration Rules of the American Arbitration Association. The parties shall select a mutually acceptable arbitrator knowledgeable about issues relating to the subject matter of this Contract. In the event the parties are unable to agree to such a selection, each party will select an arbitrator and the two arbitrators in turn shall select a third arbitrator, all three of whom shall preside jointly over the matter. The arbitration shall take place at a location that is reasonably centrally located between the parties, or otherwise mutually agreed upon by the parties. All documents, materials, and information in the possession of each party that are in any way relevant to the dispute shall be made available to the other party for review and copying no later than 30 days after the notice of arbitration is served. The arbitrator(s) shall not have the authority to modify any provision of this Contract or to award punitive damages. The arbitrator(s) shall have the power to issue mandatory orders and restraint orders in connection with the arbitration. The decision rendered by the arbitrator(s) shall be final and binding on the parties, and judgment may be entered in conformity with the decision in any court having jurisdiction. The agreement to arbitration shall be specifically enforceable under the prevailing arbitration law. During the continuance of any arbitration proceeding, the parties shall continue to perform their respective obligations under this Contract.
This Agreement terminates and supersedes all prior understandings or agreements on the subject matter hereof. This Agreement may be modified only by a further writing that is duly executed by both parties.
In the event any one or more of the provisions contained in this Agreement shall for any reason be held invalid, illegal, or unenforceable in any respect, that invalidity, illegality, or unenforceability shall not affect any other provision. This Agreement shall be construed as if the invalid, illegal, or unenforceable provision had never been contained in it.
This Agreement shall be binding on and inure to the benefit of the parties to this Agreement and their respective heirs, executors, administrators, legal representatives, successors and assigns as permitted by this Agreement.
This Agreement shall be construed and enforced in accordance with the laws of the state of .
If any action at law or in equity is brought to enforce or interpret the provisions of this Agreement, the prevailing party will be entitled to reasonable attorneys' fees in addition to any other relief to which that party may be entitled.
This Agreement shall be signed by , on behalf of and by , on behalf of .
IN WITNESS WHEREOF, the parties hereto have executed this Advertising Agency Agreement.
,
,
Advertising Agency Agreement FAQs
Why would an agency operator make an Advertising Agency Agreement?

Even if you are new to the industry, it is always important to record the details of your work in a contract. These benefits may be helpful for you:

Neither party is surprised by how long the engagement lasts
Roles and responsibilities are understood by everyone
Everyone knows when invoicing will happen

Anyone choosing not to use an Advertising Agency Contract should anticipate common issues like late or unpaid invoices and the miscommunication of requirements.

How should I organize a Creative Agency Contract?

The specific details that you might want to add are:

Name and address of the client
What services will be provided
What the start and end dates are
What fees will be charged and when

As expected, your Advertising Contract template built on Rocket Lawyer also contains the standard language about the non-employment relationship, dispute resolution methods, and lastly, indemnity. While making your contract, you'll also be able to determine the jurisdiction under which it will be governed. Additional alterations are allowed, as needed.

Can I draft an Advertising Contract online?

Fortunately, you don't have to start from scratch when putting your contract in writing. With the document tools on Rocket Lawyer, any agency operator can draft an Ad Agency Agreement online very easily. Your document is constructed section by section, as you enter more details along the way. Normally, for this level of personalization, you might ultimately end up paying a conventional law firm fees in the hundreds of dollars, if not more.

If you've got any questions or concerns before getting started, you can connect with a lawyer today. You may also wish to take a look at our selection of business legal documents .

Is anything else required after I have made an agreement for advertising services?

To make your Advertising Contract legally binding, you need to sign it, electronically with RocketSign® or otherwise. Your client should always get a copy of the fully executed contract. As a Rocket Lawyer member, you also may print, save it as a PDF document or Word file, and copy it as needed.

Can my Media Agency Agreement be checked by an attorney?

If you try it on your own, seeking out a legal professional to provide feedback on your document may be time-intensive and relatively costly. Certain attorneys may not even agree to review a document if they did not write it. In the event that an attorney does decide to provide advice on your document, they would still demand a fee to do it. An easier route is through the On Call network. With a Premium membership, you can get your agreements examined by an experienced business attorney. Whether you create additional copies of your Advertising Agency Contract or other contracts, we will be by your side.