MAKE YOUR FREE

Cease and Desist Letter
Other Names:
Notice to Cease and Desist
Cease and Desist Notice
Cease and Desist Notification Letter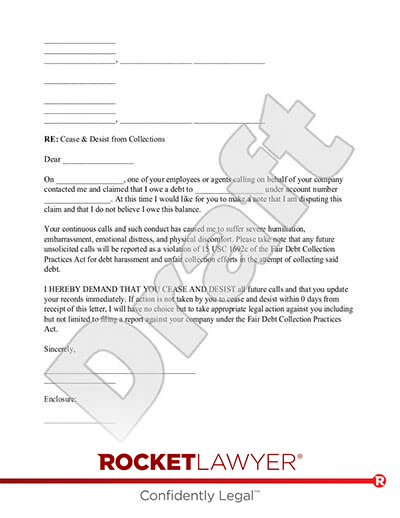 What is a Cease and Desist Order?
A Cease and Desist Letter is a letter to ask another person or business to stop a specific action that violates your rights. Cease and Desist Letters can be created and sent yourself, or by an attorney on your behalf, and they can be used for a wide variety of issues, including harassment, defamation (including slander or libel), or the unauthorized use of intellectual property.
When can you use a Cease and Desist Letter?
You want to formally tell someone to stop.
You're being harassed.
You're a victim of copyright or trademark infringement.
You own a business and want to be prepared for worst-case scenarios.
Sample Cease and Desist Letter
The terms in your document will update based on the information you provide
This document has been customized over 23.9K times

Documents and communicates
Ask a lawyer questions about your document
About Cease and Desist Letters
Learn how to send a warning of legal action
Types of Cease and Desist Letters

In general, a Cease and Desist Letter requests that a specific action stop or discontinue immediately. A Cease and Desist Letter can be used to cover a wide variety of issues, from personal to business needs. A few examples are discussed below.

Trademark violation

A Cease and Desist Letter can be a good way to inform an individual or business that they are unlawfully using your intellectual property. It not only informs them that what they are doing is in violation of your rights, but it also lets them know that you intend to enforce your copyright or trademark if they do not stop.

A trademark violation occurs when someone else uses a trademark (or service mark) without permission. Using someone else's trademark might lead to deception or confusion, which is exactly what legal protections for intellectual property are supposed to prevent.

Technically, a trademark does not need to be registered to have legal protections, but it certainly helps. Registering your trademark allows you to prove that you used the trademark first.

Infringement

Infringement is a term often used in association with a trademark or other copyrighted material violation. To "infringe" on someone else's intellectual property usually means that someone else is using it without permission. Essentially, violation of intellectual property rights and copyright or trademark infringement are used interchangeably.

You might be able to get monetary damages if you can prove that your intellectual property rights were violated. These damages could include things like loss of business, damage to reputation, and more.

A Cease and Desist Letter is often the first step to requesting a court order for someone to stop infringing on your intellectual property rights. These court orders are called "injunctions" or a "Cease and Desist Order." This type of order essentially escalates the situation so that the court can issue certain punishments if the copyright or trademark is still violated. Punishments could include fines or even jail time in some circumstances.

Defamation of character

A Cease and Desist Letter can be helpful to warn someone else about a potential libel, slander, or defamation of character claim. These claims are all associated with making false and damaging written or oral claims about a person or business. As long as the statements are not true, they can fall into the broad category of defamation of character, including libel or slander.

Writing claims on social media is a huge concern today. Those statements might trigger a legal claim against someone else for libel, which are written statements about someone or something else that is damaging and untrue.

A Cease and Desist Letter asks the person (or entity) making the statements to stop before you start a lawsuit. Keep in mind, however, that you must have provable damages based on defamation of character, libel, or slander to have a legal claim for damages in these situations.

Defamation damages can be virtually anything, from losing business to not getting a loan at a local bank. In some situations, damages might include embarrassment, humiliation, and emotional distress.

Talk to an attorney for more information about whether you might have a claim for defamation of character, libel, or slander.

Harassment over fraudulent credit card charges

Fraudulent credit card charges often occur because someone else used your credit card without your permission. This could be a third-party hacker or someone you know, like a friend or relative. At the end of the day, if you did not charge a credit card, you should not have to pay for those charges.

Unfortunately, proving that you did not charge a credit card can be difficult. In some situations, the process to dispute charges and refund your money can be long and time-consuming.

While you are disputing a charge, the credit card company or another third-party (often the business or individual who received the charged funds) might reach out to you to try to collect. This type of contact is inappropriate in most circumstances.

You can use a Cease and Desist Letter to address this type of situation. The letter will ask that the contact stop and provide additional details about the fraudulent charges. It will also often cite the federal laws regarding unfair debt collection practices and set out that you intend to assert a claim if the contact does not stop.

Harassment due to nonpayment of debts

Debt collectors sometimes engage in some unethical practices that border on harassment or might outright be harassing. They might call, text, or even make in-person visits to your home or workplace. While federal laws are supposed to prevent this type of action, that does not always happen unless you act.

You can use a Cease and Desist Letter to formally request that debt collectors stop trying to contact you. Once you send this letter, debt collectors are required by federal law to stop contacting you.

If they continue to reach out to you, you might have a claim for violating federal consumer protection laws. Violation of these laws might impose monetary damages or fines. Talk to an attorney about your options if this type of situation applies to you.

Personal disputes with neighbors, landlords, roommates, etc.

You can use a Cease and Desist Letter for virtually any violation of your rights that might be occurring. They are commonly used to assert property rights.

Real Property Disputes

Imagine you have a tree that is on your property, but your neighbor thinks it is their tree and keeps cutting it shorter than you would like. In that type of situation, you can send a Cease and Desist Letter to your neighbor explaining that you do not want them to cut your tree moving forward.

Of course, talking the issue through with your neighbor might be a better way to address the dispute. However, if they are ignoring you or not responding to you, the next step might be to send a Cease and Desist Letter.

Personal Property Disputes

As a tenant, you might also want to use a Cease and Desist Letter for issues with your landlord or roommates. Disputes regarding personal property commonly arise in these situations. If, for instance, your landlord or roommate keeps using your grill in the yard for personal use without permission, a Cease and Desist Letter might be appropriate.

Again, it is likely a good idea to have a conversation with your roommate or landlord about the issue first. However, a Cease and Desist Letter might be a good next step to address the issue if you are being ignored.

Breach of contract

If you and another person or entity have a contract together, you likely want to take action to stop them from violating that contract. A Cease and Desist Letter can provide a good "warning" to the other party before you start legal action for breach of contract.

The most common example is in the employment context. Imagine your business has a non-compete agreement with an employee that lasts for two years after they are terminated or leave their employment. Your employee was terminated a few months ago, but you find out they are working for a competitor in violation of your non-compete agreement.

In this situation, you could send a Cease and Desist Letter to your prior employee to request that they stop violating their non-compete agreement. You might also want to send one to their new employer to alert the new employer that they might also be liable for helping that employee violate their contract.

A Cease and Desist Letter might be useful for any type of ongoing contract obligation as well.

Harassment, stalking, and other invasions of privacy

You can sometimes use a Cease and Desist Letter to address concerns about harassment, stalking, and other invasions of privacy.

For instance, imagine your neighbor has a flood light that they turn on at night while they know you are in the hot tub in your yard—and this is the only time they ever turn it on. If their actions make you uncomfortable, it might make sense to ask that they cease and desist this type of unwelcome behavior.

Situations involving harassment and stalking can be very sensitive. Sending a Cease and Desist Letter might only make matters worse. If you are concerned about your safety or well-being, talk to the legal authorities in your area about your options. You might be able to ask the appropriate authorities to file criminal charges for harassment or stalking, which could be more effective than using a Cease and Desist Letter.

When using a Cease and Desist Letter, you may want to be prepared to take the necessary follow-up steps if the violating party does not stop the actions outlined in the letter. Failure to follow through can hurt your chances of success in a lawsuit or other action down the road. Reach out to a Rocket Lawyer network attorney if you have questions about how to proceed with a Cease and Desist Letter.

Definitions of Cease and Desist Letter Terms

| Term | Definition |
| --- | --- |
| Defamation | Damaging the good reputation of someone else, such as an individual or business; it is also known as libel (written defamation) or slander (spoken or verbal defamation). |
| Infringement | Infringement is another word for "violation"; it is often used in the context of violating intellectual property law, such as trademarks or copyrights. |
| Trademark | A symbol, word, phrase, design, sign, or expression that distinguishes a particular business or product from another; trademarks can be registered or unregistered. |
Cease and Desist Letter FAQs
What is the difference between a Cease and Desist Order and a Cease and Desist Letter?

A Cease and Desist Order is granted by a court or government agency to an individual, business, or organization to stop an activity that is harassing or infringing upon the named party (or parties). A court may issue such an order if a party is able to demonstrate that another party is infringing on their trademark, harassing them (such as debt collection calls), or engaging in a breach of contract, to name just a few examples.

While a Cease and Desist Order carries the weight of the court and can clear the way for the filing party to bring legal action for noncompliance, a Cease and Desist Letter is the first step in this process. This document serves as a warning that legal action will follow if the party fails to comply.

How do you write a Cease and Desist Letter?

Making a Cease and Desist Letter using Rocket Lawyer is simple. You just need the following information:

Names and addresses of both parties, and phone numbers if available
Description of activity that prompted the letter
Days they will have to respond to the letter before legal action is taken
Documents, images, or other proof of harassment or infringement

With this information, you will be able to automatically generate your Cease and Desist Letter. Once the letter is created you can edit, print, download, or share it online. Make sure you keep a copy for your records.

Can anyone send a Cease and Desist Letter?

Yes, anyone can send a Cease and Desist Letter. You do not need to hire an attorney to write one for you. An attorney, however, can help you determine whether your rights have been violated and if you have enough grounds to pursue legal action.

What are the grounds for a Cease and Desist?

There are four common reasons that Cease and Desist Letters are used:

Collection agency harassment
Trademark or patent infringement
Harassment (e.g. slander, libel, and defamation)
Copyright infringement (of original web content, music, video or audio, etc.)

Essentially, these letters are sent as a courtesy that you will pursue legal action unless they cease a given action (or inaction, as may be the case in a breach of contract dispute) that you believe violates your rights. However, you shouldn't send one unless you're certain you have legal leverage. If you're unsure about whether a Cease and Desist Letter is right for your situation, ask a lawyer.

How long does a Cease and Desist Order last?

A Cease and Desist Order can be either temporary or permanent. A temporary Cease and Desist Order will be granted until a trial can be conducted (or a settlement is reached). Depending on the legal proceedings in a given case, a permanent Cease and Desist Order will not be granted until after the conclusion of a trial or settlement.

Can you send a Cease and Desist Letter through email?

Yes, a Cease and Desist Letter can be sent via email. Other delivery methods can include:

Fax
Standard mail
Certified mail with a signature required
Delivering the letter in person and requiring a signature
Via a legal process server

Whichever method you choose to send a Cease and Desist Letter, you'll want to make sure it's traceable. For instance, requiring a signature will provide proof that the other party has indeed received notice.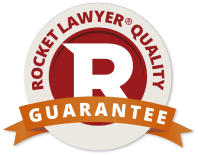 Our quality guarantee
We guarantee our service is safe and secure, and that properly executed Rocket Lawyer legal documents are legally enforceable under applicable US laws.
Need help? No problem!
Ask a question for free or get affordable legal advice when you connect with a Rocket Lawyer network attorney.
Cease and Desist Letter checklist
Complete your free Cease and Desist Letter with our Make it Legal™ checklist