MAKE YOUR FREE

Technical Consulting Agreement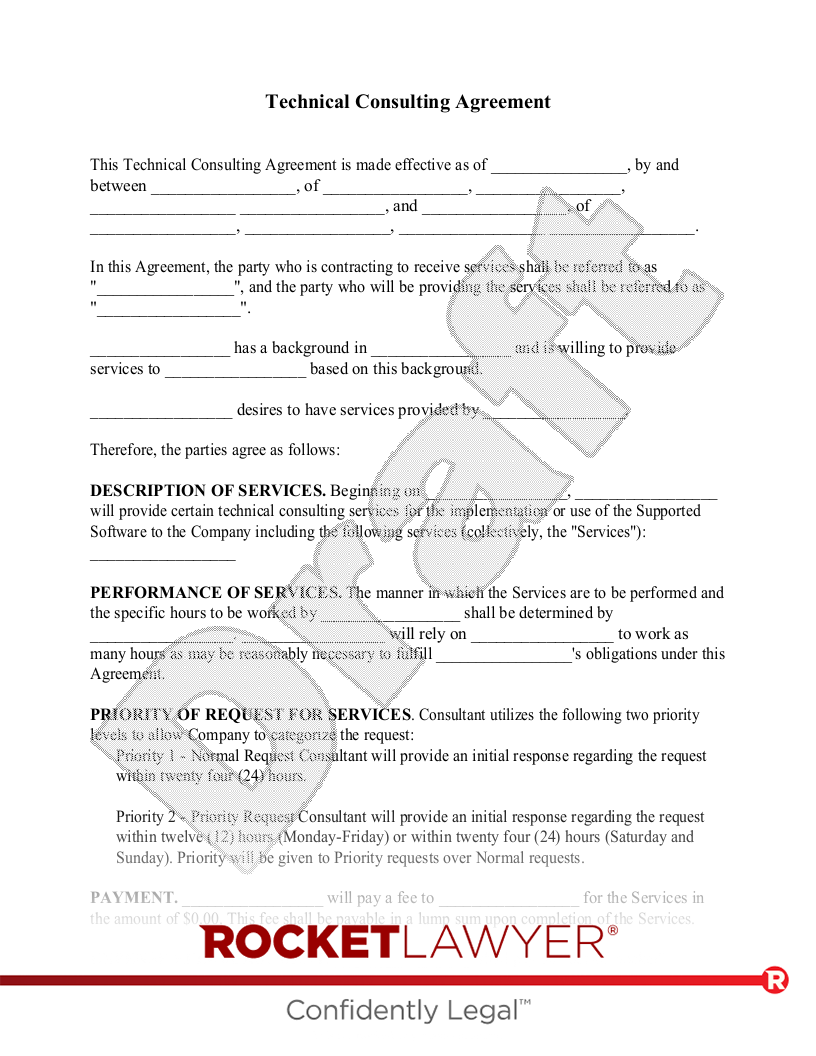 What is a Technical Consulting Agreement?
A Technical Consulting Agreement helps establish a solid business relationship by getting the terms and expectations in writing, documenting things like scope of work, deadlines, and overall costs. Create a Technical Consulting Agreement today. We'll help you through the process, every step of the way.
When to use a Technical Consulting Agreement:
You're hiring a technical consultant for your business or home network.
Your technical consulting business is being hired for a project.
Sample Technical Consulting Agreement
The terms in your document will update based on the information you provide
This document has been customized over 14.5K times
Legally binding and enforceable
Ask a lawyer questions about your document
Sign this document online for free with RocketSign®
Technical Consulting Agreement
This Technical Consulting Agreement is made effective as of , by and between , of , , , and , of , , .
In this Agreement, the party who is contracting to receive services shall be referred to as "", and the party who will be providing the services shall be referred to as "".
has a background in and is willing to provide services to based on this background.
desires to have services provided by .
Therefore, the parties agree as follows:
DESCRIPTION OF SERVICES. Beginning on , will provide certain technical consulting services for the implementation or use of the Supported Software to the Company including the following services (collectively, the "Services"):
PERFORMANCE OF SERVICES. The manner in which the Services are to be performed and the specific hours to be worked by shall be determined by . will rely on to work as many hours as may be reasonably necessary to fulfill 's obligations under this Agreement.
PRIORITY OF REQUEST FOR SERVICES. Consultant utilizes the following two priority levels to allow Company to categorize the request:
Priority 1 - Normal Request Consultant will provide an initial response regarding the request within twenty four (24) hours.
Priority 2 - Priority Request Consultant will provide an initial response regarding the request within twelve (12) hours (Monday-Friday) or within twenty four (24) hours (Saturday and Sunday). Priority will be given to Priority requests over Normal requests.
in the amount of . This fee shall be payable in a lump sum based on per . This fee shall be payable first and fifteenth fifteenth and last and
pay all "out-of-pocket" expenses, and shall not be entitled to reimbursement from .be entitled to reimbursement from for all "out-of-pocket" expenses.be entitled to reimbursement from for the following "out-of-pocket" expenses: .will provide the following support services for the benefit of : .will not provide support services, including office space and secretarial services, for the benefit of .
TERM/TERMINATION. This Agreement and shall automatically renew for successive terms of the same duration, unless either party provides days written notice to the other party prior to the termination of the applicable initial term or renewal term
RELATIONSHIP OF PARTIES. It is understood by the parties that is an independent contractor with respect to , and not an employee of . will not provide fringe benefits, including health insurance benefits, paid vacation, or any other employee benefit, for the benefit of .
- a product or product line of
- a manufacturing process of
- any activity that may be involved with on behalf of
At the request of , shall provide adequate evidence that such persons are 's employees.personally holds an interest in the Intellectual Property that is described on the attached Exhibit A and which is not subject to this Agreement.does not personally hold any interest in any Intellectual Property.
Development of Intellectual Property. Any improvements to Intellectual Property items listed on Exhibit A, further inventions or improvements, and any new items of Intellectual Property discovered or developed by (or 's employees, if any) during the term of this Agreement shall be the property of
- inventions
- machinery
- products
- prices
- apparatus
- costs
- discounts
- future plans
- business affairs
- process information
- trade secrets
- technical information
- customer lists
- copyrights
- product design information
This Agreement is in compliance with the Defend Trade Secrets Act and provides civil or criminal immunity to any individual for the disclosure of trade secrets: (i) made in confidence to a federal, state, or local government official, or to an attorney when the disclosure is to report suspected violations of the law; or (ii) in a complaint or other document filed in a lawsuit if made under seal.
UNAUTHORIZED DISCLOSURE OF INFORMATION. If it appears that has disclosed (or has threatened to disclose) Information in violation of this Agreement, shall be entitled to an injunction to restrain from disclosing, in whole or in part, such Information, or from providing any services to any party to whom such Information has been disclosed or may be disclosed. shall not be prohibited by this provision from pursuing other remedies, including a claim for losses and damages.
CONFIDENTIALITY AFTER TERMINATION. The confidentiality provisions of this Agreement shall remain in full force and effect after the termination of this Agreement.
FORCE MAJEURE. If performance of this Agreement or any obligation under this Agreement is prevented, restricted, or interfered with by causes beyond either party's reasonable control ("Force Majeure"), and if the party unable to carry out its obligations gives the other party prompt written notice of such event, then the obligations of the party invoking this provision shall be suspended to the extent necessary by such event. The term Force Majeure shall include, without limitation, acts of God, plague, epidemic, pandemic, outbreaks of infectious disease or any other public health crisis, including quarantine or other employee restrictions, fire, explosion, vandalism, storm or other similar occurrence, orders or acts of military or civil authority, or by national emergencies, insurrections, riots, or wars, or strikes, lock-outs, work stoppages or other labor disputes, or supplier failures. Lack of financial resources on the part of either party shall not be a Force Majeure Event. The excused party shall use reasonable efforts under the circumstances to avoid or remove such causes of non-performance and shall proceed to perform with reasonable dispatch whenever such causes are removed or ceased. An act or omission shall be deemed within the reasonable control of a party if committed, omitted, or caused by such party, or its employees, officers, agents, or affiliates.
DISCLAIMER OF WARRANTIES. Except as otherwise expressly provided in this Agreement, Consultant disclaims any and all promises, representations and warranties, express or implied, with respect to the supported software, corrections and the services provided as above, including promises, representations and warranties as to condition, the existence of any latent or patent defects, merchantability or fitness for any particular purpose, non-infringement, or any implied warranty of information content or system integration.
Without limiting the generality of the foregoing disclaimer, Consultant does not warrant that its advice or programming on behalf of the Company will be error free.
Consultant shall have an obligation to correct demonstrated errors in the operation of the Supported Software which may appear as a result of incorrect provision of the Services, for a period agreed upon by the parties following delivery of the Services.
Consultant shall not have any obligation to correct errors in the operation of the supported software if the programming code has been modified by company or by any other party.
NOTICES. All notices required or permitted under this Agreement shall be in writing and shall be deemed delivered when delivered in person or deposited in the United States mail, postage prepaid, addressed as follows:
IF for :
,
IF for :
,
Such address may be changed from time to time by either party by providing written notice to the other in the manner set forth above.
ENTIRE AGREEMENT. This Agreement contains the entire agreement of the parties and there are no other promises or conditions in any other agreement whether oral or written. This Agreement supersedes any prior written or oral agreements between the parties.
AMENDMENT. This Agreement may be modified or amended if the amendment is made in writing and is signed by both parties.
SEVERABILITY. If any provision of this Agreement shall be held to be invalid or unenforceable for any reason, the remaining provisions shall continue to be valid and enforceable. If a court finds that any provision of this Agreement is invalid or unenforceable, but that by limiting such provision it would become valid and enforceable, then such provision shall be deemed to be written, construed, and enforced as so limited.
WAIVER OF CONTRACTUAL RIGHT. The failure of either party to enforce any provision of this Agreement shall not be construed as a waiver or limitation of that party's right to subsequently enforce and compel strict compliance with every provision of this Agreement.
APPLICABLE LAW. This Agreement shall be governed by the laws of the State of .
SIGNATURES. This Agreement shall be signed on behalf of by , and on behalf of by .
Party receiving services:
Party providing services: