MAKE YOUR FREE

Barter Agreement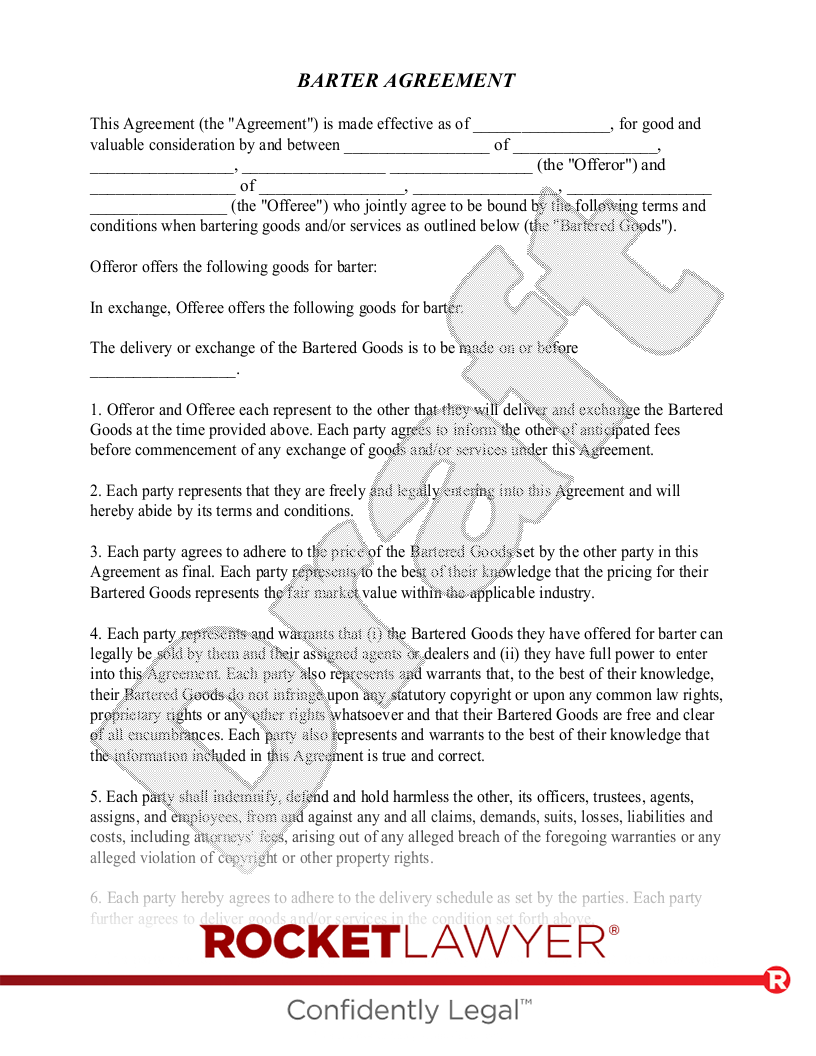 What is a Barter Agreement?
Not every contract involves money. Sometimes you might simply want to exchange goods or services with another party in a trade. In those instances, it's a smart idea to use a Barter Agreement to make sure everyone knows what their responsibilities are.

Barter Agreements allow you to spell out exactly what is being traded and by whom. For services, you'll be able to note a specific task, job, or even hours spent working. For goods, you'll most likely want to include the quantity and conditions of the items in question.

While most people barter without an agreement, this can backfire down the line. On the one hand, like every contract, having the exchange on paper, signed by the parties involved, means everyone has to keep up their end of the bargain. Depending on your situation when completing the barter agreement template, items and services involved in a trade can in fact be taxable. For example, if you own a business and trade some of your stock to a contractor for work done, you're legally paying that contractor. Both parties should take care to include this trade on their yearly taxes. To do that, there's no better contract than a Barter Agreement.
When to use a Barter Agreement:
You want to trade goods or services with another party without using money.
You or your company is trading goods or services for work done.
Sample Barter Agreement
The terms in your document will update based on the information you provide
This document has been customized over 26.9K times
Legally binding and enforceable
Ask a lawyer questions about your document
Sign this document online for free with RocketSign®
BARTER AGREEMENT
This Agreement (the "Agreement") is made effective as of , for good and valuable consideration by and between of , , (the "Offeror") and of , , (the "Offeree") who jointly agree to be bound by the following terms and conditions when bartering goods and/or services as outlined below (the "Bartered Goods").
Offeror offers the following goods for barter:
The delivery or exchange of the Bartered Goods is to be made on or before .
1. Offeror and Offeree each represent to the other that they will deliver and exchange the Bartered Goods at the time provided above. Each party agrees to inform the other of anticipated fees before commencement of any exchange of goods and/or services under this Agreement.
2. Each party represents that they are freely and legally entering into this Agreement and will hereby abide by its terms and conditions.
3. Each party agrees to adhere to the price of the Bartered Goods set by the other party in this Agreement as final. Each party represents to the best of their knowledge that the pricing for their Bartered Goods represents the fair market value within the applicable industry.
4. Each party represents and warrants that (i) the Bartered Goods they have offered for barter can legally be sold by them and their assigned agents or dealers and (ii) they have full power to enter into this Agreement. Each party also represents and warrants that, to the best of their knowledge, their Bartered Goods do not infringe upon any statutory copyright or upon any common law rights, proprietary rights or any other rights whatsoever and that their Bartered Goods are free and clear of all encumbrances. Each party also represents and warrants to the best of their knowledge that the information included in this Agreement is true and correct.
5. Each party shall indemnify, defend and hold harmless the other, its officers, trustees, agents, assigns, and employees, from and against any and all claims, demands, suits, losses, liabilities and costs, including attorneys' fees, arising out of any alleged breach of the foregoing warranties or any alleged violation of copyright or other property rights.
6. Each party hereby agrees to adhere to the delivery schedule as set by the parties. Each party further agrees to deliver goods and/or services in the condition set forth above.
7. If a party opts to terminate this Agreement or the underlying barter arrangement, the terminating party agrees to compensate the non-terminating party fairly for any goods and/or services provided to date of termination notice.
8. The parties hereby agree to cooperate with one another and to execute and deliver, or cause to be executed and delivered, to the other such additional instruments of conveyance and transfer and evidences of assumption as such party may reasonably request or as may be otherwise necessary or desirable to carry out the purposes of this Agreement.
9. Neither party may assign any of its rights or obligations hereunder without the prior written consent of the other party.
10. This Agreement constitutes the entire agreement and understanding between the parties with respect to the subject matter hereof and supersedes all prior agreements, understandings, negotiations, representations and statements, whether oral, written, implied or expressed, relating to such subject matter.
11. This Agreement shall be governed by the laws of the state of . All parties agree to abide by all applicable laws at all times.
12. This Agreement shall be signed by on behlaf of and on behalf of . This Agreement if effective as of the date first above written.
The parties have caused this Agreement to be duly executed.