MAKE YOUR FREE

Sales Agreement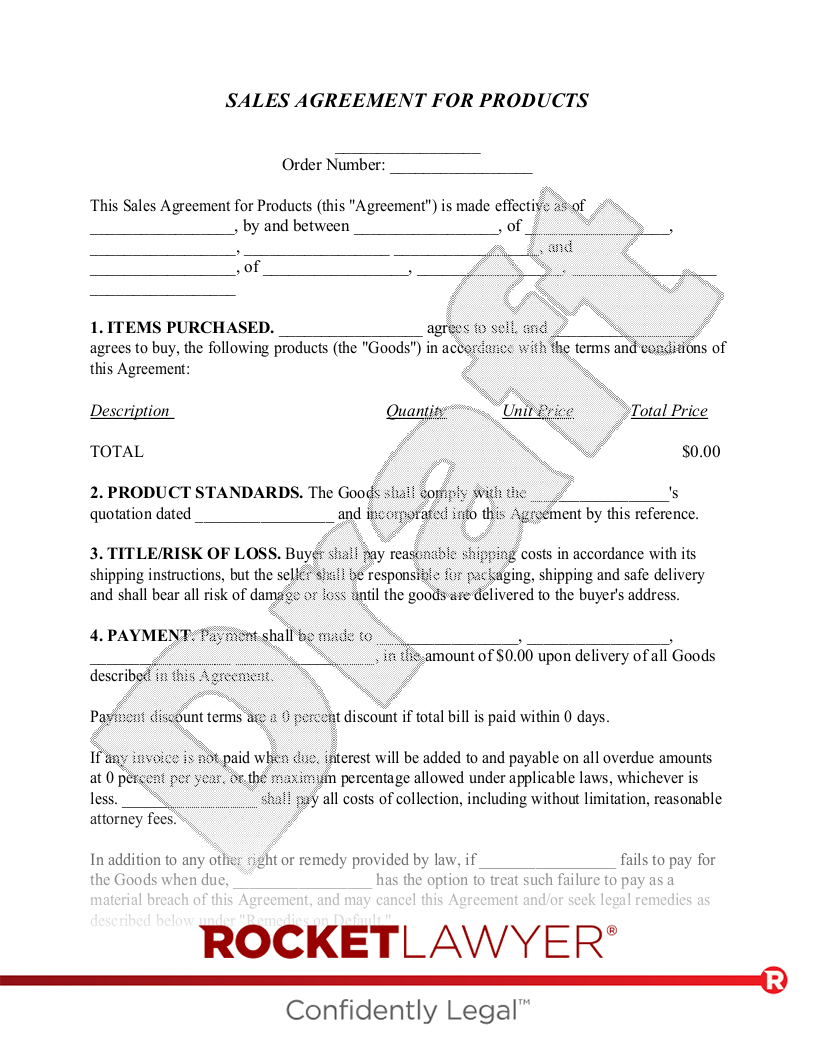 What is a Sales Agreement?
If your business is selling goods or services to another business, a Sales Agreement can help avoid any confusion and keep things clear by outlining the terms of the sale.
When to use a Sales Agreement:
Your business will be selling goods (products) or services to another business.
Your business will be purchasing goods (products) or services from another business.
You are an individual purchasing services from a business.
Sample Sales Agreement
The terms in your document will update based on the information you provide
This document has been customized over 135K times
Legally binding and enforceable
Ask a lawyer questions about your document
Sign this document online for free with RocketSign®
SALES AGREEMENT FOR
Order Number:
This Sales Agreement for (this "Agreement") is made effective as of , by and between , of , , , and , of , ,
the following services (collectively, the "Services"):
. ITEMS PURCHASED. agrees to sell, and agrees to buy, the following products (the "Goods") in accordance with the terms and conditions of this Agreement:
Description
Quantity
Unit Price
Total Price
The Goods shall comply with the 's quotation dated and incorporated into this Agreement by this reference. Title to and risk of loss of goods shall pass to the buyer upon delivery F.O.B. at the seller's plant to an agent of the buyer including a common carrier, notwithstanding any prepayment or allowance of freight by the seller.
. PAYMENT. Payment shall be made to
Payment discount terms are a percent discount if total bill is paid within days.
In addition to any other right or remedy provided by law, if fails to pay for the Goods when due, has the option to treat such failure to pay as a material breach of this Agreement, and may cancel this Agreement and/or seek legal remedies as described below under "Remedies on Default."
. DELIVERY. Time is of the essence in the performance of this Agreement. will arrange for delivery by carrier chosen by . Delivery shall be completed by .
. WARRANTIES. warrants that the Goods shall be free of substantive defects in material and workmanship..
. INSPECTION. , upon receiving possession of the Goods, shall have a reasonable opportunity to inspect the Goods to determine if the Goods conform to the requirements of this Agreement. If , in good faith, determines that all or a portion of the Goods are non-conforming, may return the Goods to at 's expense. will terminate automatically upon completion by of the Services required by this Agreement.
. DEFAULT. The occurrence of any of the following shall constitute a material default under this Agreement:
a. The failure to make a required payment when due.
b. The insolvency or bankruptcy of either party.
c. The subjection of any of either party's property to any levy, seizure, general assignment for the benefit of creditors, application or sale for or by any creditor or government agency.
d. The failure to make available or deliver the Goods in the time and manner provided for in this Agreement.
. REMEDIES ON DEFAULT. In addition to any and all other rights a party may have available according to law, if a party defaults by failing to substantially perform any provision, term or condition of this Agreement (including without limitation the failure to make a monetary payment when due), the other party may terminate the Agreement by providing written notice to the defaulting party. This notice shall describe with sufficient detail the nature of the default. The party receiving such notice shall have days from the effective date of such notice to cure the default(s). Unless waived by a party providing notice, the failure to cure the default(s) within such time period shall result in the automatic termination of this Agreement.
, or other labor disputes
. CONFIDENTIALITY. , and its employees, agents, or representatives will not at any time or in any manner, either directly or indirectly, use for the personal benefit of , or divulge, disclose, or communicate in any manner, any information that is proprietary to . and its employees, agents, and representatives will protect such information and treat it as strictly confidential. This provision will continue to be effective after the termination of this Agreement.
. NOTICE. Any notice or communication required or permitted under this Agreement shall be sufficiently given if delivered in person or by certified mail, return receipt requested, to the addresses listed above or to such other address as one party may have furnished to the other in writing. The notice shall be deemed received when delivered or signed for, or on the third day after mailing if not signed for.
. ENTIRE AGREEMENT. This Agreement contains the entire agreement of the parties regarding the subject matter of this Agreement, and there are no other promises or conditions in any other agreement whether oral or written. This Agreement supersedes any prior written or oral agreements between the parties.
. AMENDMENT. This Agreement may be modified or amended if the amendment is made in writing and signed by both parties.
. SEVERABILITY. If any provision of this Agreement shall be held to be invalid or unenforceable for any reason, the remaining provisions shall continue to be valid and enforceable. If a court finds that any provision of this Agreement is invalid or unenforceable, but that by limiting such provision it would become valid and enforceable, then such provision shall be deemed to be written, construed, and enforced as so limited.
. WAIVER OF CONTRACTUAL RIGHT. The failure of either party to enforce any provision of this Agreement shall not be construed as a waiver or limitation of that party's right to subsequently enforce and compel strict compliance with every provision of this Agreement.
. APPLICABLE LAW. This Agreement shall be governed by and construed according to the laws of the State of without reference to its conflicts of law principles.
. SIGNATURES. This Agreement shall be signed on behalf of by and on behalf of by and effective as of the date first above written.
Sales Agreement FAQs
How do I write a Sales Agreement?

Making a Sales Agreement online is simple. Just answer a few questions and Rocket Lawyer will build your document for you. Consider these questions beforehand to make the process speedier:

When will the contract become effective?
What is the order number, if any?
Where should payment be made?
How will the service provider or seller be paid?

If you don't have all of the details you need, you can skip questions and save your document for later.

How do you write a real estate sales agreement?

If you are ready to sell your property to an interested buyer and would like to outline the process for the sale or would like to purchase a property and want to enter into a formal agreement with the seller regarding the terms of the sale, then check out our Real Estate Purchase Agreement .

Is it mandatory to register a Sales Agreement?

No, it is not mandatory to register a Sales Agreement.