MAKE YOUR FREE

Partnership Worksheet
Other Names:
Partnership Basis Worksheet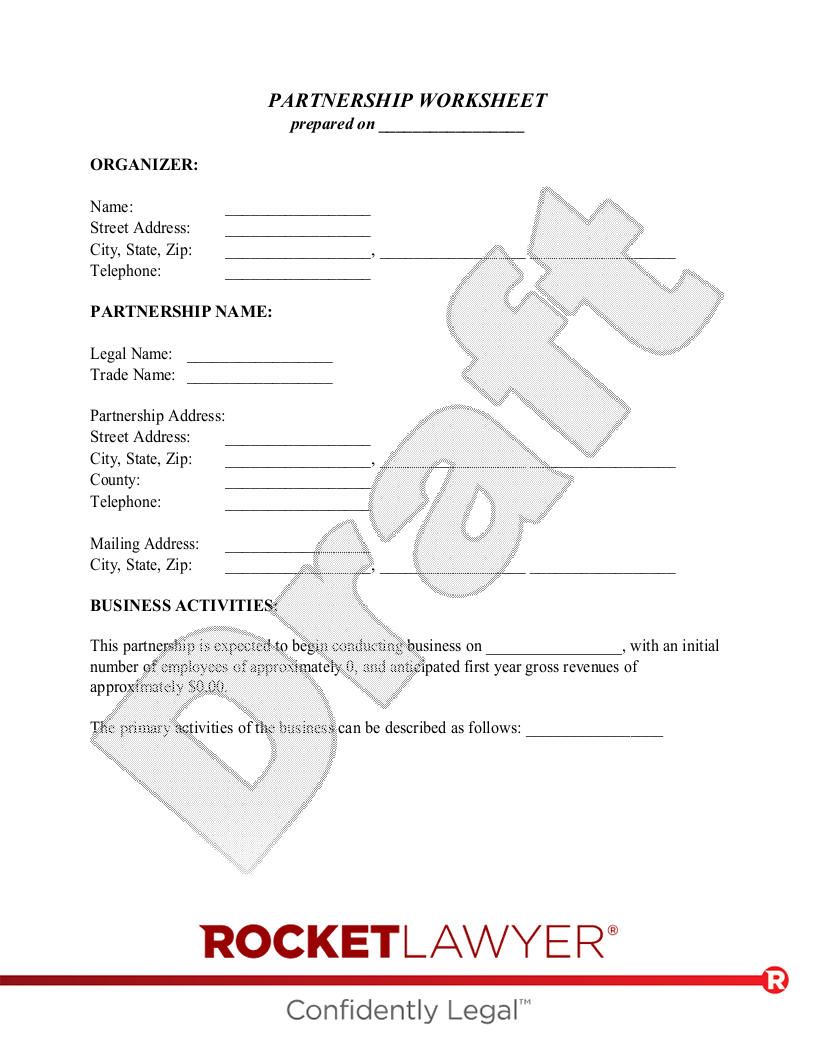 What is a Partnership Worksheet?
When you're considering a new business partnership, a Partnership Worksheet helps you get organized. Before you dive right in, make sure that a partnership is the right structure for your new venture. This Partnership Worksheet spells out all the information that a lawyer would need to formalize your new partnership.

You need to know what you are doing before you enter into a formal business partnership. A Partnership Worksheet can give you a little direction, and streamline the process if you decide to go forward and hire an attorney to prepare the official agreement. In this worksheet, you'll provide information about each owner, including whether each party will be a general or a limited partner. Decide in advance how profits and losses will be divvied up, and how you'll manage the new entity. What are the goals of the new business? Laying it out in writing can help you analyze the pros and cons of the arrangement. If you neglect to define the details of your new partnership, you may be stuck with the default laws of the state where you form it. Worksheets aren't just for taxes and high school math tests. You can play can use the Partnership Worksheet to play with the numbers and improve your odds of success.
When to use a Partnership Worksheet:
You're thinking about partnering up for a new business venture.
You've already agreed to a partnership and want some planning help.
Someone else has asked to partner with you or your business.
Sample Partnership Worksheet
The terms in your document will update based on the information you provide
This document has been customized over 23.8K times

Documents and communicates
Ask a lawyer questions about your document
PARTNERSHIP WORKSHEET
prepared on
ORGANIZER:
PARTNERSHIP NAME:
Partnership Address:
BUSINESS ACTIVITIES:
This partnership is expected to begin conducting business on , with an initial number of employees of approximately , and anticipated first year gross revenues of approximately .
The primary activities of the business can be described as follows:
TAX ISSUES:
The designated partner who will be responsible for tax matters will be:
The fiscal year of the partnership will end each year on
CONTROL AND MANAGEMENT:
General partnership decisions will require approval by
Each partner shall have
TERM OF PARTNERSHIP:
Unless the partnership is dissolved sooner by agreement of the partners or because of some other reason stated in the partnership agreement, the partnership will begin and will continue
MODIFICATION OF EXISTING PARTNERSHIP AND WITHDRAWING PARTNERS:
The partnership agreement may be changed only with the approval by
A partner may withdraw from the partnership
A withdrawing partner will be entitled to
If a partner dies or becomes disabled:
throughout the State of in an area within a(n) mile radius of in and shall apply to the geographical area that includes anywhere in the United States
DISTRIBUTION OF INCOME:
Net income or net loss of the partnership will be allocated to the owners
health care plan for employees
life insurance benefits for employees
pension or profit sharing plans for employees