MAKE YOUR FREE

Move Out Checklist
Other Names:
Rental Inspection Checklist
Apartment Walkthrough Checklist
Move Out Inspection Checklist
Landlord Inspection Checklist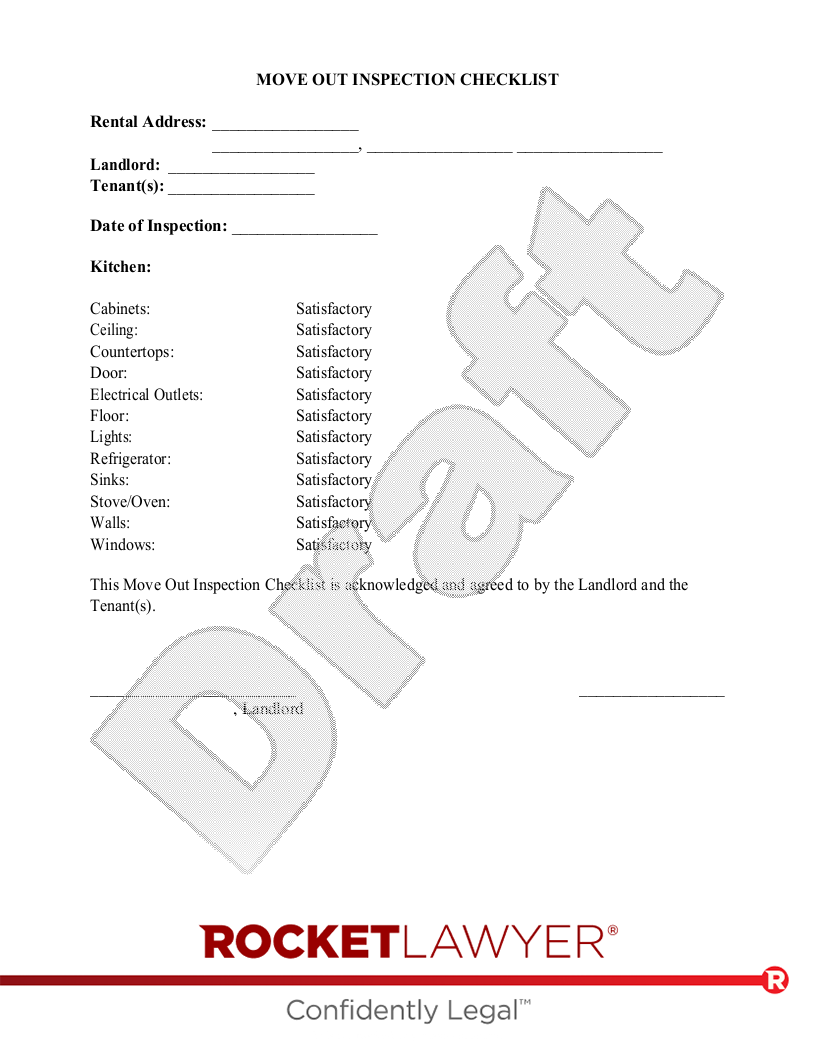 What is a Move Out Checklist?
A Move Out Checklist is a document used to list any damaged, defaced, or out-of-order aspects of a rental property. Move Out Checklists help the landlord and tenant agree on whether any security deposit deductions are necessary to pay for repairs and cleaning. Additionally, they may serve as a record to protect against any future legal claims.

As the name suggests, Move Out Checklists are usually completed immediately before or after the tenant vacates the property. They may also be referred to as Walkthrough Checklists or Inspection Checklists because they are often completed during a walkthrough with both the landlord and the tenant.
When to use a Move Out Inspection Checklist:
You're a landlord who has a departing tenant.
You're a tenant who is leaving their rental.
You manage properties.
Sample Move Out Inspection Checklist
The terms in your document will update based on the information you provide
This document has been customized over 11.5K times

Documents and communicates
Ask a lawyer questions about your document
Bedroom:
Ceiling:
Satisfactory

Bathroom:

Cabinets:
Satisfactory
Satisfactory

Area:

Ceiling:
Satisfactory

This Move Out Inspection Checklist is acknowledged and agreed to by the Landlord and the Tenant(s).