MAKE YOUR FREE

South Carolina Eviction Notice
Other Names:
South Carolina Notice to Quit
South Carolina Notice to Vacate Letter
South Carolina Notice to Pay Rent or Quit
South Carolina Notice to Cure or Quit
South Carolina Unconditional Quit Notice
South Carolina Immediate Notice to Quit
South Carolina 3-Day Notice to Quit
South Carolina 5-Day Notice to Quit
South Carolina 6-Day Notice to Quit
South Carolina 7-Day Notice to Quit
South Carolina 10-Day Notice to Quit
South Carolina 14-Day Notice to Quit
South Carolina 30-Day Notice to Quit
South Carolina Eviction Letter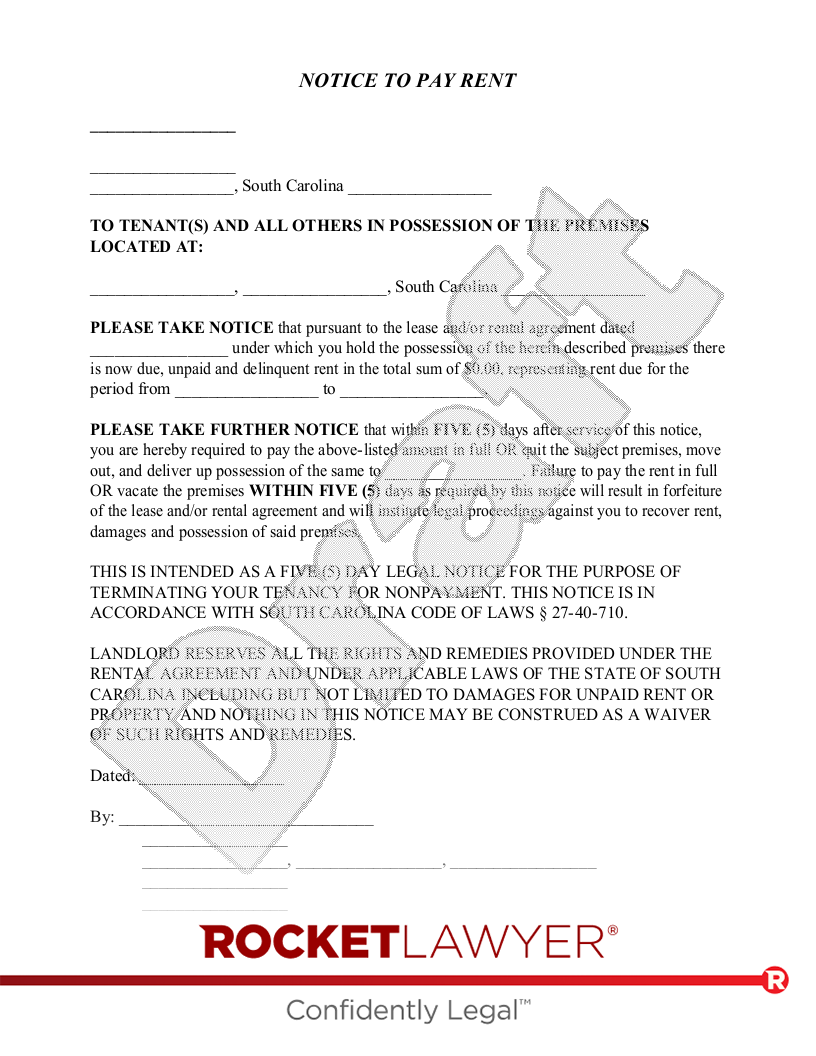 What is a South Carolina Eviction Notice or Notice to Quit?
Landlords and property owners create South Carolina Eviction Notices as a means of informing tenants of upcoming legal action if they do not adhere to the agreed-upon terms and conditions of the lease that they signed or do not vacate the premises. This official notice may help to remind the tenant of your expectations and put the rental arrangement back on track. With that in mind, in certain cases, there isn't any solution, and going to court is inevitable. Suited for every residential property type, our Eviction Notice for South Carolina can be used with tenants in North Charleston, Columbia, Charleston, and in all other cities and municipalities across the Palmetto State.
When to use a South Carolina Eviction Notice:
Your tenant has failed to pay the rent.
Your tenant has violated any provision of the lease or rental agreement.
The lease or rental agreement has expired and the tenant has remained on the property.
You want to terminate a month-to-month tenancy.
Sample South Carolina Eviction Notice
The terms in your document will update based on the information you provide
This document has been customized over 50.3K times
Legally binding and enforceable
Complies with relevant laws
Ask a lawyer questions about your document
, South Carolina
TO TENANT(S) AND ALL OTHERS IN POSSESSION OF THE PREMISES LOCATED AT:
, , South Carolina
PLEASE TAKE NOTICE that the tenancy dated
THIS IS INTENDED AS A FIVE (5) DAY LEGAL NOTICE FOR THE PURPOSE OF TERMINATING YOUR TENANCY FOR NONPAYMENT. THIS NOTICE IS IN ACCORDANCE WITH SOUTH CAROLINA CODE OF LAWS § 27-40-710.
LANDLORD RESERVES ALL THE RIGHTS AND REMEDIES PROVIDED UNDER THE RENTAL AGREEMENT AND UNDER APPLICABLE LAWS OF THE STATE OF SOUTH CAROLINA INCLUDING BUT NOT LIMITED TO DAMAGES FOR UNPAID RENT OR PROPERTY AND NOTHING IN THIS NOTICE MAY BE CONSTRUED AS A WAIVER OF SUCH RIGHTS AND REMEDIES.
Dated:
By:______________________________
South Carolina Eviction Notice FAQs
Can I legally evict my tenant(s) for not paying rent in South Carolina?

Generally speaking, the answer is yes. You can make a South Carolina Eviction Notice (specifically known as a 5-Day Notice to Pay Rent or Quit) to initiate the process. That said, as a result of the pandemic, there are several limitations in place. While the federal eviction moratorium was blocked by the U.S. Supreme Court, the state of South Carolina has the authority to create and enforce its own rules for residential evictions. Stay up to date with the ask a local lawyer , if you remain uncertain.

Do landlords have to make an Eviction Notice in South Carolina?

If you wish to evict tenants from your rental property in South Carolina, you are required to deliver them a Notice of Eviction first. Here are some common reasons why you may need to use one:

The tenant is habitually late to pay rent or they are behind on payments
The tenant adopts a cat or dog and your lease agreement does not permit pets
The tenant sublets the property against the agreement
The tenant has caused excessive damage to the property
The tenant disturbs the quiet enjoyment of their neighbors
The tenant is using your property for an illegal operation

In addition to these violations, a renter typically may be evicted by a landlord for other reasons that are not related to a fault of their own, such as when the landlord intends to move in. Please note that the list presented above is not totally exhaustive and that the legally acceptable reasons for tenant eviction may be different by municipality. If you have any concerns about South Carolina eviction laws, you can always connect with a lawyer.

What information should be included in a South Carolina Notice to Vacate?

When ready, you can click the "Make document" button to take a closer look at our South Carolina Eviction Notice sample and see what information you'll need to provide to personalize your eviction letter. Before getting started, you typically might want to organize these critical details:

The location and description of your property
The legal name of each inhabitant
For what period of time rent has gone unpaid (if any)
Which of the lease provisions are not being met
What the duration of the notice period is

If the tenants are not in the wrong, you may want to add more details since the notice may likely come as a surprise. Using the Rocket Lawyer document tool, you have the power to implement further personalized editing, as needed. You'll need to make sure that all of the policies and terms that you make note of are spelled out in the fully signed lease.

How do South Carolina eviction laws affect me as a rental property owner?

Eviction laws often evolve over time and the actual legal process can be somewhat complex. In certain cases, there are varying requirements based on the length of the tenant's occupancy and why they are being evicted. As a result, it is recommended that every property owner consult an eviction lawyer when drafting a Notice of Eviction.

Where can I write a South Carolina Eviction Notice template online for free?

With Rocket Lawyer, your South Carolina Eviction Notice can be customized with your information and for your specific needs. Simply click the button labeled "Make document" and answer a series of basic questions. This method is, in many cases, notably more affordable and convenient than hiring and working with your average attorney.

How much might it typically cost to get a lawyer's help with evicting a tenant in South Carolina?

If you wish to know what the complete cost of an eviction might be, you'll need to take into consideration the court fees associated with filing the lawsuit, attorney fees, the value of unrecovered payments, storage and/or cleaning fees, and lastly, the time and money you will spend finding a new tenant. The great news is you will not have to pay hundreds of dollars to produce a Notice of Eviction. In reality, Rocket Lawyer can offer much more protection than many other eviction template providers that you might discover elsewhere. As a Rocket Lawyer Premium member, you can get up to 40% in savings when hiring an attorney from our network.

How long does it take to go through the South Carolina eviction process from start to finish?

The length of the eviction process for South Carolina renters will usually depend on the amount of notice required, as well as the total volume of proceedings that are being held simultaneously. Here is an explanation of South Carolina notice periods:

Overdue rent: 5-day notice
Lease agreement violations: 14-day notice
No fault of the tenant: 30-day notice

After your pre-defined notice period is over, an eviction may take 4 to 9 weeks. Please note that in particular kinds of housing, for instance where rent is subsidized, the notice period may be longer.

Should I work with a lawyer when evicting someone in South Carolina?

While it is doable to draft a Notice to Vacate by yourself, the majority of property owners who take tenants to court will have an attorney to represent them. Locating a lawyer to check your South Carolina Eviction Notice might be time-consuming and fairly costly. A more cost-effective route is to request help from the Rocket Lawyer On Call® network. By signing up for a Premium membership, you can get your document reviewed or ask any questions. Whether you create additional SC Eviction Notices or other documents, Rocket Lawyer will be by your side.

Would I need to take additional actions after drafting a Notice of Eviction/Notice to Quit in South Carolina?

Upon finishing your South Carolina Eviction Notice with Rocket Lawyer, you will have the ability to open it wherever and whenever you choose. You also may interact with it by making edits, downloading it, printing it out, or copying it. You will need to sign it before it is served on the tenant(s). You can choose from several methods when serving a notice:

Send the notice through certified mail
Deliver it personally
Work with a professional process server

As a reminder, "do-it-yourself" evictions are not legal. Landlords should not throw out personal belongings, turn off utilities and services, padlock the doors, or otherwise attempt to intimidate their tenants in an effort to make them move out. Taking the appropriate lawful actions before and during the eviction proceedings is critical to removing tenants successfully under an official court order.