MAKE YOUR FREE

Rhode Island Eviction Notice
Other Names:
Rhode Island Notice to Quit
Rhode Island Notice to Vacate Letter
Rhode Island Notice to Pay Rent or Quit
Rhode Island Notice to Cure or Quit
Rhode Island Unconditional Quit Notice
Rhode Island Immediate Notice to Quit
Rhode Island 3-Day Notice to Quit
Rhode Island 5-Day Notice to Quit
Rhode Island 6-Day Notice to Quit
Rhode Island 7-Day Notice to Quit
Rhode Island 10-Day Notice to Quit
Rhode Island 14-Day Notice to Quit
Rhode Island 30-Day Notice to Quit
Rhode Island Eviction Letter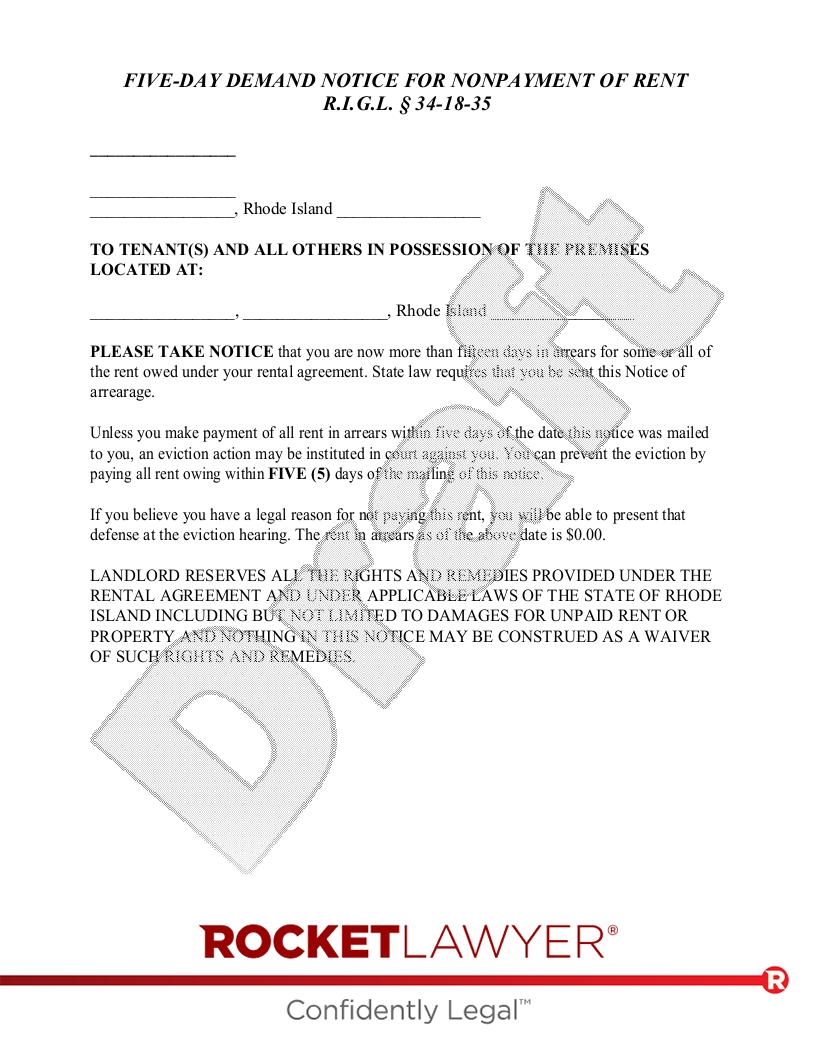 What is a Rhode Island Eviction Notice or Notice to Quit?
Usually, the purpose of drafting a Rhode Island Eviction Notice is to communicate to renters about the legal action that will be taken if they are not willing to pay their past-due rent, comply with the agreed-upon terms of their signed rental contract, or vacate the premises as demanded. As a result of this essential legal notice, you can enforce your terms, while granting the tenant a chance to address the matter within a specified time frame. With that in mind, in some cases, there will be no solution, and going to court is unavoidable. Appropriate for any residential property, this Eviction Notice for Rhode Island can be used by any landlord with tenants in Warwick, Cranston, Providence, and in all of the other cities and towns across the Ocean State.
When to use a Rhode Island Eviction Notice:
Your tenant has failed to pay the rent.
Your tenant has violated the lease or rental agreement.
You wish to end a periodic tenancy (such as month-to-month).
Sample Rhode Island Eviction Notice
The terms in your document will update based on the information you provide
This document has been customized over 7.9K times
Legally binding and enforceable
Complies with relevant laws
Ask a lawyer questions about your document
FIVE-DAY DEMAND NOTICE FOR NONPAYMENT OF RENT R.I.G.L. § 34-18-35
, Rhode Island
TO TENANT(S) AND ALL OTHERS IN POSSESSION OF THE PREMISES LOCATED AT:
, , Rhode Island
PLEASE TAKE NOTICE that you are now more than fifteen days in arrears for some or all of the rent owed under your rental agreement. State law requires that you be sent this Notice of arrearage.
Unless you make payment of all rent in arrears within five days of the date this notice was mailed to you, an eviction action may be instituted in court against you. You can prevent the eviction by paying all rent owing within FIVE (5) days of the mailing of this notice.
If you believe you have a legal reason for not paying this rent, you will be able to present that defense at the eviction hearing. The rent in arrears as of the above date is .
TEN (10)
LANDLORD RESERVES ALL THE RIGHTS AND REMEDIES PROVIDED UNDER THE RENTAL AGREEMENT AND UNDER APPLICABLE LAWS OF THE STATE OF RHODE ISLAND INCLUDING BUT NOT LIMITED TO DAMAGES FOR UNPAID RENT OR PROPERTY AND NOTHING IN THIS NOTICE MAY BE CONSTRUED AS A WAIVER OF SUCH RIGHTS AND REMEDIES.
Dated:
By:______________________________
I certify that I placed in regular U.S. mail, first class postage prepaid, a copy of this Notice, addressed to the tenant, on the ______ day of ______________, 20___.
_________________________________
Signature
Rhode Island Eviction Notice FAQs
Can I legally evict my tenant(s) for nonpayment of rent in Rhode Island?

In general, the answer is yes, and you can use a Rhode Island Eviction Notice (specifically referred to as a 5-Day Demand Notice for Nonpayment of Rent) to kick off the process. However, as a result of the COVID-19 pandemic, several limitations have been established for tenants who can't pay rent. While the federal eviction moratorium has been struck down, the state of Rhode Island and individual municipalities have the authority to maintain their own rules for evictions. Keep up with the talk to a lawyer for more specific insight.

Should a property owner write an Eviction Notice in Rhode Island?

If you want to remove tenants from a rental property, you are required to serve them a Notice of Eviction first. Some of the most common circumstances in which you might need one are:

The tenant is behind on rent or they are habitually late
The tenant is using their unit illicitly
The tenant violates the no-pets policy of your lease agreement
The tenant sublets your property in breach of the lease terms
The tenant has caused excessive damage
The tenant disturbs the quiet enjoyment of the other renters

Outside of these examples, a renter generally may be evicted by a landlord due to reasons unrelated to a fault of their own. For instance, when the landlord wants to move back in. Keep in mind that this list isn't absolutely exhaustive and that the lawfully permitted reasons for eviction are subject to change based on your particular city or municipality. If you have any concerns or questions about Rhode Island eviction laws, you can talk to a lawyer.

What information is most often necessary to include in a Rhode Island Notice to Vacate?

When ready, you can click on "Make document" to check out the Rhode Island Eviction Notice sample and preview the questions that you will need to answer to create your eviction letter. In general, the basic details needed for making a Notice to Vacate for Rhode Island are:

The address and description of the property
The contact information for the lessee
Which policies in the lease have not been upheld
How much time the tenant has to resolve the situation
How many past due rent payments should be made (if appropriate)

Of course, if the tenants are not at fault for the eviction, you may wish to provide more context since the news may likely be unexpected. More custom modifications are possible, as needed. It will be very important to verify that any policies and terms that you make note of in the Eviction Notice are actually spelled out in your tenancy agreement.

How will Rhode Island eviction laws impact me as a rental property owner?

Laws can change over time and the eviction process can be quite nuanced, especially for a first-timer. In some cases, there might be different requirements depending on why the tenant is being evicted and the length of their occupancy. Consequently, it's highly recommended that you talk to a local eviction attorney when planning to serve a Notice of Eviction on any tenant.

How can I write a Rhode Island Eviction Notice template online?

You can write your own RI Eviction Notice online for free with Rocket Lawyer. To begin the process, you can click on the button labeled "Make document." You will then answer some questions to help generate a Rhode Island Eviction Notice that is customized to fit your needs. This route, in many cases, will end up being notably less time-consuming than finding and hiring a traditional law firm.

What might I traditionally pay to evict a tenant in Rhode Island?

The fees associated with hiring a legal provider to draft a Notice of Eviction can add up to anywhere from a few hundred dollars to thousands, depending on the complexity of your situation. Unlike many other websites you may come across, Rocket Lawyer offers more than an eviction template. If you do proceed with an eviction lawsuit, your Premium membership offers up to 40% in savings when you hire an attorney from our network. If you want to understand what the complete cost of an eviction might be, you will need to consider the cost of filing court documents, attorney fees, the value of unrecovered funds, storage and cleaning fees, and the time and money you will spend on finding new tenants.

How long does the Rhode Island eviction process typically take?

The duration of the eviction process for Rhode Island tenants will depend on the notice period required, as well as the total volume of cases that are happening concurrently. Here's a basic overview of Rhode Island notice periods:

Past-due rent: 5-day notice
Violation of lease agreement: 20-day notice
No direct fault: 30-day notice

Following the notice period, the actual eviction may still take from 1 to 4 months. Please note that with certain types of housing, for instance where rent payments are subsidized by the government, the mandatory notice period is often even longer.

Should I hire a lawyer when evicting someone in Rhode Island?

While you can opt to produce a Notice to Vacate without support, many landlords who bring tenants to court have legal representation. Getting a second opinion on the document can take longer than you expect if you try to do it on your own. An alternate approach might be through Rocket Lawyer attorney services. Rocket Lawyer Premium members have the ability to request advice from an Rocket Lawyer network attorney with landlord-tenant experience or ask additional legal questions. As a property owner or manager, you can Work Confidently® with Rocket Lawyer by your side.

Would I need to do anything else once I write a Notice of Eviction/Notice to Quit in Rhode Island?

Upon completing your Rhode Island Eviction Notice with the help of Rocket Lawyer, you will be able to access it in your account anytime, anywhere. You also may engage with the document by making edits, saving it in Word or PDF format, printing it, and making a copy of it. You will need to sign and date the notice before serving it on the tenant(s). Your Rhode Island Eviction Notice includes a signature confirming that notice was mailed so that you'll have a record of its delivery. There are a few methods for serving a notice:

Hire a process server
Send the notice through certified mail with a return receipt
Deliver it by hand

It is important to remember that "DIY" or "self-help" evictions are not legal in Rhode Island. Property owners cannot turn off utilities and services, replace locks, remove personal property, or threaten their tenants in any way in order to make them move. Acting lawfully before and throughout the eviction process is critical to removing tenants successfully with an official judgment from the court.