MAKE YOUR FREE

Oregon Eviction Notice
Other Names:
Oregon Notice to Quit
Oregon Notice to Vacate Letter
Oregon Notice to Pay Rent or Quit
Oregon Notice to Cure or Quit
Oregon Unconditional Quit Notice
Oregon Immediate Notice to Quit
Oregon 3-Day Notice to Quit
Oregon 5-Day Notice to Quit
Oregon 6-Day Notice to Quit
Oregon 7-Day Notice to Quit
Oregon 10-Day Notice to Quit
Oregon 14-Day Notice to Quit
Oregon 30-Day Notice to Quit
Oregon Eviction Letter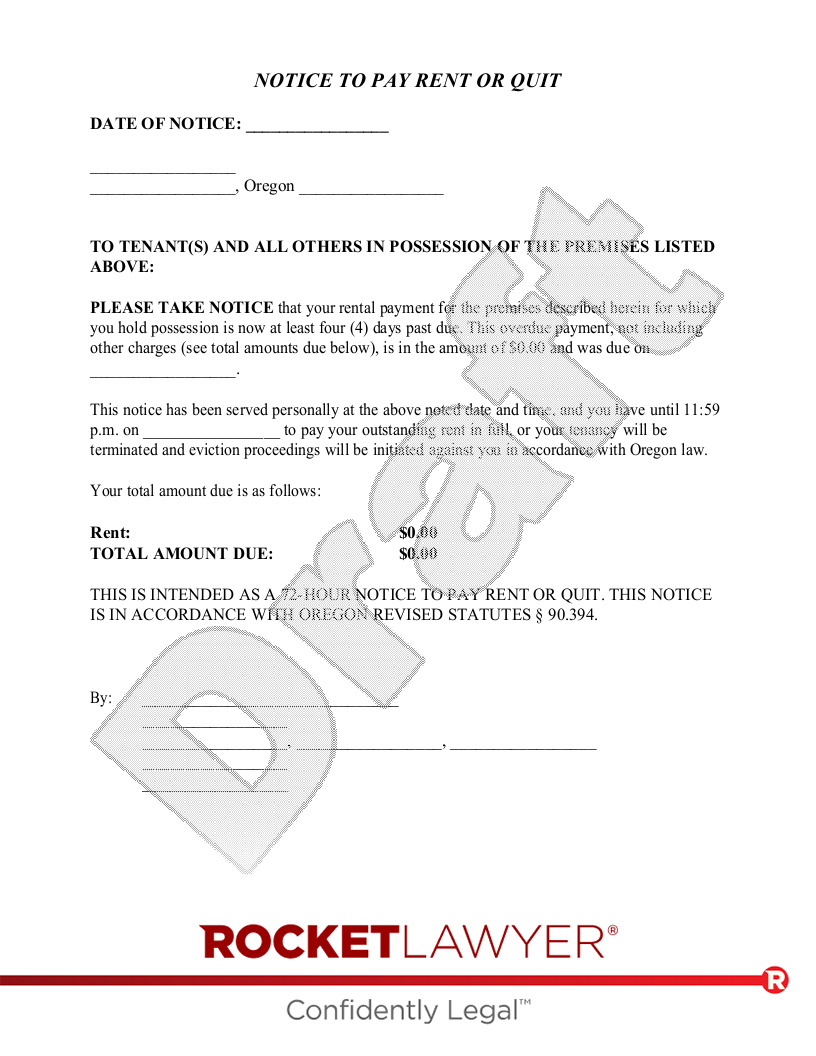 What is an Oregon Eviction Notice or Notice to Quit?
If you own or manage residential property in Oregon, you can make an Eviction Notice to notify a renter of upcoming legal action if they remain behind on past-due rent payments, fail to abide by the agreed-upon terms of the rental contract that they signed, or do not leave the property. This official notice may help to get the rental arrangement back in good standing. With that in mind, in some instances, there isn't any solution, and filing with the court is inevitable. Suited for all residential properties, our Eviction Notice for Oregon can be used with tenants in Eugene, Salem, Portland, and in all other cities and municipalities throughout the Beaver State.
When to use an Oregon Eviction Notice:
Your tenant has failed to pay the rent.
Your tenant has violated any provision of the lease or rental agreement.
You wish to end a periodic tenancy (such as month-to-month).
The lease has expired and the tenant has remained on the property.
Sample Oregon Eviction Notice
The terms in your document will update based on the information you provide
This document has been customized over 47.2K times
Legally binding and enforceable
Complies with relevant laws
Ask a lawyer questions about your document
NOTICE TO PAY RENT OR QUIT
DATE OF NOTICE:
TO TENANT(S) AND ALL OTHERS IN POSSESSION OF THE PREMISES LISTED ABOVE:
PLEASE TAKE NOTICE that your rental payment for the premises described herein for which you hold possession is now at least seven (7)
PLEASE TAKE NOTICE that you are in violation of your lease or rental agreement by keeping a pet on the premises.
, your lease will be terminated automatically on . DAY NOTICE TO CURE OR QUIT IN ACCORDANCE WITH OREGON REVISED STATUTES § . 4
AND ALL OTHERS
10
By:
______________________________
Oregon Eviction Notice FAQs
Can I evict my tenants for overdue rent in Oregon?

Under normal circumstances, yes, and you may use an Oregon Eviction Notice (specifically known as a Notice to Pay Rent or Quit) to start the process. However, due to COVID-19, some limitations and protections have been established for tenants who have not been able to pay rent. Although the federal eviction moratorium was blocked, the state and municipal governments in Oregon can maintain their own standards for evictions. Keep up with the consult a lawyer for more specific advice.

When should a landlord make an Eviction Notice in Oregon?

In order to evict a tenant from an Oregon rental property, you are required to deliver them a Notice of Eviction first. Some of the circumstances in which you may need to use one are:

The tenant is behind on rent payments or they are habitually late
The tenant has caused unreasonable damage to the property
The tenant disturbs the quiet enjoyment of other tenants
The tenant is using their unit for an illegal operation
The tenant gets a pet and your rental contract contains a no-pets clause
The tenant sublets their unit in violation of the agreement

Outside of these violations, renters generally may be evicted by a landlord due to other reasons unrelated to their own conduct, such as when the owner wants to move back in. Please keep in mind the list presented above is not absolutely exhaustive and that the lawfully accepted reasons for eviction may vary. If you've got any particular hesitations or questions with regard to Oregon eviction laws, you can always connect with an attorney.

How is an Oregon Notice to Vacate commonly organized?

When ready, you can tap or click on "Make document" to check out the Oregon Eviction Notice sample. You typically may want to prepare the following critical details for a Notice to Vacate in Oregon:

The address and description of your property
The legal name of each lessee
What policies in the lease have not been upheld
How many rent payments are past due (if appropriate)
What the duration of the notice period is

If your tenants are not at fault for the eviction, you have the ability to provide more context. Using the Rocket Lawyer document tool, you have the power to add more customization, as necessary. You'll need to make sure that any policies and terms that you reference in the Eviction Notice are spelled out in the fully executed rental agreement.

How will Oregon eviction laws impact me as a property owner?

The law continually evolves over time and the actual eviction process and restrictions can be rather nuanced. In some cases, there will be different notice periods or other requirements depending on what the reason is for the tenant's eviction and how long they have occupied the unit. As a result, it is highly recommended that you contact an eviction lawyer when making a Notice of Eviction to any tenant.

How do I create an Oregon Eviction Notice template for free?

Fortunately, you won't need to start from scratch when generating your document. With Rocket Lawyer, anyone is able to produce a free Oregon Eviction Notice online with ease. Your document will be built step by step so you can feel confident that it has all of the appropriate details within. This solution, in most cases, will end up being much less expensive than hiring the average law firm.

How much would I traditionally have to pay to evict a tenant in Oregon?

The fees associated with finding and working with a legal provider to draft a Notice of Eviction might total hundreds of dollars or thousands, depending on the complexity of the matter. Rocket Lawyer isn't a run-of-the-mill eviction template website. With our service, any property owner under a Premium membership can take advantage of up to 40% in savings when hiring an attorney. If you want to know what the full cost of an eviction would be, you'll need to take into consideration the cost of filing court documents, lawyer fees, the value of unrecovered payments, storage and cleaning fees, and lastly, the money and time spent on looking for new tenants.

How much time does it take to complete the Oregon eviction process from beginning to end?

The length of the eviction process for Oregon renters will usually depend on the amount of notice required, as well as the total volume of proceedings being held concurrently. Below, you will find an explanation of Oregon notice periods:

Rent-related: 6-day notice is required if notice is given on 5th day of the rental period; 3-day notice is required if notice is given on 8th day of rental period
Non-compliance with rental agreement: 30-day notice
No fault of tenant: 30-day notice (month to month and it's the first year the tenant has lived in the rental unit)

After the pre-defined notice period is over, the eviction itself can still take between 2 and 8 weeks. Please note that with particular kinds of housing, including where rent payments are subsidized, the mandated notice period is often longer.

Do I need to hire a lawyer when evicting someone in Oregon?

While it is possible to build a Notice to Vacate without support, most rental property owners who take tenants to court have an attorney. Getting a second opinion on the document might take a lot of time on your own. An alternate approach could be through the Rocket Lawyer On Call® attorney network. Rocket Lawyer Premium members can ask for guidance from an attorney with experience in real estate matters or get answers to other legal questions. As a property owner, you can be confident that Rocket Lawyer is here by your side.

Am I required to do anything else after drafting a Notice of Eviction/Notice to Quit in Oregon?

After creating an Oregon Eviction Notice using Rocket Lawyer, you can see it anytime and anywhere. With a Premium membership, you will be able to edit it, download it in PDF format or as a Word document, print it, and make a copy of it when needed. You will need to sign and date it before serving it on the tenant(s). You have a few different options available for serving a notice:

Deliver the notice by hand
Work with a third-party process server
Send the notice through certified mail

As a reminder, "DIY" or "self-help" evictions are illegal in Oregon. Property owners should not turn off utilities and services, padlock the doors, remove personal property, or threaten their tenants in any way in order to remove them. Acting lawfully leading up to and throughout the eviction proceedings is critical to removing tenants successfully with a judgment from the court.