MAKE YOUR FREE

New Hampshire Eviction Notice
Other Names:
New Hampshire Notice to Quit
New Hampshire Notice to Vacate Letter
New Hampshire Notice to Pay Rent or Quit
New Hampshire Notice to Cure or Quit
New Hampshire Unconditional Quit Notice
New Hampshire Immediate Notice to Quit
New Hampshire 3-Day Notice to Quit
New Hampshire 5-Day Notice to Quit
New Hampshire 6-Day Notice to Quit
New Hampshire 7-Day Notice to Quit
New Hampshire 10-Day Notice to Quit
New Hampshire 14-Day Notice to Quit
New Hampshire 30-Day Notice to Quit
New Hampshire Eviction Letter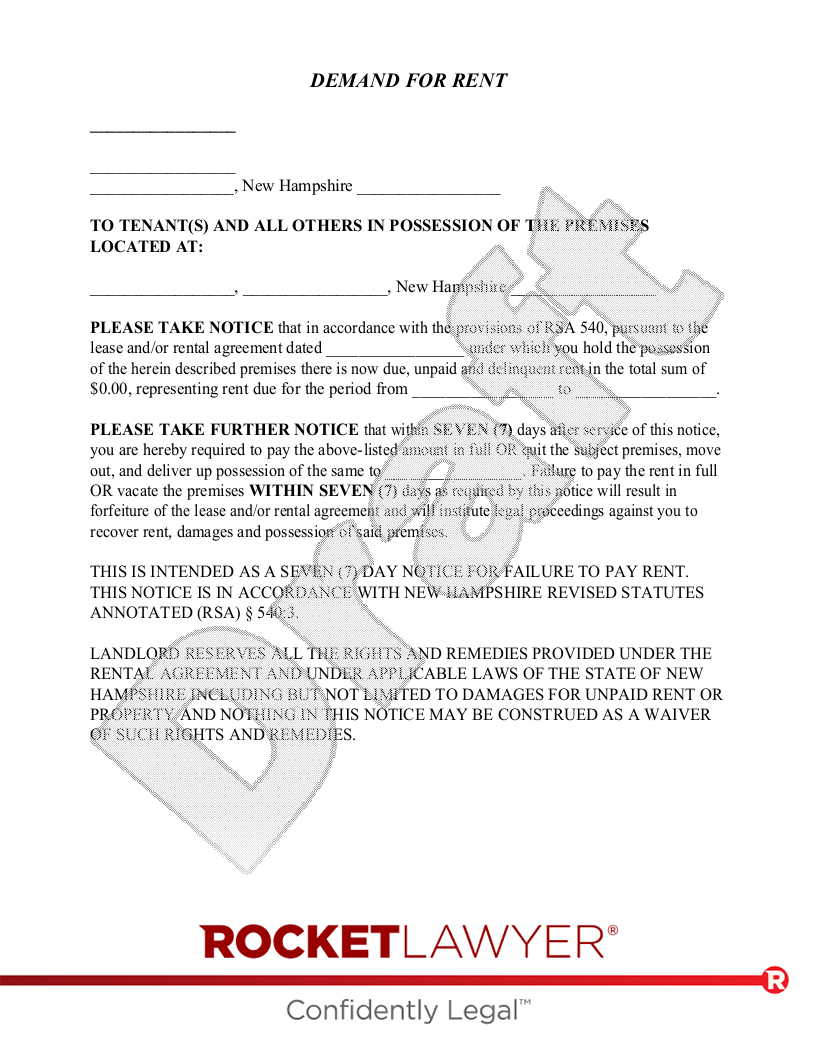 What is a New Hampshire Eviction Notice or Notice to Quit?
As a landlord or property manager in the state of New Hampshire, you can use an Eviction Notice to notify a renter of future legal action if they remain behind on rent, fail to comply with the terms and conditions of a lease, or do not move out. As a result of this notice, you can enforce your terms, while granting your tenant(s) a chance to remedy the matter within a specified time frame. That said, in some situations, there is no resolution, and filing with the court is inevitable. Suited for any residential property type, this Eviction Notice for New Hampshire can be used by any property owner with tenants in Concord, Nashua, Manchester, and in all other cities within the Granite State.
When to use a New Hampshire Eviction Notice:
Your tenant has failed to pay the rent.
Your tenant has violated the lease or rental agreement.
You wish to end a month-to-month tenancy.
The lease has expired and the tenant has remained on the property.Please Note:
You may never forcibly evict a tenant without going through the formal tenant eviction process.
Sample New Hampshire Eviction Notice
The terms in your document will update based on the information you provide
This document has been customized over 8.4K times
Legally binding and enforceable
Complies with relevant laws
Ask a lawyer questions about your document
, New Hampshire
TO TENANT(S) AND ALL OTHERS IN POSSESSION OF THE PREMISES LOCATED AT:
, , New Hampshire
PLEASE TAKE NOTICE that in accordance with the provisions of RSA 540, the tenancy
THIS IS INTENDED AS A SEVEN (7) DAY NOTICE FOR FAILURE TO PAY RENT. THIS NOTICE IS IN ACCORDANCE WITH NEW HAMPSHIRE REVISED STATUTES ANNOTATED (RSA) § 540:3.
LANDLORD RESERVES ALL THE RIGHTS AND REMEDIES PROVIDED UNDER THE RENTAL AGREEMENT AND UNDER APPLICABLE LAWS OF THE STATE OF NEW HAMPSHIRE INCLUDING BUT NOT LIMITED TO DAMAGES FOR UNPAID RENT OR PROPERTY AND NOTHING IN THIS NOTICE MAY BE CONSTRUED AS A WAIVER OF SUCH RIGHTS AND REMEDIES.
Dated:
By:______________________________
I hereby certify that on the _________ day of _______________, 20___, at
______ am/pm I gave in hand to/left at the abode of ________________________________, above named, a true copy of the above original notice.
_________________________________
Signature
New Hampshire Eviction Notice FAQs
Can I evict my tenant for nonpayment of rent in New Hampshire?

Under normal circumstances, yes. You can draft a New Hampshire Eviction Notice (more specifically called a Demand for Rent) to start the process. However, due to the pandemic, several limitations and protections have been established. Despite the fact that the federal ban on eviction has been struck down, the state of New Hampshire can maintain its own guidelines for evictions. Keep up with the consult a local landlord-tenant lawyer for more specific advice.

Should a landlord write an Eviction Notice in New Hampshire?

If you wish to legally evict a tenant, you are required to always serve a Notice of Eviction. Some of the circumstances in which you might need to use one are:

The tenant is behind on rent payments
The tenant is using the property for illegal activity
The tenant adopts a pet and the rental contract forbids animals
The tenant brings on a subletter in breach of the rental terms
The tenant has caused material damage
The tenant harasses or disturbs the quiet enjoyment of the other renters

In addition to lease violations, a renter generally can be evicted for reasons that are not related to their conduct. For instance, when the property owner wishes to move back in. Keep in mind that the list presented above is not fully exhaustive and that the lawfully permitted reasons for tenant eviction can vary by location. If you've got any questions about New Hampshire eviction laws, talk to an attorney.

How should a New Hampshire Notice to Vacate be organized?

You can tap or click "Make document" to take a closer look at the New Hampshire Eviction Notice sample and preview the questions that you'll need to answer to generate your eviction letter. Before getting started, you generally might want to organize the following critical details:

The location and description of the property
The contact information for the tenant(s)
For what periods of time the rent has gone unpaid (if any)
How much time the tenant has to resolve the situation
Which of the clauses in the lease are not being met

If your tenants are not at fault, you have the ability to provide more context. Using the document tool, you are able to add more personalization, as necessary. It is important to verify that all of the policies and terms that you mention in the Eviction Notice are present in the lease that was signed by all parties.

How will New Hampshire eviction laws impact me as a property owner?

Eviction laws are continually evolving and the actual legal process can be quite complicated for a first-timer. In certain instances, there can be varying requirements depending on the reason for evicting the tenant and how long they have occupied the unit. Consequently, it is highly recommended that you talk to a local eviction lawyer before delivering a Notice of Eviction to any tenant.

How can I write a New Hampshire Eviction Notice form online?

If you would like to create a NH Eviction Notice online for free with Rocket Lawyer, simply tap or click the button that says "Make document" to start. You will then answer a few questions about your situation to help build a New Hampshire Eviction Notice that is customized for your needs. This route, in many cases, would end up being notably less expensive and less time-consuming than hiring the average lawyer.

How much would it typically cost to evict a tenant in New Hampshire?

The fees associated with hiring your average lawyer to generate a Notice of Eviction might add up to hundreds of dollars or thousands. Different from many other eviction template websites that you may come across elsewhere, Rocket Lawyer provides Premium membership holders up to 40% in savings when hiring a lawyer, so an attorney can act on your behalf if you decide to proceed with a lawsuit. If you wish to know what the complete cost of an eviction might be, you will need to take into consideration the fees associated with filing court documents, attorney fees, the value of unrecovered payments, storage and/or cleaning fees, and ultimately, the money and time you will spend finding new tenants.

How long does it take to go through the New Hampshire eviction process?

The length of the eviction process for New Hampshire renters will usually depend on the notice period required, in addition to the volume of lawsuits that are being held simultaneously. Below, you will find a basic explanation of New Hampshire notice periods:

Rent-related: 7-day notice
Non-compliance with lease agreement: 30-day notice
No fault of the tenant: 30-day notice

After the notice period, an eviction may still take 1 to 2 months. Please note that with particular types of housing, including where rent is subsidized, the notice period is often even longer.

Should I hire an attorney when evicting someone in New Hampshire?

While it is possible to create a Notice to Vacate on your own, the majority of property owners who take tenants to court will have legal representation present. Getting a second set of eyes on your document may take longer than you expect on your own. Another approach could be through Rocket Lawyer attorney services. Premium members have the ability to ask for advice from an attorney with relevant experience or ask additional legal questions. As a property owner or manager, you can Work Confidently® knowing that Rocket Lawyer is here by your side.

Are there any additional actions to take after I draft a Notice of Eviction/Notice to Quit in New Hampshire?

After creating a New Hampshire Eviction Notice on Rocket Lawyer, you can retrieve it from your account anytime, anywhere. Feel free to interact with your document by editing it, saving it as a Word document or PDF file, making copies of it, or printing it out. You must sign the notice before it is served on the tenant(s). Your New Hampshire Eviction Notice includes a proof of service so that you can have a record of its delivery. You can choose from a few options when serving a notice:

Work with a third-party process server
Deliver it by hand

Remember, "self-help" or "do-it-yourself" evictions are illegal in New Hampshire. Property owners cannot replace locks, turn off utilities, throw out personal property, or otherwise harass and threaten tenants in an effort to make them move. Taking the appropriate lawful actions before and during the eviction proceedings will put you in the best position to remove tenants successfully with a judgment from the court.