MAKE YOUR FREE

Michigan Eviction Notice
Other Names:
Michigan Notice to Quit
Michigan Notice to Vacate Letter
Michigan Notice to Pay Rent or Quit
Michigan Notice to Cure or Quit
Michigan Unconditional Quit Notice
Michigan Immediate Notice to Quit
Michigan 3-Day Notice to Quit
Michigan 5-Day Notice to Quit
Michigan 6-Day Notice to Quit
Michigan 7-Day Notice to Quit
Michigan 10-Day Notice to Quit
Michigan 14-Day Notice to Quit
Michigan 30-Day Notice to Quit
Michigan Eviction Letter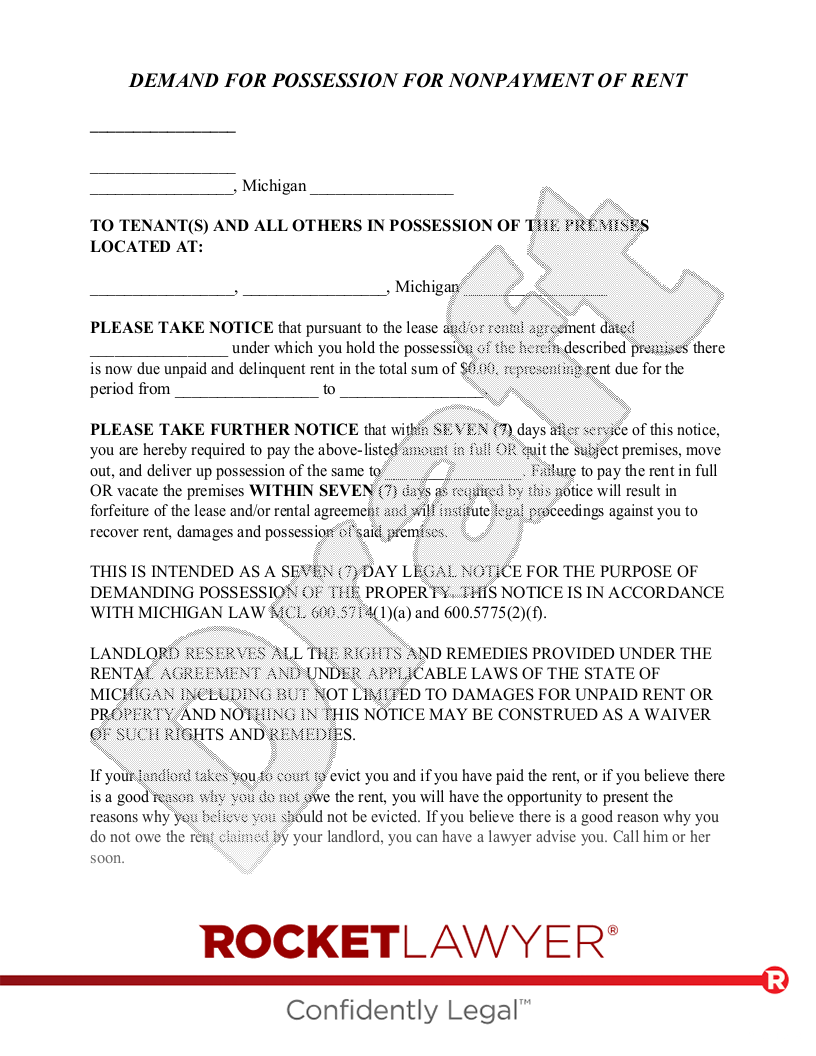 What is a Michigan Eviction Notice or Notice to Quit?
Property owners make Michigan Eviction Notices as a means of advising tenants of upcoming legal action if they are not willing to pay their overdue rent, comply with the terms of their lease, or leave the property as requested. Making this official legal notice can make it easier for you and the tenant(s) to avoid expensive and time-consuming court appearances by granting them a chance to fix the issue at hand within a certain amount of time. With that in mind, in some cases, there will be no resolution, and going to court is inevitable. Suitable for every type of residential property, our Eviction Notice for Michigan can be used by any property owner with tenants in Warren, Grand Rapids, Detroit, and in all other cities throughout the Great Lakes State.
When to use a Michigan Eviction Notice:
You're making a one-time donation to a non-profit.
You're a donor setting up ongoing donations.
You manage a non-profit and want to create a formal donation agreement with a donor.
Sample Michigan Eviction Notice
The terms in your document will update based on the information you provide
This document has been customized over 65.4K times
Legally binding and enforceable
Complies with relevant laws
Ask a lawyer questions about your document
DEMAND FOR POSSESSION FOR NONPAYMENT OF RENT
, Michigan
TO TENANT(S) AND ALL OTHERS IN POSSESSION OF THE PREMISES LOCATED AT:
, , Michigan
PLEASE TAKE NOTICE that the tenancy extensive and continued damage a
THIS IS INTENDED AS A SEVEN (7) DAY LEGAL NOTICE FOR THE PURPOSE OF DEMANDING POSSESSION OF THE PROPERTY. THIS NOTICE IS IN ACCORDANCE WITH MICHIGAN LAW MCL 600.5714(1)(a) and 600.5775(2)(f).
LANDLORD RESERVES ALL THE RIGHTS AND REMEDIES PROVIDED UNDER THE RENTAL AGREEMENT AND UNDER APPLICABLE LAWS OF THE STATE OF MICHIGAN INCLUDING BUT NOT LIMITED TO DAMAGES FOR UNPAID RENT OR PROPERTY AND NOTHING IN THIS NOTICE MAY BE CONSTRUED AS A WAIVER OF SUCH RIGHTS AND REMEDIES.
If your landlord takes you to court to evict you and if you have paid the rent, or if you believe there is a good reason why you do not owe the rent, you will have the opportunity to present the reasons why you believe you should not be evicted. If you believe there is a good reason why you do not owe the rent claimed by your landlord, you can have a lawyer advise you. Call him or her soon.
Dated:
By:______________________________
HOW TO GET LEGAL HELP
1. Call your own lawyer.
2. If you do not have an attorney but have money to retain one, you may locate an attorney through the State Bar of Michigan Lawyer Referral Service at 1-800-968-0738 or through a local lawyer referral service. Lawyer referral services should be listed in the yellow pages of your telephone directory or you can find a local lawyer referral service at www.michbar.org.
3. If you do not have an attorney and cannot pay for legal help, you may qualify for assistance through a local legal aid office. Legal aid offices should be listed in the yellow pages of your telephone directory or you can find a local legal aid office at www.michiganlegalaid.org. If you do not have Internet access at home, you can access the Internet at your local library.
Michigan Eviction Notice FAQs
Can I evict tenants for unpaid rent in Michigan?

Under normal circumstances, the answer is yes, and you may use a Michigan Eviction Notice (specifically called a 7-Day Notice to Quit) to initiate the process. However, as a result of the pandemic, there are some protections in place. Despite the fact that the federal eviction moratorium has been blocked by the United States Supreme Court, the state of Michigan and individual municipalities can create and enforce their own regulations for evictions. Stay up to date with the talk to a lawyer for more specific input.

When should a property owner create an Eviction Notice in Michigan?

In order to evict a tenant, you may opt to provide a Notice of Eviction as a first step. Even if it isn't always legally mandated, this document can help you avoid court (as long as your tenant will comply.) Some of the circumstances in which you might want one are:

The tenant is behind on rent
The tenant is using their unit for an illegally zoned business
The tenant violates the animal policy in your lease
The tenant sublets the property against the agreement
The tenant has caused substantial damage
The tenant harasses or disturbs the quiet enjoyment of their neighbors

In addition to violations, tenants generally can be evicted by a landlord for other reasons that are not connected to their own conduct, such as when the owner plans to move in. Please note that the list presented above isn't absolutely exhaustive and the permitted reasons for eviction can be different based on your specific city, among other factors. If you are having any doubts with regard to Michigan eviction laws, connect with an attorney.

What details should a Michigan Notice to Vacate contain?

You can tap or click the button labeled "Make document" to take a closer look at the Michigan Eviction Notice sample. In general, the basic details that you may find necessary to include in a Notice to Vacate for Michigan are:

The address and description of your property
Contact information for the lessee(s)
How long the notice period will last
How many past due rent payments should be made (when relevant)
Which clauses in the lease have not been met

Of course, if the tenants are not at fault, you may want to add more context. With the document tool, you have the ability to add further personalization, as needed. It is critical to verify that all of the policies and terms that you refer to are actually spelled out in the fully signed rental agreement.

How do Michigan eviction laws impact me as a property owner?

The law can change over time and the actual eviction process can be fairly nuanced. In some instances, there are varying notice periods or other requirements depending on how long the tenant has occupied the unit and why they are being evicted. Consequently, it's strongly recommended that all landlords reach out to an eviction lawyer when planning to serve a Notice of Eviction.

Can I prepare a Michigan Eviction Notice form online?

In order to draft your MI Eviction Notice for free with Rocket Lawyer, click "Make document" above to start the process. After collecting your answers to a few questions about your situation, Rocket Lawyer will build a Michigan Eviction Notice that is customized for your needs. This route is, in most cases, notably more affordable and convenient than hiring your average law firm.

What would it normally cost to get an attorney's help with evicting a tenant in Michigan?

If you want to understand the full cost of eviction, you'll need to take into consideration the fees associated with filing court documents, legal fees, the value of unrecovered rent payments, storage or cleaning fees, and lastly, the time and money spent on looking for a replacement tenant. Luckily, you will not need to pay hundreds of dollars in legal fees to produce your Notice of Eviction. Different from many other eviction form providers that you might find elsewhere, Rocket Lawyer offers Premium membership holders up to a 40% discount when hiring a lawyer, so an Rocket Lawyer network attorney can represent you if you do proceed with an eviction lawsuit.

How long does it take to go through the Michigan eviction process from start to finish?

The duration of the eviction process for Michigan will usually depend on the notice requirements, along with the total volume of cases that are happening simultaneously. Here's a basic overview of Michigan notice periods:

Rent-related: 7-day notice
Rental contract violations: No notice is required by law
No direct fault: The notice period must be equal to the rent payment period

Following the notice period, an eviction may take anywhere from 2 weeks to 2 months. Please note that in certain types of housing, including where rent payments are subsidized, the mandated notice period may be even longer.

Do I need to hire an attorney if I am evicting someone in Michigan?

While it is doable to create a Notice to Quit by yourself, the majority of property owners who bring tenants to court will have an attorney. Having an attorney double-check your document may take a lot of time if you do it alone. An alternate approach could be through Rocket Lawyer attorney services. Rocket Lawyer members have the ability to ask for feedback from an experienced lawyer or get answers to additional questions. As a property owner, you can Work Confidently® with Rocket Lawyer by your side.

What should I do after writing a Notice of Eviction/Notice to Quit in Michigan?

After creating a Michigan Eviction Notice on Rocket Lawyer, you'll have the ability to open it wherever and whenever you choose. As a Rocket Lawyer member, you can make edits, download it as a PDF document or Word file, print it, and make a copy of it as necessary. You will need to sign and date the notice before it is served on the tenant(s). Your Michigan Eviction Notice includes a certificate of service so that you will have clear documentation of its delivery. You can choose from several options when serving a notice:

Use a third-party process server
Deliver the notice personally
Send the notice via certified mail with a return receipt

It is important to remember that "do-it-yourself" evictions are illegal in Michigan or any other state. You shouldn't throw out belongings, replace the locks, turn off utilities and services, or harass and threaten the tenant in any way in an effort to make them move. Acting lawfully before and throughout the eviction process is critical to removing tenants successfully with a judgment from the court.