MAKE YOUR FREE

Maryland Eviction Notice
Other Names:
Maryland Notice to Quit
Maryland Notice to Vacate Letter
Maryland Notice to Pay Rent or Quit
Maryland Notice to Cure or Quit
Maryland Unconditional Quit Notice
Maryland Immediate Notice to Quit
Maryland 3-Day Notice to Quit
Maryland 5-Day Notice to Quit
Maryland 6-Day Notice to Quit
Maryland 7-Day Notice to Quit
Maryland 10-Day Notice to Quit
Maryland 14-Day Notice to Quit
Maryland 30-Day Notice to Quit
Maryland Eviction Letter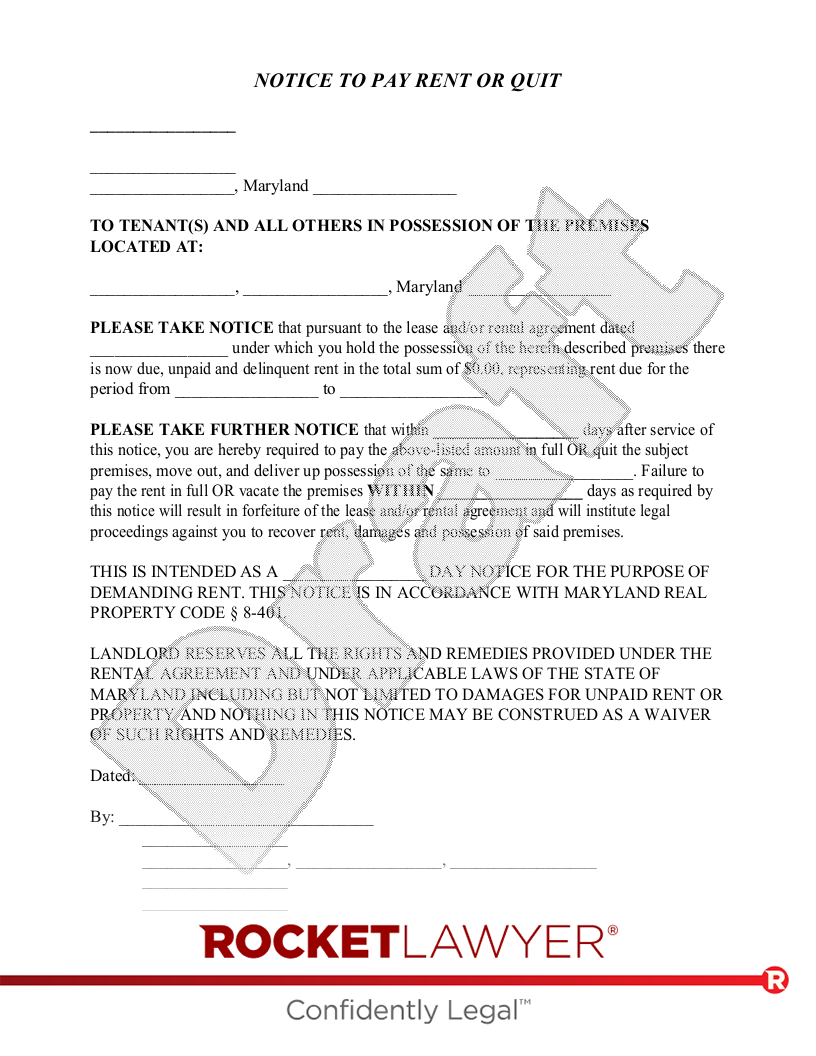 What is a Maryland Eviction Notice or Notice to Quit?
Property owners make Maryland Eviction Notices for the purpose of notifying renters of impending legal action if they continue to owe overdue rent, fail to adhere to the agreed-upon terms of a lease, or do not move out as demanded. By creating this official notice, you will be able to exercise your rights, while still granting the tenant time to remedy the matter before a certain deadline. That said, in some situations, there isn't any solution, and filing a complaint with the court is unavoidable. Suited for all residential properties, this Eviction Notice for Maryland can be used by any property owner with tenants in Germantown, Columbia, Baltimore, and in all other cities and municipalities across the Old Line State.
When to use a Maryland Eviction Notice:
Your tenant has failed to pay the rent.
Your tenant has violated any provision of the lease or rental agreement.
Your tenant materially damaged the property.
Your tenant is a nuisance or has caused trouble among other tenants.
Your tenant has used the property for illegal activity.
You wish to terminate a month-to-month tenancy.
The lease has expired and your tenant has remained on the property.Please Note:
You may never forcibly evict a tenant without going through the formal tenant eviction process.
Sample Maryland Eviction Notice
The terms in your document will update based on the information you provide
This document has been customized over 49.2K times
Legally binding and enforceable
Complies with relevant laws
Ask a lawyer questions about your document
NOTICE TO PAY RENT OR QUIT
, Maryland
TO TENANT(S) AND ALL OTHERS IN POSSESSION OF THE PREMISES LOCATED AT:
, , Maryland
PLEASE TAKE NOTICE that the tenancy dated
THIS IS INTENDED AS A DAY NOTICE FOR THE PURPOSE OF DEMANDING RENT. THIS NOTICE IS IN ACCORDANCE WITH MARYLAND REAL PROPERTY CODE § 8-401.
THIRTY (30)
LANDLORD RESERVES ALL THE RIGHTS AND REMEDIES PROVIDED UNDER THE RENTAL AGREEMENT AND UNDER APPLICABLE LAWS OF THE STATE OF MARYLAND INCLUDING BUT NOT LIMITED TO DAMAGES FOR UNPAID RENT OR PROPERTY AND NOTHING IN THIS NOTICE MAY BE CONSTRUED AS A WAIVER OF SUCH RIGHTS AND REMEDIES.
Dated:
By:______________________________
Maryland Eviction Notice FAQs
Am I legally allowed to evict tenants for nonpayment of rent in Maryland?

In general, yes, and you can make a Maryland Eviction Notice (specifically known as a Notice to Pay Rent or Quit) to initiate the process. However, due to COVID-19, some limitations have been established. Although the extended federal eviction moratorium has been blocked, the state of Maryland can maintain its own standards for residential evictions. Keep up with the ask a local landlord-tenant lawyer for further input.

Should I make an Eviction Notice in Maryland?

If you wish to evict a tenant in Maryland, it may be a good idea to deliver a Notice of Eviction as a first step. Even if it isn't always mandated by law, this document can help you avoid going to court (assuming your tenant complies.) Here are some common situations in which you may want one:

The tenant is habitually late to pay their rent or payments have fallen behind schedule
The tenant is using their unit illegally
The tenant violates the animal policy in your rental agreement
The tenant sublets their unit in violation of the lease terms
The tenant has caused substantial damage
The tenant creates a nuisance or disturbs their neighbors

Outside of these examples, renters generally may be evicted by a landlord for other reasons that are not connected to their personal conduct, such as when the owner plans to move in. Keep in mind that the list shown above isn't fully exhaustive and the legally acceptable reasons for evicting tenants can change. If you've got any particular questions or hesitations about Maryland eviction laws, you can always connect with an attorney.

How should the key information in a Maryland Notice to Vacate be organized?

When ready, you can click the button labeled "Make document" to check out our Maryland Eviction Notice sample. Specific details that you usually might want to add are:

The location and description of your property
The full name of each inhabitant
How much of the rent is currently past due (when applicable)
Which of the lease clauses are not being met
How long the tenant has to resolve the situation

Of course, if the tenants aren't at fault for the eviction, you have the ability to provide more details. More custom editing is possible, as needed. It will be important to make sure that any policies and terms that you mention are actually spelled out in your rental contract.

How do Maryland eviction laws impact me as a landlord?

Laws often evolve over time and the eviction process can be rather nuanced. In certain cases, there can be different notice periods and other requirements based on what the reason is for the tenant's eviction and the length of their occupancy. Consequently, it's recommended that you speak with an eviction attorney when making a Notice of Eviction.

How can I prepare a Maryland Eviction Notice template for free?

As a landlord or property manager planning to create your document with Rocket Lawyer, you can use the instructions that are presented. Our step-by-step interview will guide you through some questions about your situation to help us produce a Maryland Eviction Notice that is customized for your needs. This method is, in most cases, notably more affordable and convenient than finding and hiring your average provider.

How much would it traditionally cost for an attorney to help me evict a tenant in Maryland?

If you want to understand the full cost of eviction, you'll need to take into consideration the cost of filing court documents, lawyer fees, the value of unrecovered payments, storage and/or cleaning fees, and the time and money spent on finding a new tenant. Luckily, you do not have to pay hundreds of dollars in legal fees to make your Notice of Eviction. When you use Rocket Lawyer, you aren't just filling out an eviction form template. In case you ever need assistance from a lawyer, your Premium membership offers up to a 40% discount when you hire an Rocket Lawyer network attorney.

How much time does it take to complete the Maryland eviction process?

The length of the eviction process for Maryland tenants will generally depend on the notice requirements, as well as the volume of lawsuits happening concurrently. Below, you'll find a general summary of Maryland notice periods:

Non-payment of rent: No notice is required by law
Non-compliance with terms: 30-day notice
No fault of tenant: 1-month notice

When your notice period is over, the eviction itself can still take between 3 weeks and 6 months. It is important to note that with particular kinds of housing, for instance where rent payments are subsidized, the mandated notice period may be longer.

Do I need an attorney if I am evicting someone in Maryland?

While you may prefer to draft an Eviction Notice without support, most rental property owners who go to court have legal representation. Seeking out someone to proofread your document may take longer than you would expect on your own. An easier approach would be to request help from attorney services at Rocket Lawyer. Premium members can request a document review from an experienced lawyer or send other legal questions. As a property owner, you can Work Confidently® with Rocket Lawyer by your side.

Is anything else required after writing a Notice of Eviction/Notice to Quit in Maryland?

Upon finishing a Maryland Eviction Notice with Rocket Lawyer, you can retrieve it on any device. You also can engage with the document by making edits, copying it, saving it in Word or PDF format, or printing it out. You must sign it before serving it on the tenant. You have a few options available for serving a notice:

Send it by certified mail with a return receipt
Work with a third-party process server
Deliver the notice personally

It is important to remember that "DIY" or "self-help" evictions are not legal. Property owners shouldn't throw out belongings, shut off utilities, replace the locks, or in any way harass their tenants in order to make them move. Taking the appropriate lawful actions before and during the eviction proceedings will give you the best chance of removing tenants successfully with an official judgment from the court.