MAKE YOUR FREE

Connecticut Eviction Notice
Other Names:
Connecticut Notice to Quit
Connecticut Notice to Vacate Letter
Connecticut Notice to Pay Rent or Quit
Connecticut Notice to Cure or Quit
Connecticut Unconditional Quit Notice
Connecticut Immediate Notice to Quit
Connecticut 3-Day Notice to Quit
Connecticut 5-Day Notice to Quit
Connecticut 6-Day Notice to Quit
Connecticut 7-Day Notice to Quit
Connecticut 10-Day Notice to Quit
Connecticut 14-Day Notice to Quit
Connecticut 30-Day Notice to Quit
Connecticut Eviction Letter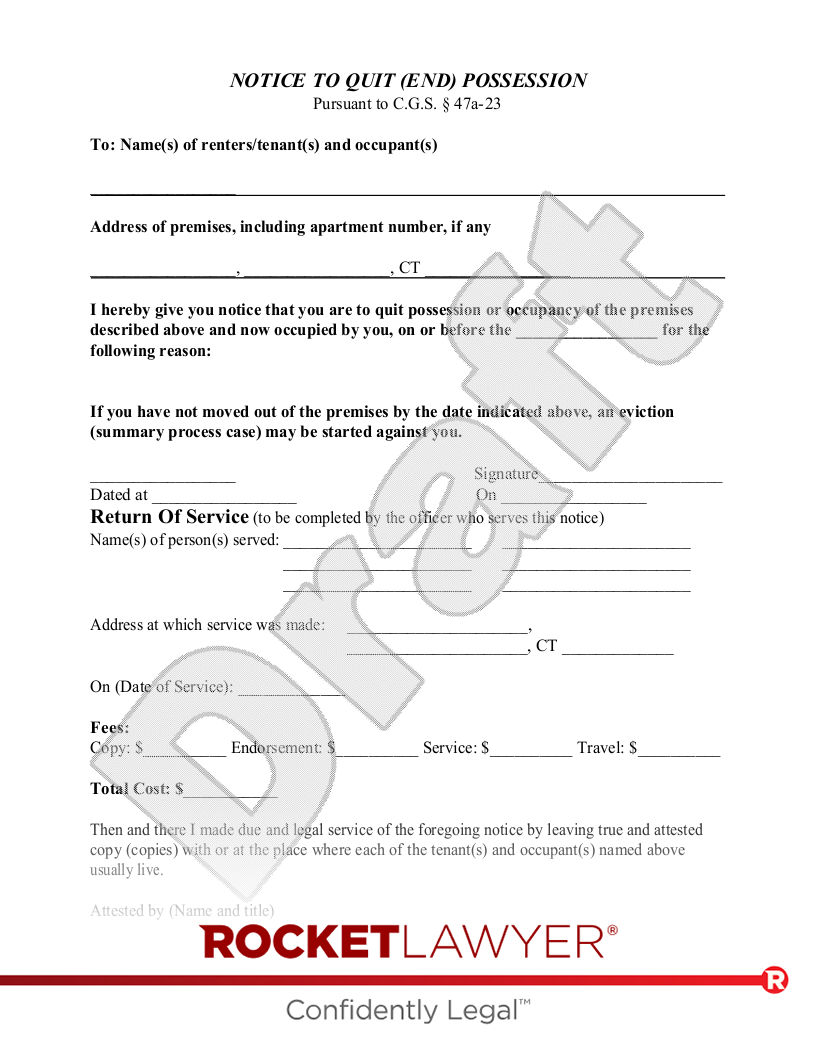 What is a Connecticut Eviction Notice or Notice to Quit?
If you own or manage residential rental property in the state of Connecticut, you can create a Connecticut Eviction Notice to warn tenants of upcoming legal action if they do not comply with the agreed-upon terms and conditions of their signed lease agreement or do not leave the property as requested. By creating this essential legal notice, you will be able to enforce your terms, while giving the tenant(s) a chance to resolve the issue within an allotted time frame. That said, in some situations, there isn't any solution, and filing a complaint with the court is unavoidable. Suitable for any residential property type, our Eviction Notice for Connecticut can be used with tenants in Stamford, New Haven, Bridgeport, and in all of the other cities and towns across the Constitution State.
When to use a Connecticut Eviction Notice:
Your tenant has failed to pay the rent.
Your tenant has violated the lease or rental agreement.
You wish to end a periodic tenancy (such as month-to-month).
The lease has expired and the tenant has remained on the property.Please Note:
You may never forcibly evict a tenant without going through the formal tenant eviction process.
Sample Connecticut Eviction Notice
The terms in your document will update based on the information you provide
This document has been customized over 12.2K times
Legally binding and enforceable
Complies with relevant laws
Ask a lawyer questions about your document
NOTICE TO QUIT (END) POSSESSION
Pursuant to C.G.S. § 47a-23
To: Name(s) of renters/tenant(s) and occupant(s)
Address of premises, including apartment number, if any
, , CT
I hereby give you notice that you are to quit possession or occupancy of the premises described above and now occupied by you, on or before the for the following reason:
Expiration of Lease: The lease expired on .
If you have not moved out of the premises by the date indicated above, an eviction (summary process case) may be started against you.
Signature______________________
Return Of Service (to be completed by the officer who serves this notice)
Name(s) of person(s) served:
______________________
______________________
______________________
______________________
______________________
______________________
| | |
| --- | --- |
| Address at which service was made: | _____________________, |
_____________________, CT _____________
On (Date of Service): _____________
Fees:
Copy: $__________ Endorsement: $__________ Service: $__________ Travel: $__________
Total Cost: $___________
Then and there I made due and legal service of the foregoing notice by leaving true and attested copy (copies) with or at the place where each of the tenant(s) and occupant(s) named above usually live.
Attested by (Name and title)
__________________________________________________________________________
NOTICE TO QUIT (END) POSSESSION
Connecticut Eviction Notice FAQs
Am I allowed to evict my tenant for past-due rent in Connecticut?

Normally, the answer is yes. You may draft a Connecticut Eviction Notice (specifically called a 3-Day Notice to Quit) to begin the process. However, as a result of the COVID-19 pandemic, there are several protections in place for tenants who have been unable to pay rent. While the federal eviction moratorium that was extended by President Biden has been blocked, the state of Connecticut has the authority to maintain its own restrictions for residential evictions. Stay up to date with the consult a local landlord-tenant lawyer , if you are still uncertain.

Why should a property owner write an Eviction Notice in Connecticut?

If you want to legally remove a tenant from a rental property in Connecticut, it may be a good idea to serve them a Notice of Eviction first. Even if it isn't always required by law, this document can help you avoid court (as long as the tenant complies.) Some of the most common circumstances in which you may want one are:

The tenant is behind on their rent or they are continuously late
The tenant sublets your property in violation of the agreement
The tenant has caused unreasonable damage to the property
The tenant creates a nuisance or disturbs the quiet enjoyment of the other renters
The tenant is using your property for an illegal business
The tenant has a dog or cat and the rental agreement forbids pets

Outside of violations, a renter generally can be evicted by their landlord due to reasons unrelated to their personal conduct. For example, when the property owner wishes to move back in. Please keep in mind that the list shown above isn't exhaustive and that the lawfully permitted reasons for eviction may be different. If you are having any particular doubts or concerns about Connecticut eviction laws, you can always talk to a lawyer.

How is a Connecticut Notice to Vacate typically structured?

You can tap or click the "Make document" button to take a closer look at the Connecticut Eviction Notice sample. To make your CT Notice to Vacate with Rocket Lawyer, you'll typically need to have the following details on hand:

The location and description of the property
The renter's contact information
How many rent payments are currently past due (if appropriate)
Which clauses in the lease have not been met
What the duration of the notice period will be

Of course, if your tenant isn't at fault, you may want to provide more context. With the Rocket Lawyer document tool, you have the ability to add further custom editing, as necessary. You'll want to verify that all of the policies and terms that you make note of are actually present in the lease contract that was signed by all parties.

How do Connecticut eviction laws affect me as a landlord?

Eviction laws often evolve over time and the actual legal process and guidelines can be quite complex, especially for a first-timer. In certain instances, there are different notice periods or other requirements based on how long the tenant has been in the unit and the reason for eviction. With that in mind, it's highly recommended that every landlord contact an eviction attorney when drafting a Notice of Eviction to any tenant in Connecticut.

Where can I draft a Connecticut Eviction Notice template for free?

All Rocket Lawyer document templates are drafted and vetted by attorneys and legal staff, so you can feel confident when using them to handle your legal matters. To start, just share more details about your situation through our step-by-step interview process, and we'll generate your custom agreement in no time. This route is, in most cases, much less expensive than working with a traditional provider.

How much might it traditionally cost to evict a tenant in Connecticut?

The cost of meeting and hiring your average legal provider to write a Notice of Eviction might range between several hundred dollars and thousands. Different from many other sites that you might come across, Rocket Lawyer offers more than an eviction form. If you proceed with a lawsuit, your membership offers up to 40% in savings when you hire an attorney from our network. If you wish to understand the complete cost of eviction, you will need to take into consideration the cost of filing court documents, attorney fees, the value of unrecovered funds, storage or cleaning fees, and finally the money and time you will spend looking for new tenants.

How much time does it take to go through the Connecticut eviction process?

The length of the eviction process for Connecticut tenants is partially determined by the notice period required, in addition to the overall volume of cases happening simultaneously. Below, you'll find a basic overview of Connecticut notice periods:

Overdue rent: 3-day notice
Non-compliance with rental agreement: 15-day notice
No fault of the tenant: No notice is required by law

Following the notice period, the eviction itself can still take anywhere from 4 to 7 weeks . It is important to note that with certain types of housing, for instance where rent payments are subsidized by the government, the notice period may be even longer.

Do I need to work with a lawyer if I am evicting someone in Connecticut?

While you may opt to generate a Notice to Vacate on your own, the majority of landlords who take tenants to court will be represented by a lawyer. Getting an attorney to comment on your Connecticut Eviction Notice could be time-intensive and relatively expensive. An easier alternative is via the Rocket Lawyer attorney network. As a Premium member, you can get your documents looked at by an experienced real estate attorney. Whether you end up producing additional copies of your CT Eviction Notice or other legal documents, Rocket Lawyer is here to support you.

Will I have to do anything else after I have drafted a Notice of Eviction/Notice to Quit in Connecticut?

After creating a Connecticut Eviction Notice using Rocket Lawyer, you'll be able to access it in your account wherever and whenever you choose. You are encouraged to engage with your document by making edits, making copies of it, or printing it. You must sign the notice before it is served on the tenant(s). You can choose from several different options when serving a notice:

Send it via certified mail
Deliver it in person
Hire a third-party process server

It is important to remember that "do-it-yourself" evictions are illegal in Connecticut or any other state. You shouldn't throw out property, turn off utilities and services, padlock the entryways, or harass your tenant(s) in any way to force them out. Acting lawfully before and during the eviction process will put you in the best position to remove tenants successfully under an official court order.